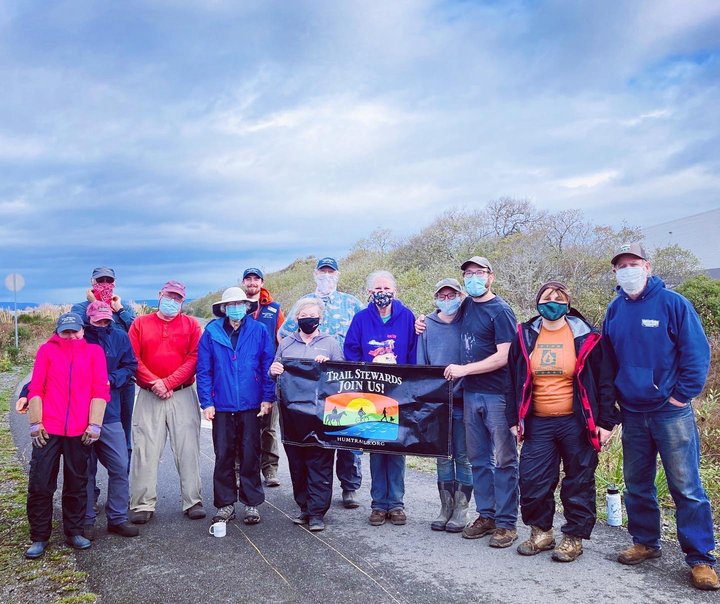 Press release from the Humboldt Trails Council:
The Volunteer Trail Steward (VTS) program started 11 years ago on the Hammond Trail and has since expanded to have a presence at nine locations. In the year ending in July, 754 community members contributed more than 3,600 hours to maintaining, removing graffiti and invasive species, collecting trash, and improving trails through the VTS program. This October, the Humboldt Trails Council Board of Directors attended six workdays and distributed breakfast burritos, fruit, coffee, and pastries to the volunteers. In addition, people like Supervisor Steve Madrone, Eureka Mayor Susan Seeman, and Arcata's Director of Environmental Services Emily Sinkhorn came to express their appreciation for the work of the VTS program.


Volunteer work on community trails not only lowers maintenance costs for cash-strapped local governments, it increases the sense of ownership for the trails people enjoy. Having a visible and vibrant VTS program also reinforces the priority placed on the addition of new trails and the importance of taking care of the ones that already exist. After attending each of the six workdays, Rachael Garcia, the Trail Steward Coordinator, observed that it is "remarkable to see how many people band together around their love of the outdoors and their love for our community. Given these challenging times, this is more important than ever."


At each of these October workdays, the Trails Council asked volunteers what they love about volunteering. They heard statements like these: "It is a rewarding way to give back to my community." "It is so much fun!" "I have learned about invasive species." "I love getting out in our beautiful forest and helping keep it clean." "It inspires others to care." "I have really enjoyed working with a great group of diverse community members." "It feels good to make a positive difference."


Interested community members can find out more about the VTS program and upcoming workdays at humtrails.org. No prior experience is required and all volunteers are welcome.