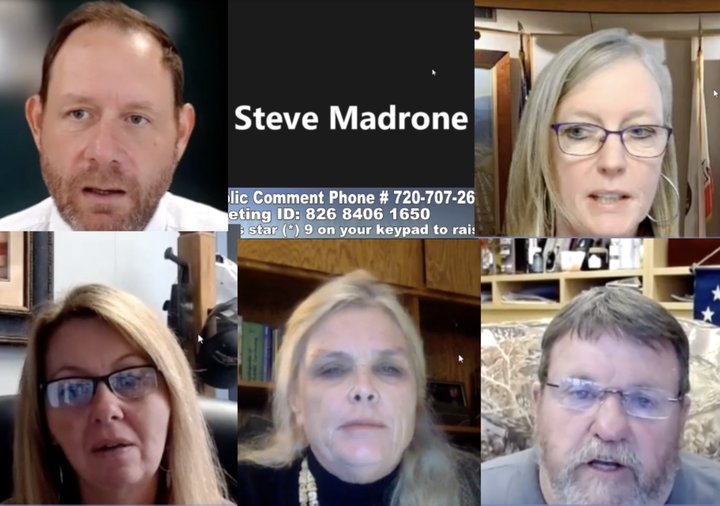 ###
The Humboldt County Board of Supervisors today agreed to return to board chambers come the New Year, a move that would bring an end to roughly a year and three-quarters of meeting remotely due to the COVID pandemic. But as you'll read below, that move may come with a fair share of technological hiccups as the county works to adopt a "hybrid" meeting style, allowing both in-person and remote participation.
As with most recent Board of Supervisors meetings, Tuesday's was front-loaded with an airing of COVID-19 grievances and conspiracy theory nonsense from the aggressively misinformed. A relatively new trend has callers offering a cursory greeting before pressing play on some pre-recorded diatribe about such topics as Dr. Anthony Fauci, Project Veritas, Israeli vaccination rates and the tyranny of government mandates.
Caroline Connor, a local doctor with nearly 30 years of experience, called in the midst of such comments and dropped a bit of science, encouraging the previous antivax caller to study the reams of available evidence and follow recommendations on getting vaccinated. "It's the only way we're going to get out of this," Dr. Connor said.
The next couple of callers simply doubled down on their misguided arguments, which they attempted to bolster with cherry-picked and misinterpreted evidence. A few callers even found a way to shoehorn their "government overreach" accusations into unrelated matters, including a discussion about unmet transit needs in the county's unincorporated areas. (It seems that requiring masks on the bus is discriminatory to the mask-intolerant.)
A couple of other public commenters called in to voice frustration over the user-unfriendliness and technical difficulties with the county's ongoing redistricting process, saying it's hard to see details on the maps and submit feedback.
One friendly caller, Robie Tenorio, called in to express empathy and admiration for the supervisors, saying, "You guys have been put through the wringer." She, too, has had issues with the redistricting website.
###
County Administrative Officer Elishia Hayes gave a presentation on the "Great Workplace Culture Change Initiative," a project initiated by former CAO Amy Nilsen in an effort to boost recruitment and improve the agency's culture and employee morale.
The project to date has involved more than 100 employees working in multiple cohorts and phases to produce this: a "refined cultural statement" that includes such auspicious goals as "treating others with respect" alongside encouraging platitudes like "Many hands make light work."
The next phase, Hayes said, is to "put into motion a plan of attack, so to speak, to implement the workplace culture and to improve the environment of the county as a major employer in the community."
###
At Second District Supervisor Michelle Bushnell's prompting, the board embarked on a discussion about when and how to return to meeting inside board chambers. She spoke in favor of doing so ASAP, saying many of her constituents have asked for it.
Clerk of the Board Kathy Hayes explained that this option is currently hamstrung by technological shortcomings. The county has been working with Access Humboldt and its own IT Department to upgrade equipment inside board chambers. The county needs to upgrade its sound system, install new TV monitors and replace outdated "smart boards" if it wants to facilitate "hybrid" meetings — that is, meetings where people can either show up in person or participate via phone or Zoom.
Trouble is, delivery of the necessary equipment has been delayed by COVID-related transportation issues. Hayes said the current best estimate is that the gear might arrive sometime around the first of the year.
The board spent a while discussing the various technical, legal and logistical implications of different scenarios. Bushnell, for example, asked whether some supervisors and staff could come in while others participated remotely. County Counsel Jefferson Billingsley said that might require advance notice and posting of the remote supervisors' locations.
Third District Supervisor Mike Wilson said he supports the goal of moving toward in-person meetings inside board chambers but said expectations should be tempered by the probability of challenges and complications caused by both tech issues and COVID health and safety protocols.
Regarding Bushnell's request, he said, "I'm not running in that direction but I'd like to have us move in that direction."
CAO Hayes noted that the county's current COVID numbers would put us into the red tier of the state's old framework, which corresponds with a recommendation to refrain from large gatherings. But county staff also surveyed neighboring counties and local jurisdictions; most are already holding in-person meetings.
Humboldt County Health Officer Dr. Ian Hoffman said the county is "coming off the worst three months of this entire pandemic," and while he's hopeful about the trend, given the county's declining case counts, he said it would be good to put some "daylight" between that rough patch and a return to chambers.
Bushnell wound up making a motion to have the board return to in-person meetings starting the first Tuesday of 2022, equipment upgrades or no. She later amended the motion to specify that hybrid-style meetings will be initiated as soon as the necessary equipment is up and running.
The motion was approved unanimously.
###
The board's last item before disappearing into closed session concerned a controversial cannabis cultivation project near Blue Lake that has been discussed several times previously, dating back several years. Here are links to past coverage in case you need a refresher:
PREVIOUSLY
The gist, as we explained in yesterday's meeting preview, is that applicants Rocci and Laura Costa had agreed to move a planned 10,000 square feet of new cannabis cultivation out of the Blue Lake Community Plan Area to appease neighbors who vehemently objected to the project. However, the Costas have been unable to find a new spot, and with county staff's blessing today they asked the board to reconsider the relocation condition of approval and allow them to go ahead and grow at the end of Warren Creek Road.
Public comment, unsurprisingly, proved to be a rehash of the same positions voiced in previous meetings, with the Costas arguing that they've been the targets of unfair opposition from anti-cannabis NIMBYs while Warren Creek residents argued that the history of problems on the property, along with the issues inherent in cannabis grows, should disqualify the Costas from establishing a grow operation.
Also like last time around, a number of cannabis industry professionals called in to vouch for the good character and integrity of the Costas. Unlike last time, disgruntled neighbors accused the county of reneging on a covenant in which all parties agreed that no weed would be grown on the parcel in question.
Wilson, in whose district this kerfuffle is playing out, asked staff to clarify exactly what has changed since the board last ruled on the matter. The answer that came back was, essentially, not much. The Costas have simply been unable to find another suitable location for their grow operation, in part because of existing demand prompted by other applicants in the county's Retirement, Remediation, and Relocation (RRR) Program.
"From my perspective, I don't see why we would change our position today because the conditions haven't changed," Wilson said. He made a motion to deny the request to modify the project's conditions of approval. In other words, he said that if the Costas still want to start their 10,000 square-foot outdoor grow operation they'll have to find somewhere else to do it, as previously agreed.