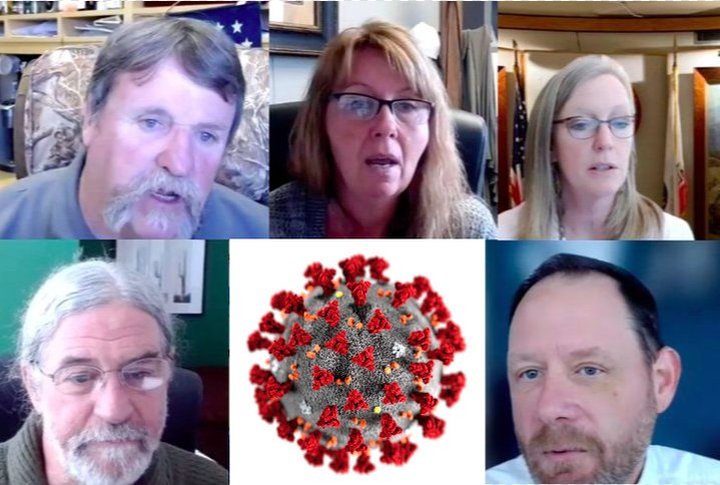 ###
Supervisor Michelle Bushnell has never attended a Board of Supervisors meeting — not in person, anyway, not since defeating incumbent Second District Supervisor Estelle Fennell in the 2020 election.
Of course, that's only because here haven't been any in-person meetings during her tenure on the board. Thanks to that pesky and tenacious nemesis COVID-19, the board has been meeting remotely for more than a year and a half.
At tomorrow's VIRTUAL meeting, Bushnell will ask her board colleagues to consider returning to real-life meetings — everyone together inside board chambers at the county courthouse.
"I would like to be in chambers when it's safe, and I think we're getting there," Bushnell told the Outpost on Monday. She noted our declining case rates and said most of the county's school boards are meeting in person, as are many other county boards of supervisors. Plus, she's been getting requests from her constituents.
"All of our county people are working and masked," she said, referring to county employees. "I don't think we should be any different; we're not special. I definitely think we need to have the discussion again."
Bushnell hopes the board will set a target date for resuming in-person meetings and consider whether or not to allow a Zoom option so people can still participate remotely if they so choose.
You might remember that the board was all set to go return to its chambers back in August. But then came the Delta variant-fueled surge in COVID cases, hospitalizations and deaths, leading the board to quickly change course and back out of that plan last minute in favor of sticking to video-conferenced meetings.
Since the board made that decision on Aug. 6 — not quite three months ago — the number of COVID deaths in the county has more than doubled, from 54 to 109, and the number of hospitalizations has nearly doubled, going from 240 to 420.
Those dramatic numbers attest to both the seriousness of the Delta variant and the fact that more than two in five Humboldt County residents have yet to get fully vaccinated. Tragically, vaccination continues to be a divisive political issue, as you can tell by listening to recent public comments at supervisor meetings or, you know, being anywhere in America right now.
With that in mind, we'll go ahead and repeat this for the record: Evidence continues to show that while breakthrough cases do occur, vaccines dramatically lower your chances of contracting the virus and they remain highly effective at preventing serious illness and death, even with the Delta variant.
But we digress. As Bushnell observed, some of Humboldt County's COVID numbers have improved since the board's Aug. 6 decision to remain on Zoom. Our rolling seven-day average of new cases, for example, has dropped from 49 to 23, and our test positivity rate, while subject to dramatic day-to-day variation, has declined quite a bit.
Does that mean it's safe to return to in-person meetings? Well, define "safe." The staff report for this item notes "many counties in California have successfully continued to hold in-person Board meetings during the pandemic while following all of the state and local guidelines for protecting its employees and citizens from the Covid-19 virus."
We shall see if Bushnell's fellow supes are on the same page.
Also on the agenda for tomorrow: A controversial cannabis project near Blue Lake comes back before the board. Applicant Rocci Costa had agreed to move a planned 10,000 square feet of new cannabis cultivation out of the Blue Lake Community Plan Area in an attempt to appease neighbors, but he and his wife Laura have been unable to find a new spot. They're asking the board to reconsider that particular condition of approval and allow them to go ahead and grow at the end of Warren Creek Road.

And at at 9:30 a.m. — time certain, allegedly — the board will hear an annual report about the county's unmet transportation needs.
The meeting is scheduled to begin at 9 a.m. You can find a link to start streaming it shortly before showtime here.