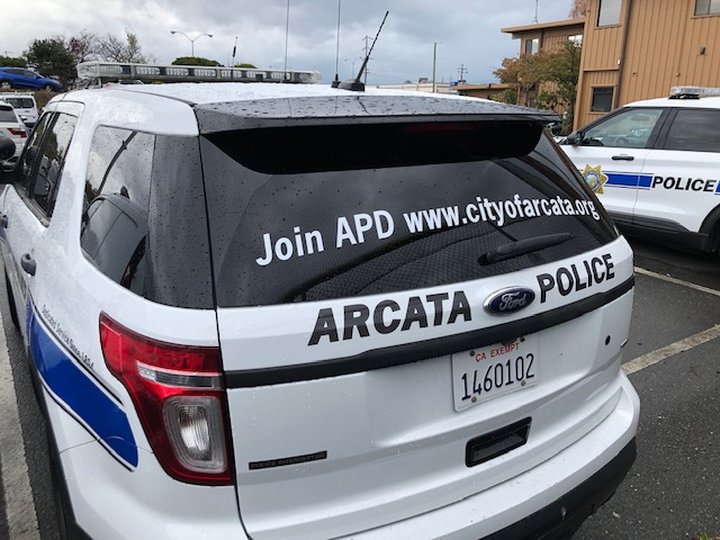 The Arcata Police Department is facing a serious staffing crisis as it struggles to replace officers at the same rate they are leaving.
APD Chief Brian Ahearn told the Outpost that his already-depleted department recently lost three employees to other local agencies: One sergeant to the Fortuna Police Department, one officer to the Eureka Police Department and another officer to the Humboldt County Sheriff's Office. To make matters worse, three more officers appear to be on their way out.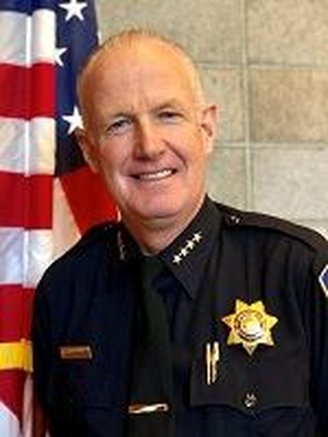 "Two years ago, we had 29 sworn officers, now we're at 20," Ahearn said. "We have three pending departures that have been relayed to me by our officers. If we get down to 17, that will be unprecedented territory for us."
Ahearn attributed the problem to a number of economic, political and social issues affecting police agencies across the country.
"To get six [replacement officers] in a department of our size in a rural area is very challenging given the very competitive environment for law enforcement positions," he said. "There's also a significant reduction in people who are interested in the positions. The divisiveness throughout the country and labor shortages throughout so many sectors gives us a very low applicant pool. People are also reprioritizing their lives and making choices that are keeping them out of the workforce, or they are no longer considering a career in law enforcement."
In order to keep up with the staffing shortage, Ahearn said that he's moved both of APD's detectives to standard police patrol. If the staff gets any thinner, the chief said he may have work patrol duty himself.
"[Investigations Commander Lt. Todd Dokweiler] and myself are the next safety blanket in terms of staffing patrol," he said. "If we continue to lose officers and are not able to hire, the investigative commander and myself will be staffing patrol beats by 2022."
The Outpost reached out to Sheriff Honsal about the ethics of recruiting officers from other local agencies also experiencing staffing issues. Honsal was not available for comment. However, the sheriff did sit down with local news anchor Nazy Javid last month to discuss how the HCSO is dealing with its own staffing shortage.
North Coast News anchor Nazy Javid talks staffing shortages with Sheriff Honsal.
"The only way to attract and retain people is going to be through our salary and benefits," Honsal told North Coast News. "There are people hiring all over this country for qualified deputy sheriffs and they are recruiting out of sheriff's offices like [ours] because we have quality people here. [HCSO deputies] are going elsewhere because they're getting paid more, there's better opportunities, better working conditions."
Meanwhile, at APD, Ahearn said that he's losing officers to lower paying positions with other agencies.
"Every person has a different story," Ahearn said. "I can only speak to those that have shared with me why they're leaving, because they don't have to provide that information. They seem to be leaving for personal reasons: family, commuting to and from work, where their kids are in their lives, what they're trying to accomplish in law enforcement."
He added that many officers are also leaving patrol positions due to the scrutiny they face on the job.
"When you look at the intense scrutiny police are facing, especially patrol officers — wearing body cameras and being evaluated for every word and action taken," he said. "Over the course of the last few years there has been this expectation that we are perfect every time out. We're human beings. And yet we're scrutinized for every call we go to."
While community members continue to push for higher standards for police, Ahearn said that interested job seekers don't have to have a perfect past to work in law enforcement.
"We recruit people who have made mistakes in their lives," he said. "We have all made mistakes and people think our standards are unobtainable. [Peoples' past mistakes] might not be a game changer at all. Failure makes you a better person. Adversity breeds strength. I'm not looking for perfection, I'm looking for people with life experience who want to be part of what's happening here in Arcata, which is: really good change. We're going to continue to traject upward."
Currently APD has one trainee in the local police academy that is expected to graduate next month, and could be ready for independent patrol by March of 2022. However, Ahearn said that there are more positions to fill.
"We need them to fill these gaps pretty quickly," he said.
And although the chief would prefer to hire field-trained officers from other California agencies, who could fill patrol shifts almost immediately, he said that the city is also willing to train local residents interested in a career in law enforcement.
"We would accelerate the process, simply because we need people and we need 'em now," he said. "First and foremost, we are focusing our recruiting efforts laterally on other California agencies. With a modified field training program of several weeks, they can become an officer and fill these vacancies."
The city hopes to attract these candidates by streamlining the hiring process, offering signing bonuses and increasing salaries and benefits.
"Our second target is local people here in Humboldt County," Ahearn said. "I don't actively recruit people from other agencies here in Humboldt. I don't believe in that. They are in just as difficult a situation as we are. For Humboldt County people, it's an application process. They can get an application form the city. It's fairly simple. It could be completed and submitted within one day. We would conduct an interview. If they passed, we would immediately begin the background process. We could have that background completed within a month if most of their life experience is here in the county."
From application to background check, Ahearn said interested candidates could receive a job offer within four months. Once an offer has been extended, those applicants would be paid as cadets while training in the local police academy at College of the Redwoods.
"They will get salary and benefits as they're going through the academy and the city will pay for their equipment," Ahearn said. "I feel that we are very competitive locally and statewide. Being in a rural community, we're trying to make a splash and get the attention of the rest of the state and get people to consider coming up to Humboldt County."
In hopes of getting the word out locally, APD has resorted to placing large recruitment stickers on the windows of its patrol vehicles. The department has also started placing flyers on local businesses promoting the wages and benefits its officers receive.
"It's a noble profession," Ahearn said. "You can literally save peoples' lives. Officers can go home, look at themselves in the mirror and know they made a difference. There's no more noble cause and we're looking for people who want to answer that call."