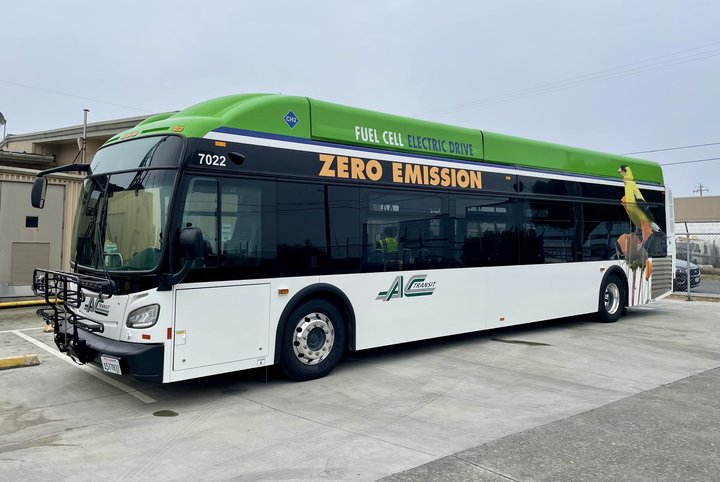 ###
Peter Lehman gripped a metal handrail and leaned forward in his seat to peer out the windshield of a million-dollar bus.
The zero-emission vehicle, powered by hydrogen gas and a 85-kilowatt fuel-cell battery, coasted downhill, the driver maintaining a good clip as he navigated the S-curve where Eureka's West Avenue becomes V Street.
"Whoa," Lehman exclaimed. "That was impressive!"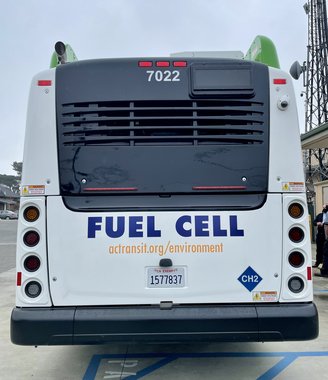 Lehman is the founding director of the Schatz Energy Research Center at Humboldt State University, which has been working on hydrogen and fuel cell technology for 30 years. In the 1990s the Center built the nation's first solar-powered hydrogen fueling station, for use by SunLine Transit Agency in the Coachella Valley, and in the 2000s Schatz helped AC Transit, an Oakland-based public transit agency, acquire some of the first hydrogen fuel cell buses.

"Now we're finally, finally — after all these years — getting it here in Humboldt County," Lehman said this morning, just before climbing aboard as one of about a dozen passengers on a test drive around Eureka.
Staff members at Schatz are helping Humboldt Transit Authority (HTA) apply for a grant of nearly $25 million from the state's Transit and Intercity Rail Capital Program. If successful, the grant would allow HTA to purchase 10 hydrogen fuel cell buses (at around $1.1 million apiece) and build a hydrogen fueling station, which would be open for public use at the agency's bus yard on Second and V streets in Eureka.
Greg Pratt, HTA's general manager, told the Outpost that the money would also fund construction of an intermodal transit station, providing a home for a range of public transit provisions and equipment, including electric bikes, a bike shop and facilities for Uber, Lyft, Greyhound buses and more.
In a conversation prior to Thursday's test drive, Pratt said the agency was enjoying a "huge boom" of success before the COVID-19 pandemic hit. HTA, which operates as a joint powers authority between Humboldt County and the cities of Arcata, Eureka, Fortuna, Rio Dell and Trinidad, had secured a number of operating grants and was looking to expand services.
Doing the math on hydrogen buses has been more complex — "like Pandora's box," he said. If HTA starts running hydrogen buses, it could be eligible for Low Carbon Fuel Standard credits through the California Air Resources Board. However, the hydrogen, which is produced in Sacramento by a company called Air Products, would need to be shipped to Eureka in diesel-powered trucks. That would make HTA ineligible for the grants — that is, unless the agency purchased larger volumes of fuel, enough to supply, say, 10 of the zero-emission buses.
"Trying to figure all that out has been difficult," Pratt said.
The bus for Thursday's test drive was manufactured by New Flyer of America, one of just two companies in the United States producing hydrogen buses. (The other, ElDorado National, produces a bus that doesn't do great on big hills, Pratt said.) It has a driving range of 325 miles, according to Dan Trujillo, a regional salesman with the company who was on hand for the excursion.
Standing beside the bus, Trujillo explained a bit about how it works. A fuel cell affixed to the the back of the bus holds the hydrogen, which, when electrified, sends power to a battery atop the bus. "And then you have regeneration," he said. "When you come off the accelerator, just like a golf cart, it wants to rewind those wheels, and that'll kick energy directly back to the battery."
Eighty percent of hydrogen buses in operation today were funded at least in part through the U.S. Department of Transportation's (USDOT) Federal Transit Administration, and Trujillo said they're expected to last 12 years, though it's possible to run them longer. Standard diesel-powered buses cost about half as much, but Trujillo said maintenance is cheaper with hydrogen fuel cell buses because they're so much simpler.
"So you have a fuel cell, you have a battery, you have brakes, you have steering — you have all that, but what you don't have is a big engine, so you have no oil seals, you have no gearing ratio, no transmission … ."
The bus crested the hill near Zane Middle School and hung a right at the light onto Buhne Street.
"That's pretty smooth," Pratt said as the bus accelerated.
"It's quiet," said a driver named Cody, one of several HTA employees who were given turns behind the wheel.
Trujillo said some drivers complain that the the turn signal's clicking sounds seem too loud with no engine noise to drown it out. Aside from a subtle, mechanized whine of the battery during acceleration and deceleration, the only sounds the bus makes come from an automated woman's voice, which makes announcements such as, "Watch your step" and "Remain seated until the bus comes to a complete stop."
Pratt said the longer range of these buses would make them ideal for longer routes, such as those to Trinidad, Willow Creek and Southern Humboldt. If the grant comes through, hydrogen buses could replace nearly a third of HTA's existing fleet, which includes an all-electric bus and several hybrids.
The official call for applicants will come next month, and while Pratt said he expects it to be very competitive, with a team that includes Schatz working on the proposal, he's as confident as he can be in landing the grant.