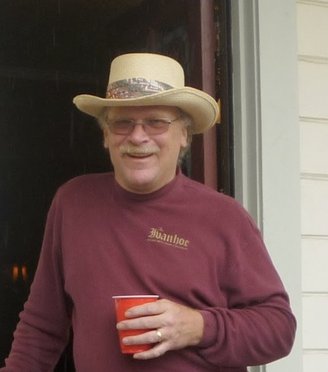 David Lino Mogni
February 22, 1957 – September 9, 2021
Dave Mogni passed away unexpectedly on Thursday, September 9, 2021. Dave was born to Lino and Betty Mogni in Eureka . He was raised and received his early education in Ferndale along with his siblings, Carol and Patti. He led a full and successful life throughout his 64 years in the circle of his family, friends and beside his wife and constant partner of 35 years, Barbara.
Dave graduated from the University of California, Berkeley in 1980 having been granted a generous sports and academic scholarship. Whatever Dave decided to take on, he committed to be the absolute best, whether it be academics, sports, business or community leadership. He was the guy you wanted on your team, in your huddle, always. Some early accomplishments and accolades include his early years in local and college sports:
MVP Crescent Jaycees Basketball Tournament
All-Star Little League, advanced to State Tournament

Four Sport All-County multiple times at FUHS

Holder of multiple records in track at FUHS

Honor Sweater 1974 at FUHS

Al-GVC/State Champion C/R Football, multiple track events

Multiple inductee C/R Hall of Fame

Selected one of the "Top10 Athletes of All Time, Humboldt/Del Norte"

Walk-on starter Cal-Bears Football

Multiple National Champion Cal "Old Blues" Rugby
At Cal, Dave had walked in to the football coaches' office cold and introduced himself. The office had California junior college statistics on the wall. Dave was listed. "That's me, right there." He became a walk-on starter that season. Dave joined the Cal Golden Bears Football team in 1976, after what would later be determined hall-of-fame seasons at Ferndale HS and College of the Redwoods. Dave quickly gained a reputation as a solid, reliable receiver at Cal and quarterbacks were always happy to see #86 breaking free on his pass routes downfield. After Cal football, Dave moved onto the Old Blues Rugby Club, where his fluid running style and solid defense helped the Blues to their string of national titles. His love affair with sports never ended.
After graduating from UC Berkeley, Dave started his career selling copy machines then went into sales for disk and tape drives at System Industries, where he met the love of his life, Barb, in her first job right out of high school. Dave decided to wait until she grew up a bit then pursued her at the age of 20. As the years went on, they got engaged and his work sent him to Germany for a year, where they lived in Neu-Isenberg just outside of Frankfurt. In 1993, they were married in their backyard in Walnut Creek .
Dave lived life to the fullest. He was a self-taught sailor and spent many afternoons sailing in San Francisco Bay with Barb and friends. As Captain, he took his First Mate Barb and many of those friends to the Virgin Islands, Tahiti, and Greece. He enjoyed going out with friends in The City, was a huge Giants fan and sports fanatic playing rugby, football, basketball, baseball and snow skiing. He designed his backyard and pool, and loved sitting in his bar chatting away with pals.
Burned out in the tech business, he decided to make a career change. He started to think about opening a brewery. As time went on, it evolved into opening a hotel, restaurant and bar in Ferndale, coming back to his roots in a century-year old building right across the street from his dad's gas station of 40 years. After a six-month remodel, the Ivanhoe Restaurant opened on December 5, 1997. Along with Barb, he poured his heart and soul into it for the next 24 years as executive chef/sous chef/grill man/bar manager/bartender/plumber/maintenance man/electrician/handy man and janitor. When he wasn't fixing or cleaning something, he and Barb were home constantly cooking new dishes to try out on friends. After many tries to perfect, several finally became part of the Ivanhoe menu.
Dave was a great leader and promoter of his community. He was a member of Rotary and the Humboldt County Fair Board for 12 years, including several years as president. He and Barb spent countless hours leading the Jockey Club in helping improve the Fairgrounds and to support horseracing in Ferndale. He was a Native Son of the Golden West and his buildings on Main Street proudly bear their brass historical site plaques.
Dave is survived by his beloved wife and business partner, Barbara, and his sisters, Carol and Patti. He was preceded in the loss of his parents, Lino and Betty, and leaves behind his nephew and nieces Chandler, Keely, Ashleigh, Nicole and Natalie, eight grandnephews, cousins and many lifelong friends.
His pallbearers will be Richard Leonardo "Bananas," George Toste "Otis," Cliff Titus "Tidybowl," Kevin Frye "French Fry," Jay VanDePoel "LeBeau," Colley Baird and Justin Anderson along with honorary pallbearers Dayton Titus and Chandler Baird.
Memorial Services will be held at Ferndale Community Church, 712 Main Street, on Monday, September 20 at 11 a.m. A private burial will follow and there will be a Celebration of Life at 1 p.m. in The Barn at Fernbridge, an open-air, socially-distanced venue at 26 Goble Lane, Ferndale.
In lieu of flowers, donations can be made to the Dave Mogni Ferndale High Athletic Scholarship Fund c/o 1231 Main Street, Ferndale 95536 or CR Football/In Memory of Dave Mogni, c/o CR Athletics, 7351 Tompkins Hill Road, Eureka 95501.
###
The obituary above was submitted on behalf of Dave Mogni's loved ones. The Lost Coast Outpost runs obituaries of Humboldt County residents at no charge. See guidelines here.