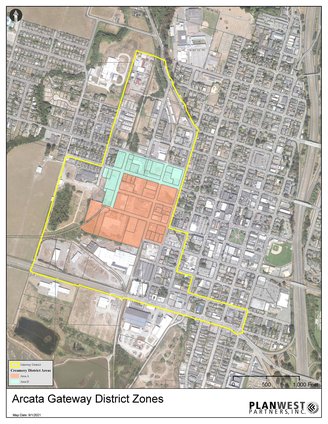 Tonight's special meeting of the Arcata City Council will really be special. Unlike the usual meetings, which take place in Arcata City Council chambers, this will be entirely outdoors and will consist of a walking tour of the City's Gateway District Plan area.
What the heck is the Gateway District, you ask? Well, it's a name coined by Arcata city staff to describe the part of town that includes and surrounds the Creamery District, roughly between K and Q Streets and 17th Street and Samoa Boulevard. The Gateway District includes a lot of prime real estate for housing, but much of the land there is zoned for only industrial use. So the City wants to change the zoning to mixed use, allowing for housing and businesses to be built there. It's all part of the City's Strategic Infill Redevelopment Plan (SIRP), which focuses on building housing within unused and underutilized properties in the city's urban areas.

Basically, because of the projected population growth of Arcata, the city needs to create a lot more housing to meet state requirements. And with limited property available, that will require more high-density housing on existing properties. Think four or five-story buildings, like the Danco development currently under construction at 7th and J Streets. Historically, some folks have not been too keen on huge developments being built near their homes. This is why it is very important to Arcata city staff that the public be as involved in this plan as possible and is holding a series of tours and public outreach sessions to help develop the SIRP.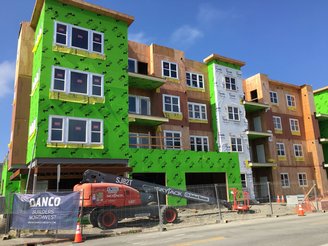 If you have interest in learning more, the walking tour of the Gateway Plan area meets Tuesday, Sept. 21 at 5:30 p.m. in front of Arcata City Hall (736 F Street). You will have the opportunity to tour the area, learn about the City's proposed changes, ask questions or make comments. Masks are required.
According to the meeting agenda, the tour will follow this path:
1. West on Seventh Street

2. North on L Street

3. West on Eighth Street

4. North through Creamery District

5. East on Ninth Street

6. North on L Street

7. East on 10th Street

8. South on H Street

9. East on Eighth Street

10. South on F Street to City Hall

If you are unable to attend, Arcata Community Development Director David Loya told the Outpost that there will be several other tour opportunities over the next couple of months. The best way to be informed of when those will happen is by signing up for e-notifications on the City of Arcata's website, Loya said.