UPDATE, Sept. 29: The day after this story was published, executives from the Wiyot Tribe sent statements regarding the issues discussed in this story. Those statements can be found here.
###
Original post: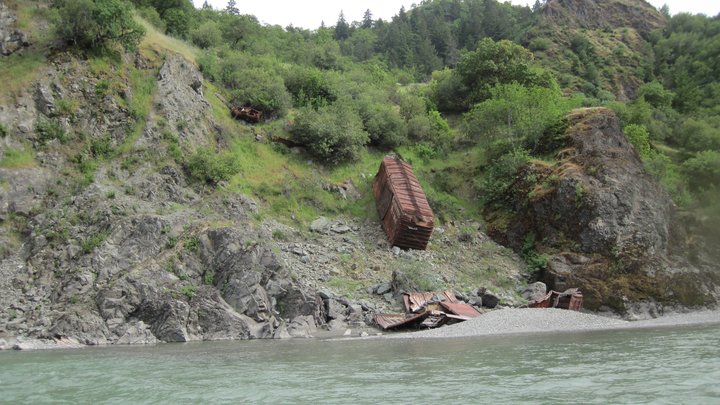 PREVIOUSLY: Aiming to Ship Coal Out of Humboldt Bay, Shadowy Corporation Makes Bid to Take Over NCRA Line
###
Justin Wight, an independent consultant working for the recently formed North Coast Railroad Company, LLC, says the corporation's plans have been misrepresented.
"It's not as it has been made to appear to most people," he told the Outpost in a phone interview Monday.
Wight suggested that the company, whose agents and officers remain entirely unknown, may not necessarily intend to ship coal along the long-dilapidated rail line between Humboldt Bay and San Francisco Bay, though neither would he rule out coal as the planned cargo. He said a non-disclosure agreement prevents him from revealing the particulars.
"The reality is that the final business plan hasn't been struck and there are active discussions with literally dozens and dozens of shippers from throughout the western United States," he said. "I'm not at liberty to disclose any more than that."
As previously reported, North Coast Railroad Co., LLC, has filed an Offer of Financial Assistance (OFA) with the Surface Transportation Board in an unexpected bid to take over the 320-mile right-of-way. If successful, the company's gambit would effectively torpedo ongoing plans to develop The Great Redwood Trail along that route by railbanking the public throughway.
Our conversation with Wight came on the heels of a story in the Salt Lake Tribune that reveals details of a March conference call between government officials in Utah, Wiyot Tribal Administrator Michelle Vassel, two representatives of the coal industry and Wight himself.
An email obtained by the Tribune provides a rundown of "key highlights" from that conversation. The message, sent by Chris Mitton, strategic projects manager for the Utah Inland Port Authority to Jill Flygare, that agency's chief operating officer, says Wight was seeking up to $1 billion in loans from the U.S. Department of Transportation in order to rehabilitate the rail line and employ terminals on Humboldt Bay "for the export of minerals."
Atop the email's list of key highlights is this: "The Wiyot Nation is 'fully committed to this project… .'"
Vassel previously denied to the Outpost that the tribe had received or accepted any proposals related to coal, and U.S. Rep. Jared Huffman said she'd told him the same thing, "unequivocally" denying that the tribe would support this rail line takeover effort.
The email suggests otherwise. "Both Justin [Wight] and Michelle [Vassel] stated there is strong local support for revitalizing the harbor and port operations," it says. "Michelle mentioned she would expect some, but not overwhelming opposition to the project."
Numerous calls and emails to Vassel over the past few weeks have not been returned.
Humboldt County Supervisor Rex Bohn previously told the Outpost that several Wiyot Tribal representatives attended a meeting at Shamus T Bones roughly six months ago. The meeting involved project representatives and government officials, including Wight and pro-coal Utah State Senator David Hinkins, Bohn said.
While Vassel has not confirmed the tribe's participation in that meeting, former Wiyot Tribal Chair Cheryl Seidner did so, saying she and other Wiyot members met with Wight and his business partners more than once.
"They were looking for someone with access to a harbor because they were landlocked," Seidner said. "They were also Native American, and of course we'd like to help other individuals, so we said we'd meet."
One of the coal industry representatives who participated in the March conference call was Conrad "CJ" Stewart, energy director for the Crow Nation, a southern Montana tribe that has collaborated with the Navajo Transitional Energy Company, Inc. on efforts to mine more than a billion tons of coal from the Powder River Basin. The other was Brian Somers, president of the Utah Mining Association.
Hinkins, the Utah senator, told the Outpost that representatives of the Crow Tribe invited him to come to Humboldt County to meet with members of the Wiyot Tribe, which was working with the Crow and Navajo interests.
The Utah Inland Port Authority email says, "The Crow tribe is looking for any new export channel or new use for their mineral resources." The Crow Reservation has estimated coal deposits of 17.1 billion tons. While domestic coal demand has shrunk in recent years, U.S. coal exports reached a two-year high in June, fueled largely by an explosion in demand from China, India and Japan.
The main impediment standing between these massive domestic coal supplies and massive demand overseas is pushback in West Coast port communities where residents and politicians have taken a stand against enabling more burning of the climate-warming mineral. This resistance has frustrated both Stewart and Somers, who have spoken out against such efforts.
Somers, for example, told the L.A. Times last year, "We believe that these coastal states are using their local authorities for land-use planning to essentially block interstate commerce."
Despite this context and the direct involvement of both Stewart and Somers, Wight maintained that coal may not be the motivating factor for NCRCo.
"As is often the case in business development … you talk to everyone and you try to see what's going to make the most sense for the most places," he said. "There have also been discussions around everything from aggregate [gravel] that could help build the Bay Area to waste [garbage] removal. There have been literally dozens of conversations with dozens of companies for hauling at least 25 different things."
Wight said the interests behind North Coast Railroad Co., LLC, will be made "abundantly" clear sometime in the next week or two. Asked what's happening at that point he said it concerns proceedings with the Surface Transportation Board.
An Aug. 16 filing with that agency, submitted by a pair of Chicago lawyers on behalf of NCRCo., said the company is "capitalized to the tune of $1.2 billion." Is that money from federal loans, as suggested by the Utah Inland Port Authority email? Wight said he's not at liberty to disclose the funding sources but they are "numerous."
The Utah port authority, for its part, appears to have backed out. Flygare told the Tribune that after agency officials looked into it they determined the project was not viable, and the UIPA "has no current or future plans to export coal from Humboldt Bay."
Alicia Hamann, executive director of Friends of the Eel River, has spoken out against the environmental destruction she says would result from attempting to rebuild the North Coast Railroad through the geologically unstable Eel River canyon, especially for the purpose of shipping coal, and she's not convinced by Wight's claim of there being a wide variety of potential cargoes.
"Rebuilding the rail line through the fragile Eel River canyon would cost billions," she said. "Only coal could possibly generate the volume of shipping you'd need to finance that bill, and only then in really high-volume scenarios."
The North Coast Railroad Authority (NCRA), the public agency that currently owns the right-of-way in question, estimates the cost of restoring the line at $2.4 billion, with hundreds of millions more needed for maintenance of what has been described as the most expensive stretch of railway in the United States to maintain. Billions more would be required to upgrade Humboldt Bay Harbor infrastructure, according to NCRA Executive Director Mitch Stogner.
The email obtained by the Tribune says Wight assured Utah officials that shipping wouldn't be a problem:
There are existing federal navigation channels that can be utilized for the export of minerals and Justin [Wight] is not concerned about that piece for exporting. The terminals identified for use are on the north side of the bay and are "well away from the environmentally sensitive areas." Justin did not view this as an area of concern.
Jennifer Kalt, executive director of Humboldt Baykeeper, scoffed at that quote.
"There's no such thing as anywhere on the shoreline of Humboldt Bay that's away from environmentally sensitive areas," she said. "The devastation that a project like this would bring to the bay is just mind-boggling to even consider."
Wight said he was misquoted. "Let me be very clear about one thing: that quote is misattributed," he said. "That may have been something that was discussed by someone; it's definitely not something I ever said."
He also argued that the project has been misrepresented in media reports to date.
"I think it's unfortunate that the narrative has kind of been shaped the way it has thus far because some of the people involved in this project have won literally international as well as national environmental and sustainability awards." he said. "In fact, one of the goals of this project is actually to facilitate the cleanup of the Eel River and its restoration, so it's rather ironic that there are people who think this is going to be a nightmare for the river … ."
Hamann isn't buying Wight's statement about river restoration. "Claiming that [this project] would somehow benefit the Eel River is as obvious and absurd a lie as the claim that we can burn that coal without cooking the planet," she said.
The NCRA board of directors spent two decades trying to drum up financial backing and commercial shipping interests willing to restore the crumbled railway through the Eel River canyon, and the agency's attorney, Charles Montagne, is skeptical of this new venture.
"It would be extraordinarily unusual for a company engaged in as much discussion as [Wight] claims to have engaged in without talking at any point with anyone associated with NCRA," Montagne said. "No one from the NCRCo. camp has been in touch with my client or given any information to the STB to corroborate anything that this man is saying."
State Senator Mike McGuire, who has led the effort to develop the Great Redwood Trail, last week introduced legislation explicitly designed to thwart this rail takeover effort. Senate Bill 307 would block any state funding from going to rebuilding the rail line or building an export coal terminal at the Port of Humboldt Bay.
"The evidence is overwhelming — this secretive company is trying to be clever by hiding behind an anonymous LLC," McGuire said in comments provided to the Outpost. "It's obvious they are tied to Big Coal, and it's obvious they are trying to pull a fast one over on the North Coast. Let me be clear: It's not going to work. No way, no how."
McGuire called the company's efforts to date "incredibly offensive" and challenged backers to reveal themselves.
"If their proposal is so good, come forward and talk directly to the community," he said. "Stop lurking in the shadows. Show us your plan. Face the people you propose to do business with."

Those people would need to include the board of commissioners of the Humboldt Bay Harbor District, which is already preparing to take action to block their plan. Harbor Commissioner Stephen Kullmann said he's not sure if the board will pass an ordinance or take some other approach, but he's working on something that will have "as much teeth as possible," he said.
Kullmann said the mysterious project backers "seem to have the idea that they can do it without any local buy-in, that they can force their will through. I highly doubt they'll be able to do that."
McGuire reiterated his determination to block the project. "We will fight this at every level and make damn sure this ridiculous idea goes away," he said.