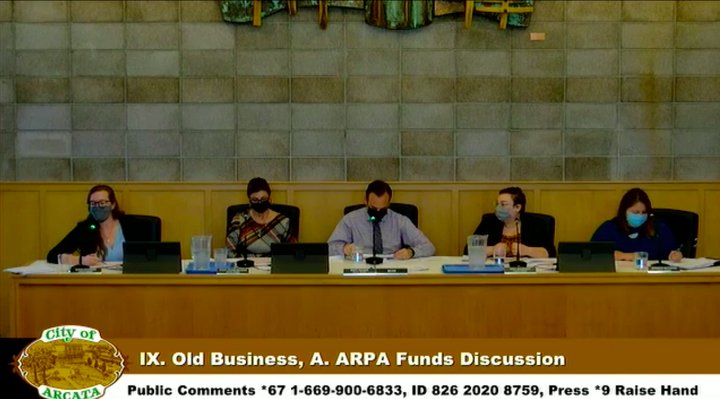 ###
Thanks to more than $4.4 million in American Rescue Plan Act (ARPA) COVID relief funds, the City of Arcata is able to inject some much-needed money into existing and planned projects that will help the City reduce carbon emissions, improve the Valley West neighborhood, address homelessness and reinstate city jobs that were frozen due to the pandemic, among a few other things.

During a long discussion at its Wednesday night meeting, the Arcata City Council decided exactly how it wanted to allocate the $4,409,087 in ARPA funding. Choosing from a list of 26 suggested uses, the council selected eight projects that the council members felt are in the most need of immediate funding.

After the council took a few minutes for each member to select their top five priorities, the council agreed, first, that it was prudent to reserve $1 million, so that the City can review its progress in about 12 months and be prepared to provide additional funding to projects where needed. After a lot of discussion and number crunching, the council determined that the rest of the ARPA money would go toward the city's Mobile Intervention Services Team (MIST), establishing a Safe Parking Program, refunding frozen city staff positions, funding Valley West neighborhood support, beautification and economic efforts for the downtown neighborhood near the plaza, a climate action plan to reduce carbon emissions, a City Hall fiber optic/ broadband project and addressing housing needs through the Arcata House Partnership. Here's a closer look at how those bucks will be spent:

Mobile Intervention Services Team (MIST) — $570,000
As a part of the City's police reform efforts prompted by the murder of George Floyd and subsequent Black Lives Matter protests against police brutality, the City has been working to establish MIST — a team of mental health specialists and social workers, who will work with the Arcata Police Department. The idea is that MIST members, instead of only armed officers, can respond to mental health related calls that come through 911.

The $570,000 will fund operations of MIST at 40 hours per week for one year.

Safe Parking Program — $685,000
Approved by the state in 2020 as a way to address the shelter crisis, safe parking programs aim to provide a secure location for unhoused individuals and families who are staying in their vehicles and usually offer people access to bathrooms, drinking water, electricity or other amenities.

Arcata City Manager Karen Diemer explained that, similarly to when the City established temporary tent shelters when shelter-in-place orders came into effect, city staff would seek out and invite people who are staying in their vehicles to move to the established sheltering area.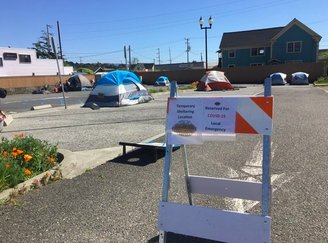 "The idea is that we could offer access to additional provisions — access to electricity, access to charging, access to food, access to bathrooms, access to security at night," Diemer said during Wednesday's meeting. "One of the lessons learned from sheltering during the pandemic is that we stood up the parking lot shelters really quickly and the residents of those shelter areas would have really liked to have had fencing and to be secure at night."

Diemer said that the City is still working to determine an exact location for the safe parking and is currently reviewing several different options. The funding will go toward staffing and providing services to the site, including porta potties, electricity, a potable water station and access to an off site laundry facility.

Refunding City Staff Positions — $519,000
Like so many cities, Arcata was forced to make some extreme budget cuts due to the financial impacts of the pandemic, including temporarily cutting or reducing quite a few staff positions. Luckily, because Arcata's 2021 budget was not as grim as initially anticipated, some of the positions have already been refunded. Now with the ARPA funds, the city is able to refill six more frozen positions, including one police officer, three maintenance staff members (one crew leader and two workers), a recreation coordinator and a community development specialist.

Initially, the city was looking to unfreeze two police officers positions, but there was some debate among the council members on the city's need for additional sworn police officers at this time. While Councilmember Emily Goldstein did not feel that the city should hire any police officers and should focus on funding other community services, several other council members felt that the police department is severely understaffed.

Ultimately the council found a compromise, by agreeing to unfreeze one police officer position and decided to fund an additional maintenance worker position instead. Mayor Brett Watson said that he felt the city could really use more maintenance workers right now, especially for our local parks and trails that have not been kept up during the pandemic.

Valley West Neighborhood Support — $217,500
For years the City of Arcata has been looking for ways to improve what many people think of as Arcata's red-headed step-child, Valley West. Recently, the City partnered with Comunidad Unida del Norte de Arcata (CUNA) — a Cooperation Humboldt project — to work to improve the quality of life of Valley West residents.

This funding will help support and expand CUNA's efforts, which include conducting community outreach, hosting community cleanup days and focusing efforts on improving Carlson Park and working toward the development of some kind of Valley West community center.

Climate Action, Reducing Carbon Emissions — $500,000
Though all of the council members agreed that some funds need to be directed toward climate action, there was a bit of debate on the amount. Toward the beginning of the conversation, Councilmember Meredith Matthews urged the council to allocate $1.5 million of the ARPA funds toward efforts to combat the climate crisis. Mayor Watson, however, felt that was too high of a figure.

During the public comment period, several community members urged the council to focus more of its spending on reducing carbon emissions. Haley Connors-Keith, who was speaking as a representative of Redwood Coalition for Climate and Environmental Responsibility (RCCER), said that $500,000 was "not going to cut it" and requested that the council also put the $1 million it had set aside toward decarbonization efforts.

The $500,000 will go toward implementation of the city's Climate Action Plan, replacing the city's heating and ventilation system with an electric system, helping cover costs for purchase of electric/hybrid vehicles and the implementation of an "Arcata All Electric Initiative" grant program to help residents or businesses transition to electric systems.

The council agreed that, in addition to these projects, the city needs to look at all future projects through the lens of addressing the climate crisis.

"I just want to say that we all realize that climate change is here and it's a crisis and we all take it very seriously," Councilmember Matthews said during the meeting, encouraging the public to take action as well. "We can do what we can as a council, but we definitely bear a personal responsibility as well."
###

Additionally, the council allocated $408,000 to help address additional housing needs in Arcata and will work with Arcata House Partnership to identify its financial needs. The City will also put $200,000 toward "economic recovery" and beautification efforts of the G and H Street corridors leading to the Arcata Plaza and $180,000 will be used to establish a fiber optic broadband connection between City Hall and the City's corporation yard.
###
PREVIOUSLY:
Arcata City Council Will Decide How to Spend $4.4 Milion in COVID-19 Relief Funds; Lobby Group Wants the City to Prioritize Reducing Carbon Emissions