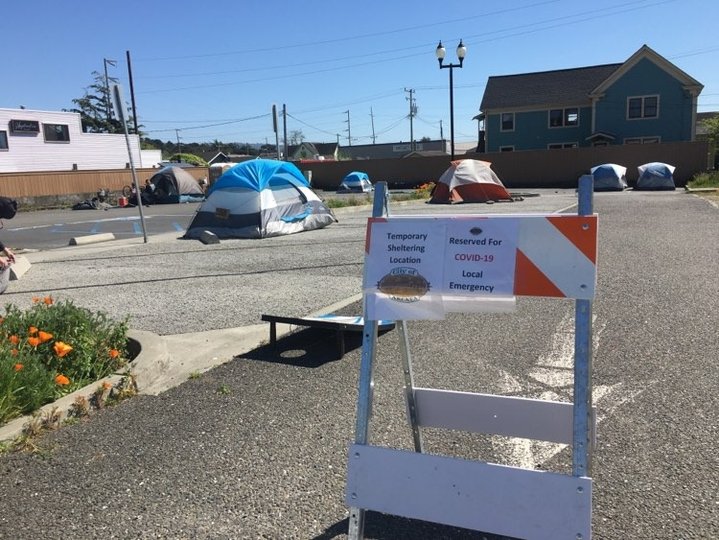 Faced with the difficult task of sheltering homeless individuals while ensuring they practice safe social distancing standards amid the COVID-19 emergency, the City of Arcata has closed off two city-owned parking lots — behind the Arcata Transit Center and on the corner of Seventh and G Streets — to provide emergency shelter for the city's homeless.

The emergency sheltering effort is a collaboration between the City of Arcata and Arcata House Partnership (AHP), which has been working tirelessly to secure grant funding and supplies to support the unhoused population, who are faced with the stress of finding somewhere safe to stay during the pandemic.

"It's enough anxiety to already be experiencing homelessness," Diemer told the Outpost in a phone interview Monday. "[The pandemic] brings more anxiety in a population that's already challenged."

During a special city council meeting two weeks ago, Diemer said, the council renewed the declaration of a state of emergency and talked about finding emergency sheltering locations for the homeless. After reaching out to businesses and faith-based organizations and surveying different sites, the two parking lots were identified as the most viable immediate option.

Maintaining a six-foot distance between the tents, the G Street lot can hold up to 19 people and the transit center lot can hold up to 15 people. The sites have portable bathrooms and handwashing stations and, pending additional emergency state funding, will have other services provided, Diemer said.

AHP Executive Director Darlene Spoor told the Outpost Monday that the organization is working with Affordable Homeless Housing Alternatives to provide portable showers on the sites, and is also working with Open Door's mobile health services. AHP also plans to deliver three daily meals to the sites to help people not have to venture out in search of food.

"That's the whole goal," Spoor told the Outpost. "It's supposed to be an opportunity to shelter in place."

But one of the challenges with giving the homeless a place to shelter is ensuring that people are not being brought into a close living situation if they were not already in contact with each other, something which would defeat the purpose of social distancing. Spoor said that AHP is reaching out to groups they know are staying together and inviting them to move to the shelter as a group.

For homeless individuals at higher risk for COVID-19, such as those who are over 65 or have a respiratory condition, the city and AHP have been working with the Department of Health and Human Services to secure hotel rooms for them. Spoor said they have already secured 20 rooms and have moved seven high-risk people into hotels so far.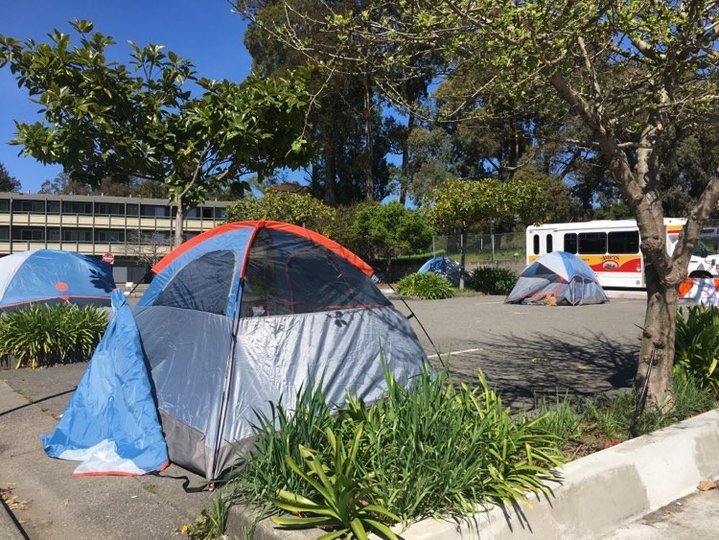 But even with the secured rooms and the two emergency shelter sites, Spoor says they will need to expand to be able to provide shelter for all those in need. AHP has a list of 129 homeless people who utilize their services and there are many more who are not on that list.

In addition to setting up the tent shelters, AHP is providing other support services, including a walk-up free food window on weekdays from 1 to 4 p.m. at the Arcata House building by the transit center. The organization is also continuing to operate the Arcata Food Pantry on Wednesdays from 4 to 6 p.m at the Trinity Baptist Church. Spoor said that in the last two weeks the pantry has gone from serving about 35 families to over 100 families.

And while the increased need for services has Arcata House staff working extra hard, Spoor said that the community support has been overwhelming during this time of emergency.

"The number of people who have come forward in support of [our] services has been incredible," Spoor said. "I am so grateful for the community who is supporting the Arcata House Partnership and the city treating people who are currently homeless with dignity."