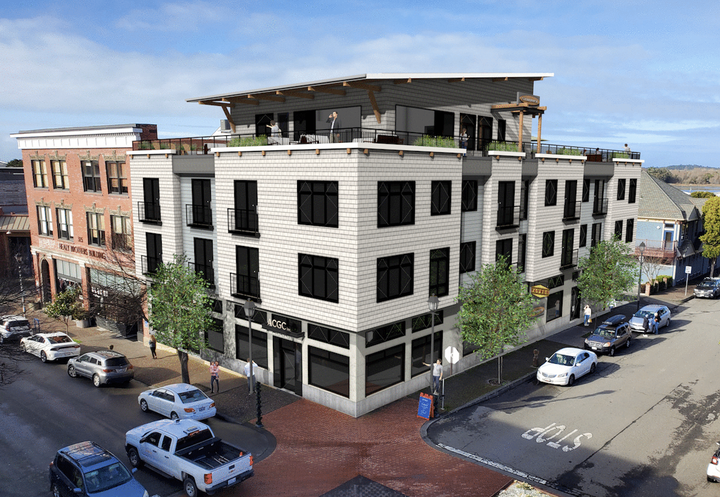 As previously gushed about here on LoCO, with the start of construction on a fancy new building at the corner of E and Second streets imminent, Eureka is on the verge of achieving coveted "Has a Rooftop Bar" status. We are very, very special (or will be soon, at least).
But as you've walked past the bare concrete slab that currently occupies the future building's space, maybe you've found yourself bored enough to wonder: What will it be like up there? Who will be throwing the nightly party high atop these posh new Old Town digs? Who has demonstrated that they deserve the honor of serving drinks to the patriotic locals who'll be climbing over each other each Fourth of July for unrivaled views of our famous Humboldt Bay colored fog, AKA fireworks?
Well, it's time to figure this out, friends!
Earlier today LoCO noticed this listing online stating that the building's owners are "[n]ow accepting inquiries from established operators" who might be interested in setting up elevated shop in the space. Curious, we reached out to David Wells of Wells Commercial Real Estate — the company tasked with handling potential applicants — to ask how the hunt is going.
A video "flythru" of the new space
Wells said they are looking for "someone who knows what they're doing" and noted he's already received a few calls from locals inquisitive about the spot. We asked about the space's planned amenities, to which he said that it will feature a smaller commercial kitchen and potential for outdoor heating. That and awesome sunsets, of course.
"It's an exciting concept to have a rooftop bar in Humboldt County," said Wells. "It's definitely going to be a prime meeting spot."
Does this seem like the kind of dream you'd like to wrap your future up in? Wells said the builder — Adams Commercial General Contracting, Inc. — is hopeful that they can have this project done before the end of 2022. So if you're feeling ambitious, you can contact Wells Commercial Real Estate at 707-444-3624 or visit their website here. As for the rest of you, if you have a preference on who you might like to see in that space, we invite you to duke it out in the comments below.
PREVIOUSLY: Who Says Eureka's Not Hip Enough for a Rooftop Bar? A New Multi-Story Building is Slated for Old Town.