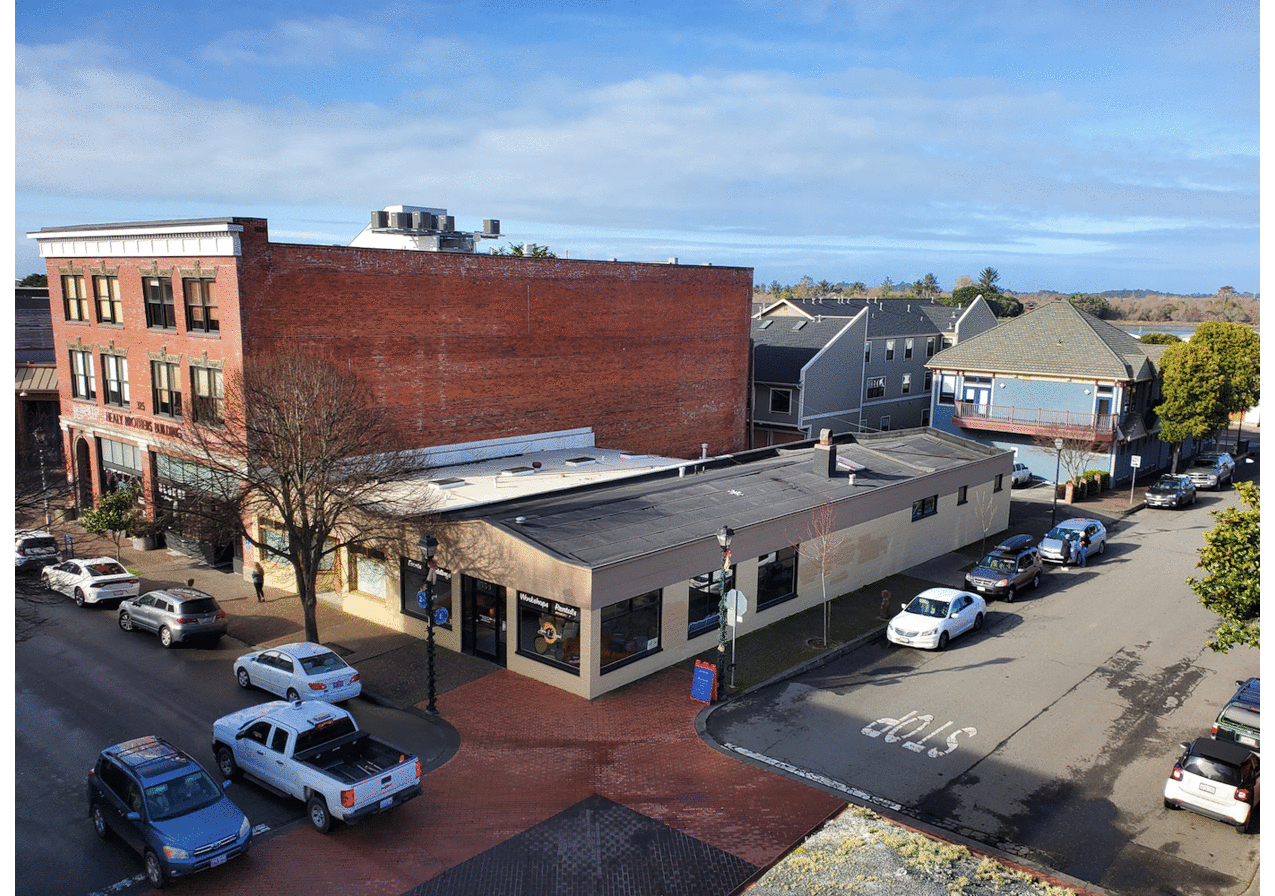 Folks roaming about Old Town Eureka Thursday afternoon may be wondering what's going on with the building being demolished at the corner of Second and E Streets. Well, we made a couple of phone calls and found out the former home of Here & There Vintage (among other businesses) is slated to become a four-story mixed-use building with a tantalizing rooftop terrace.
The new building will provide space for retail storefronts on the ground floor, one- and two-bedroom apartments on the second and third floors, and a restaurant and bar on the rooftop.
"There will be a really cool rooftop deck with what we're currently calling a banquet room, which we think will be a bar and restaurant," Will Adams, CEO of Adams Commercial General Contracting, Inc., told the Outpost. "… My office is down the street from this building and I've kind of had my eye on it for the last several years thinking, 'What an ugly, out-of-place building in Old Town' and thought it could certainly be improved upon."
Such projects usually cause quite a stir in Humboldt County, such as the recently approved EaRTH Center in Eureka, but Eureka City Manager Miles Slattery said he isn't aware of any objections to the new project.
"All of the property owners within a 300-foot radius of the property were noticed and then it went through the planning division, then it went through design review and it's all been approved," Slattery told the Outpost. "It's an outstanding project. There's going to be this incredible rooftop terrace. I'd love to go have a cocktail up there."
While the prospect of a rooftop bar with a picturesque view of Humboldt Bay is quite enticing, Adams emphasized the need for more housing in the city.
"The need for local housing is overwhelming," he said. "We do a lot of apartments in Humboldt County, mainly in Fortuna, Arcata and Eureka. I certainly see the need for it."
Slattery added that the new building will enhance economic development as well.
"I think it's great to see this type of development down there in Old Town," he said. "I think it's gonna be a great benefit for not only housing but also for economic development, which is really what we need in Eureka and this is a perfect example. It's great to see that these private developers are helping us out with our economic development.
The building is slated for completion next spring.