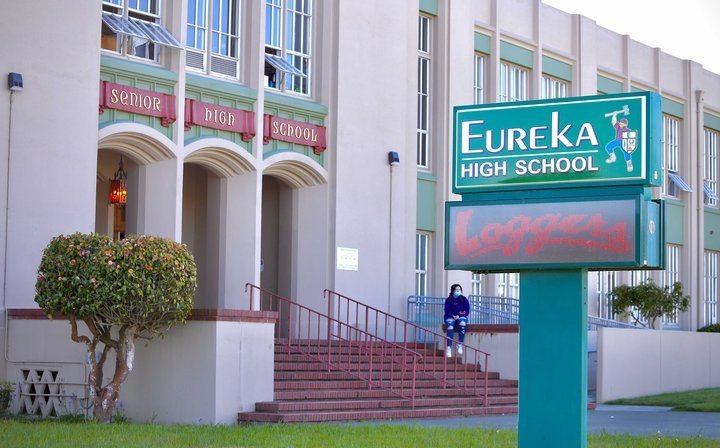 ###
PREVIOUSLY:
###
Following a November vote to ban all future murals on Eureka schools campuses – a decision that sparked opposition from students, staff and community members – the Eureka City Schools Board of Trustees unanimously overturned the controversial no-mural policy at its regular meeting last week.

The mural ban was particularly controversial because the vote came in the midst of two-years-in-the-making mural plans by BIPOC (Black, Indigenous, People of Color) student clubs. The four murals, designed by Eureka High's Black Student Union, Native American Club, Asian and Pacific Islander Club and Latinx Club, began as a project aiming to bring culturally relevant and representational art to one of Humboldt's most ethnically diverse schools. The effort has been led by community member Naomi Doherty, who received a $2,500 grant from the Humboldt Area Foundation for the project two years ago.
Over time, the project gained wide community support. In April, Sharrone Blanck, president of the Eureka NAACP, launched a GoFundMe campaign that raised $5,000 to pay local BIPOC artists to paint the murals. The project later became a DreamMaker Project of the Ink People, and was renamed A.R.C. (Art. Representation. Culture.).
In the meantime, the four student clubs worked on their designs. Amaya Watson, president of the Black Student Union and a student board representative, told the Outpost that BSU planned a mural of David Josiah Lawson and his mother, Charmaine, surrounded by Black historical figures. Jennifer Celio-Aburto, vice president of Latinx Club, said their mural will represent Hispanic culture and traditions in the United States. "[We will] show our parents' story and show our story in the mural," Celio-Aburto said, with images of people immigrating to the US, establishing jobs and going to school as first generation students.
But in September, ECS asked Doherty to develop official mural guidelines for the district, something that hadn't existed before. When the guidelines came before the board at meetings in October and November, trustees couldn't agree on them, so the board voted 3-2 to no longer allow murals at Superintendent Fred Van Vleck's recommendation. Trustee Susan Johnson was absent from the meeting.
The vote was upsetting to students, staff and community members. "I don't really understand why they wouldn't approve of us. I mean, it's something so simple," Celio-Aburto said, noting that Eureka City Schools' mission statement touts embracing diversity. "I was really disappointed because if that's their mission statement, they're supposed to follow those guidelines. And they weren't doing that because they disapproved of the mural project."
Several people appeared at the board's following meeting in December to protest the ban. At that meeting, Trustee Johnson said she felt bad about missing the vote and asked to revisit the mural guidelines in January.
That was on Thursday. The 20-minute public comment period was filled by two students, as well as advisors and community supporters of the project.
Celio-Aburto told the board that she's always felt like an outsider, and recalled growing up in a predominantly white neighborhood while being one of few Hispanic students at her elementary school.
"All of my family lives in Mexico. When my parents came to the US, they left their family behind for a while before they were able to go back and see them. However, there are many people who can't go back because they're undocumented. This is a huge reason as to why we need murals at our school. There are students who don't know anything about their culture or where they come from. But having this mural will allow everyone to be represented, including parents."
Apart from Latinx club and Spanish classes, Latinx culture is underrepresented at Eureka High, Celio-Aburto said. She asked the board to support the murals.
"Considering the social issues in today's world, we should be encouraged to fight for a better future, to dream big, and to celebrate our heritage. But instead we are being discouraged from doing so," she said.
"I would like to encourage you all to be empathetic towards myself and everyone else who is in support of this project because this project is for the people."
Several speakers, including four students, weren't able to address the board because of the 20-minute public comment time restriction. (Doherty said that Trustee Mario Fernandez made a motion to extend public comment on the item, which failed due to lack of second.) Afterward, those four students – who aren't involved in school clubs but want to see the murals come to fruition – told the Outpost that not getting to speak was upsetting.
"They say they want to hear from the students, but they really don't," said Cassie, one of the students. In an interview, Cassie and others recalled experiencing and witnessing racism at Eureka High School.
"As a first generation [student], I experience racism," said Izzy, one of the students. "I get called names at school like 'beaner' and I hear racial slurs all the time. And I got in trouble for wearing a flannel by the administration, because, quote unquote, 'stop looking like a gang member,'" Izzy said, adding that when a white student wore a "White Lives Matter" shirt to school during the Kyle Rittenhouse trial, administration didn't confront him about it, to her knowledge.
In addition to commenting on racism at EHS, Izzy planned to ask the board to reverse the no-mural policy and to not enforce any guidelines. "I just think that art shouldn't have any restrictions," Izzy said.
"What I wanted to say to the board is that I've gone to this school for three years, and as a white student, I've heard so many people called the N word, the R word, fag and so many of these others that are just so awful and hateful and the school still won't do anything about it," said Cassie.
"Fifty-one percent of students at EHS are minorities, and all high school students want to do is fit in. And if the board really wants students to be more involved in school, they should help students feel like they belong and make them want to be involved by helping them feel more represented and safe in their high school."
Without much discussion, the board made minor adjustments to the mural guidelines before approving them unanimously and overturning the ban.
"I'm super excited," Celio-Aburto told the Outpost afterward. "It hasn't been something super stable or guaranteed, so we haven't been able to work on it. But now we're really excited to move on."
"Overall I'm happy. I'm glad," Doherty said.
Seeing the guidelines' approval by the end of this school year was important because several students contributing to the murals will graduate. Doherty thinks that all four murals could be complete by June. Three clubs have specific ideas or sketches that will soon be ready for approval, and the Black Student Union's sketch has already been approved. According to the guidelines, Eureka High murals are approved by the Inter Club Council, which is made up of the school's student club presidents.
"I'm just excited to get them up," Doherty said, "and for the students to have a celebration to show them to the rest of the student body, and also the community, at the end of the year."