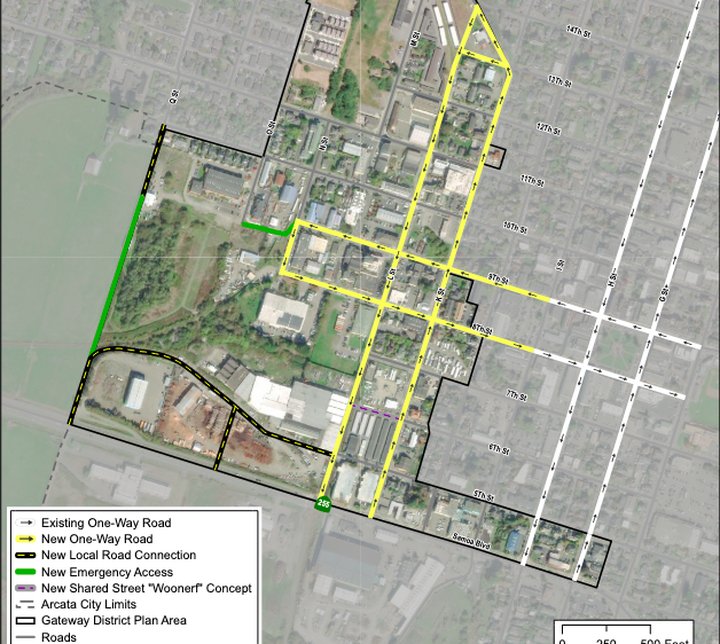 ###
If you pay the slightest amount of attention to what's going on in Arcata, you've likely heard something by now about the city's Gateway Area Plan — a plan to re-zone about 138 acres near downtown to allow for the creation of more housing. And if you haven't heard much about it, now might be the time to start familiarizing yourself, because as the City is looking to adopt the plan this year and wants to gain as much public input as it can. There will be many upcoming public meetings surrounding the plan, including one this evening.

Arcata's Transportation and Safety Committee will review the Gateway Area Plan during it's meeting at 4:30 p.m. today (Tuesday, Jan. 18), specifically examining the transportation element of the plan, which encompasses proposed changes to roads, sidewalks, trails and public transportation.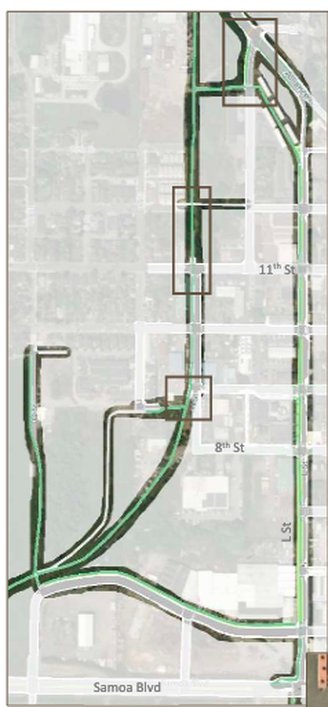 The Gateway Area Plan aims to facilitate the creation of up to 3,500 residential units in town and the creation of multiple new businesses. That means the city needs to plan for increased vehicle, bicycle and pedestrian traffic. One way city staff proposes the city address these changes is by extending L Street to connect Alliance Road and Samoa Boulevard and to convert both L Street and K Street to one-way traffic — with K Street running northbound and L Street running southbound. This plan would also necessitate the creation of a new intersection at L Street and Samoa Boulevard and the installation of a traffic signal and crosswalks.
A section of Eighth and Ninth Streets would also be converted into one-way streets (Ninth would be for westbound traffic and Eighth Street for eastbound traffic). The K, L, Eighth and Ninth Street conversions would also include the addition of left-turn lanes, additional crosswalks, buffered bike lanes and wider sidewalks.

The plan also includes the installation of a new trail system for bicycles and pedestrians. One trail would run along N Street, connecting M Street and Alliance Road. Another trail is proposed along Q Street, south of Tenth Street. Natural paths are also proposed to connect to the paved trails.
You can read more about these proposed changes in the Draft Gateway Area Plan's "Mobility" section, which is attached to the Transportation and Safety Committee's agenda.
You can join the Transportation and Safety Committee meeting, held entirely over Zoom, at this link. You can view the full agenda a directions on how to participate here.
###