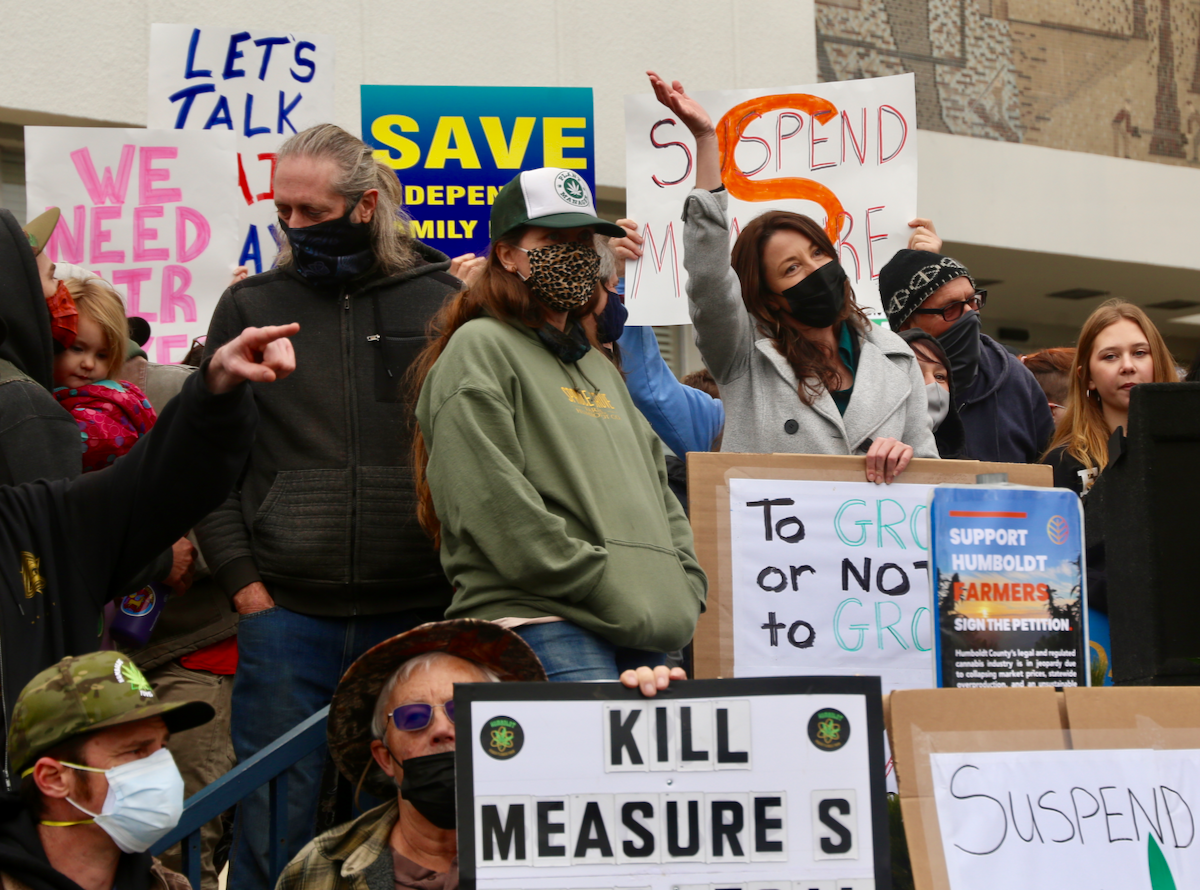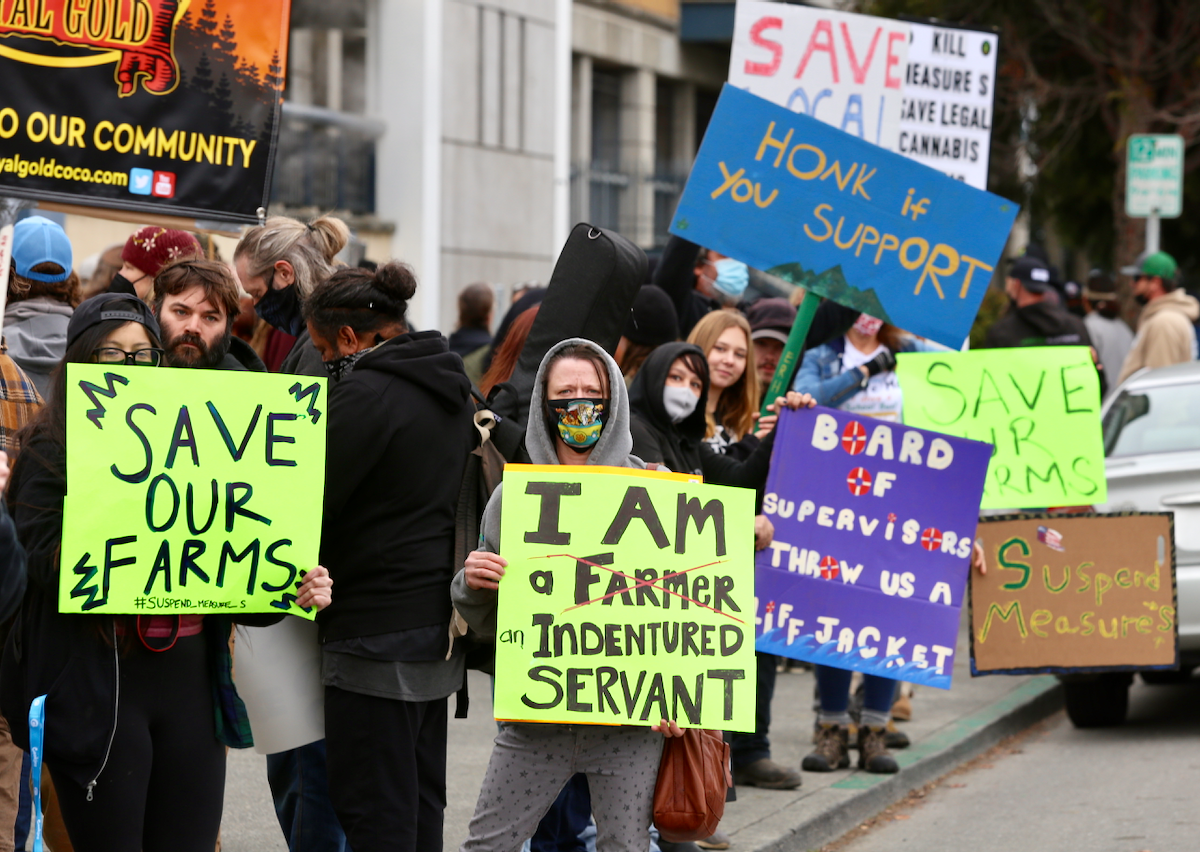 With cannabis prices at historic lows and those who operate in Humboldt's legalized market financially struggling, around 250 cannabis farmers, industry folk and allied community members gathered in front of the Humboldt County Courthouse on Tuesday to demand reprieve from taxes they say endanger farms' survival.
Specifically in the activists' sights is Measure S, the county's cultivation tax initially passed by voters way back in 2016 and tweaked a bit by the Board of Supervisors in subsequent years. The measure, crafted with input from local farmers, was passed before the state's regulatory framework had materialized and now those affected say the combined burdens are too much to bear. Promotional material distributed by the Suspend Measure S Grassroots Campaign in advance of today's demonstration outlined the group's goals:
The wholesale price of cannabis has plummeted post-legalization due to overproduction and prohibitive taxation, including the Humboldt County cultivation tax based on the square footage of allowable, grow space. This tax is paid even if no cannabis is produced or sold, and the tax rate does not fluctuate with market conditions. This tax is not applied to any other agricultural product. As a result, HumCo's cannabis industry and local economy are in jeopardy as farms continue to shutter. The Suspend Measure S campaign asks the HumCo Board of Supervisors to:

Forgive the October 2021 tax payment.
Waive the March 2022 tax payment
Suspend the tax for an additional year
If their request to halt Measure S cultivation taxes is granted, proponents of the move say they will use their less-taxed period to seek further public input to help develop a tax system they find more equitable.
Speaking at Tuesday's rally, Natalynne DeLapp, executive director of the Humboldt County Growers Alliance, spoke out strongly against post-legalization state and county taxes and regulations before citing some of the grievances she and her members have with Measure S.
"We are standing here today not asking for a handout, but a reprieve from Humboldt County's flat rate cultivation tax, a tax that does not adjust with market conditions " DeLapp said. "When Measure S was written and voted on in 2016, over six years ago, the wholesale price of cannabis was at least four times higher and propped up by prohibition. The cost of producing cannabis was lower because California had not yet implemented its licensing fees and taxation structures, nor had the expenses of bringing preexisting farms into compliance been realized."
DeLapp wrapped her remarks by painting a stark picture of what she believes over taxation has done to the local cannabis industry: "Humboldt County, we are telling you there is no more money left. You cannot squeeze blood from a stone."

Tuesday's rally featured a diverse slate of speakers critical of Measure S and the state of the local cannabis industry in general. You can find a sampling of what they had to say below.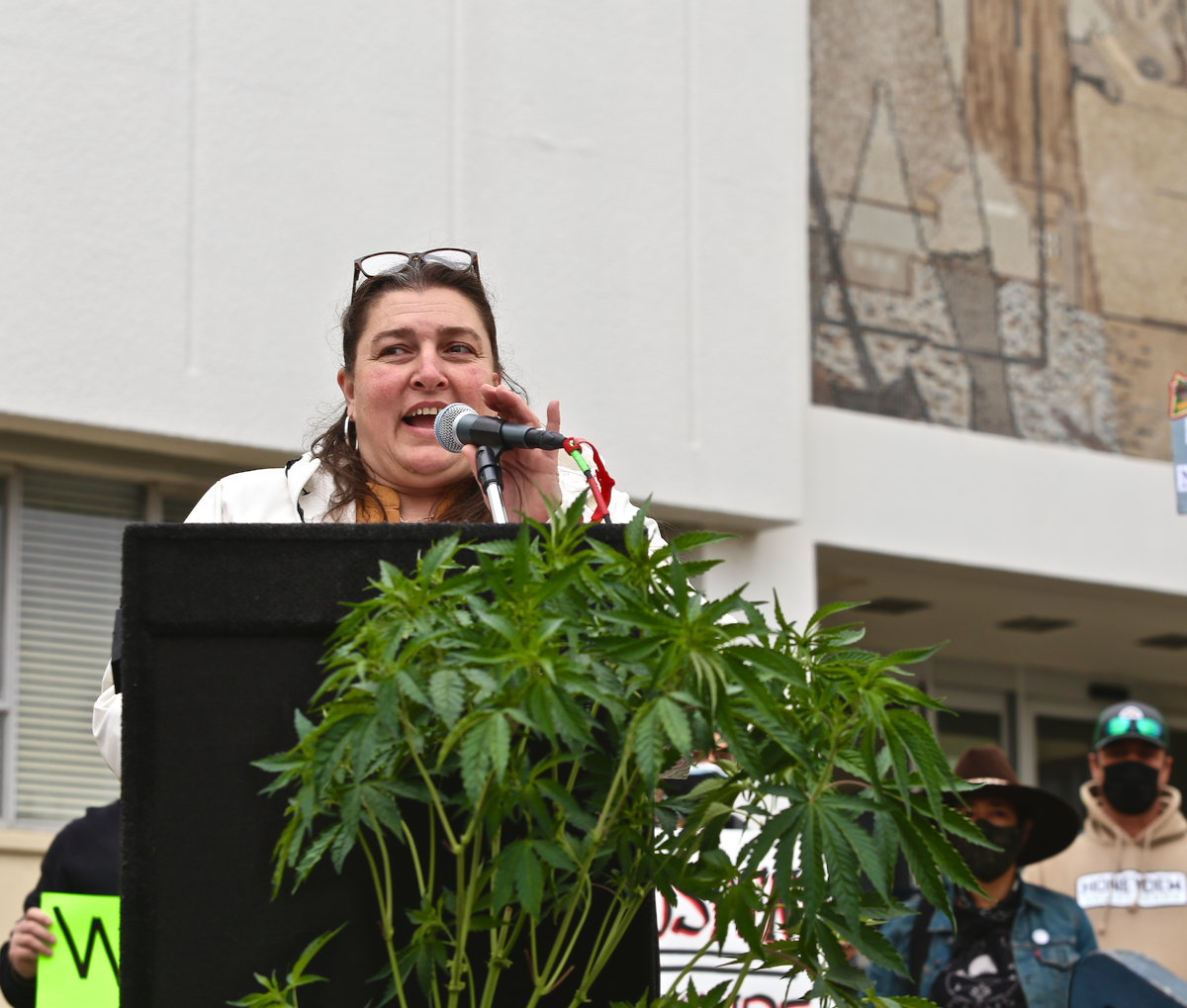 Sequoyah Hudson, co-owner of Eight-Mile Family Farms and CEO of the Humboldt Sun Growers Guild, pointed out that Measure S was the result of cultivators asking to be taxed because "it was the right thing to do." But now she says the measure's flaws are more apparent and the impacts are financially crushing her community.
"Said simply and clearly, there is no money to begin the legal 2022 growing season, much less to pay the Measure S taxes that have been deferred from 2021. We need your help. Please tell our Board of Supervisors to suspend and repeal the Measure S tax immediately and let's get to work on creating a more effective and accountable method for our cannabis operators to continue contributing to county services while at the same time receiving much needed relief. Let's implement a more sustainable tax model."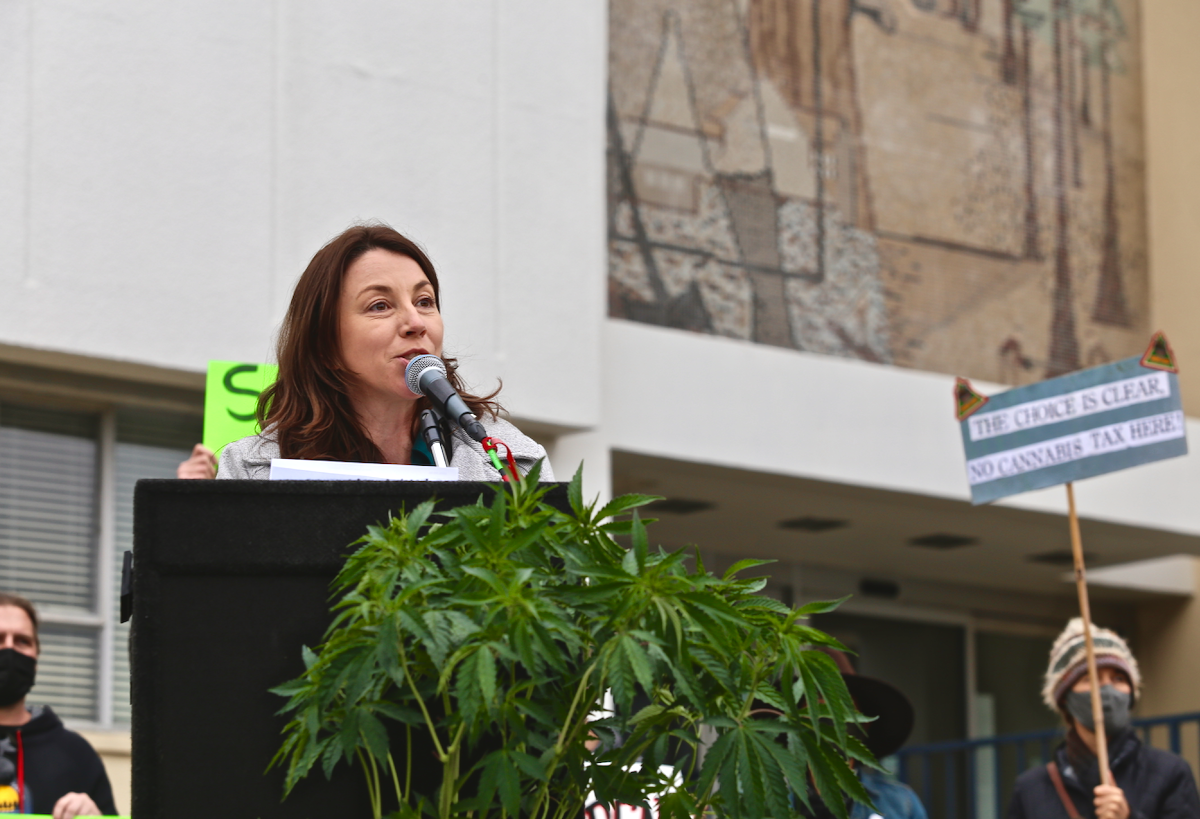 HCGA's Natalynne DeLapp stressed that the farms she represents are hurting, they believe due to a tax system that is unlike any other industry.
"Self-funded cannabis businesses cannot survive two years of deficit profits. Moreover, the proverbial pickle barrels of cash have long since been depleted, having been spent on county land-use permitting. And legal cannabis businesses cannot have access to outside capital or bank loans, or any financial supports that are available to traditional agriculture. No other industry is subject to an entitlement tax like cannabis, meaning no other business that is permitted to operate in Humboldt County has to pay a tax directly to the county for an opportunity to participate in the economy."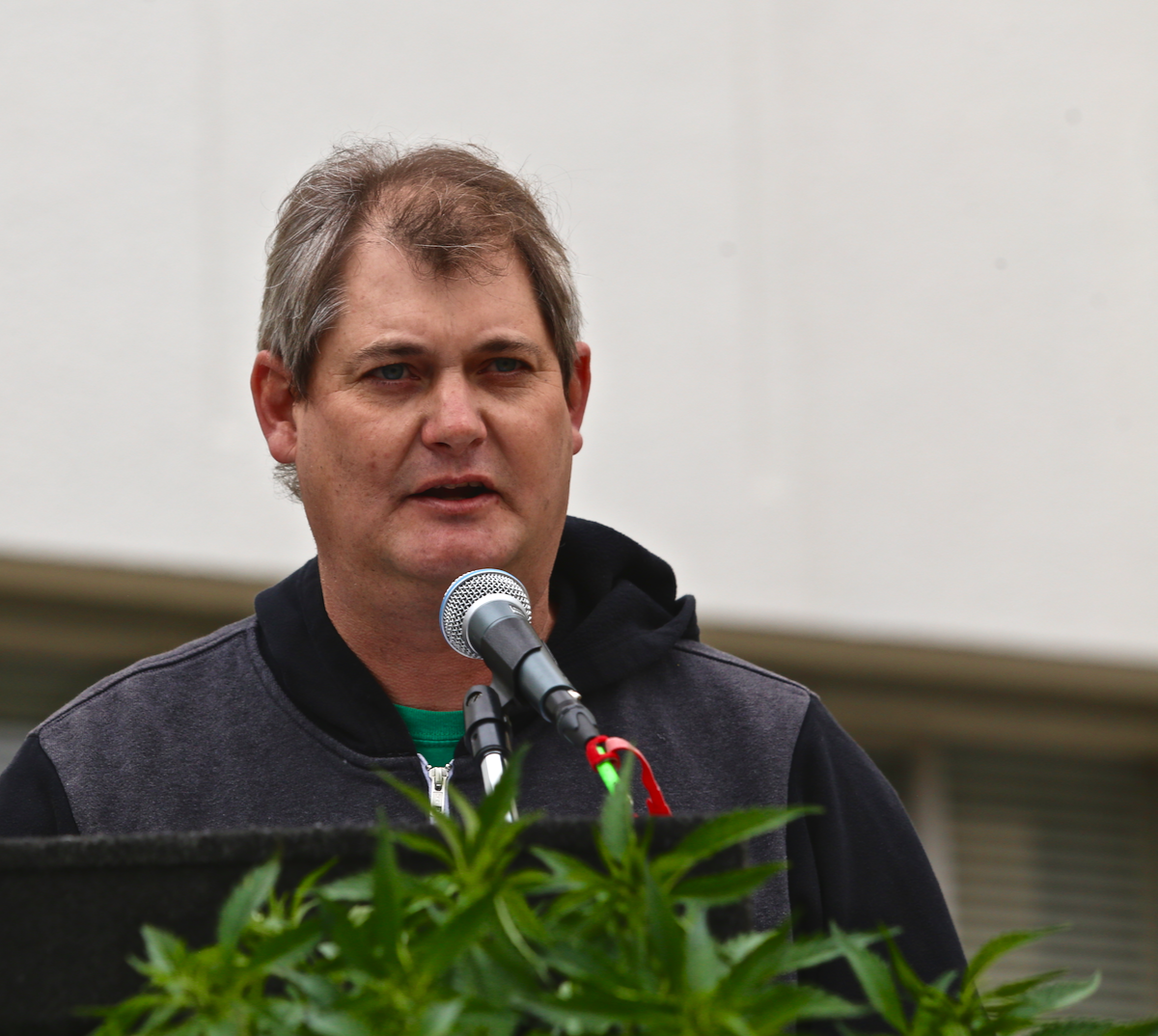 Humboldt-born Dylan Mattole is the co-owner of Mattole Valley Sungrown in Honeydew, a "small family homestead farm" that represents "a rural lifestyle that's quickly becoming very rare in America." Mattole was quick to bring his farm into compliance after legalization, but now compares the experience to "being on a roller coaster while they are building and fixing the track out in front of us."
"People voted for change so that we would be able to grow and sell this plant. But we also voted to tax it like no other crop or business. Why? When Measure S was passed we were all excited about the idea of becoming legitimate businesses. We didn't yet know what state regulation would look like. Now we do and it's a mess."
While not a farmer herself, real estate agent Sandi DeLuca has sold many properties out in the hills over the years and is concerned about what she is seeing. Following legalization, she was inundated by people looking to purchase farms in Humboldt. These days more people are looking to sell.
"Over the past six years since legalization I've witnessed the rise and fall of cannabis property values. In 2017 the price of properties ballooned because of the perceived value caused by the limited number of properties that would benefit from a cultivation permit in Humboldt County. What no one understood then was the complexity of bringing preexisting farms into compliance with California environmental and agricultural law."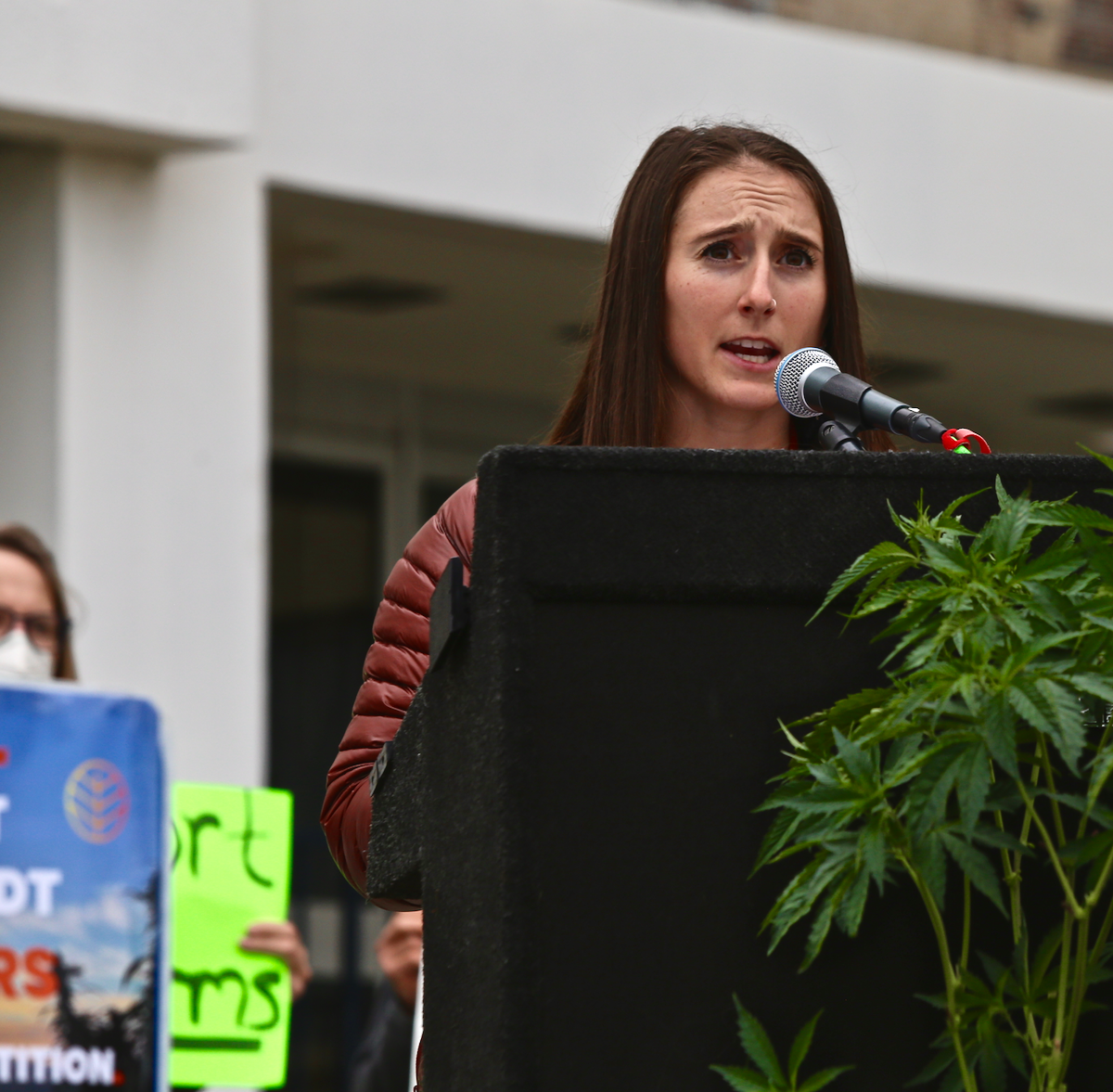 Jackee Riccio, executive director of Cannabis for Conservation, looked to highlight much of the environmental progress made in how Humboldt farmers sustainably cultivate their crops, but said those efforts are under threat if people are unable to pay their bills.
"So why then, instead of bleeding farmers financially dry, are we not ensuring that they can flourish through the regulatory process and form lasting conservation and remediation partnerships around the common value of stewardship? Why are we threatening that opportunity and the conservation goals of the state with over taxation?"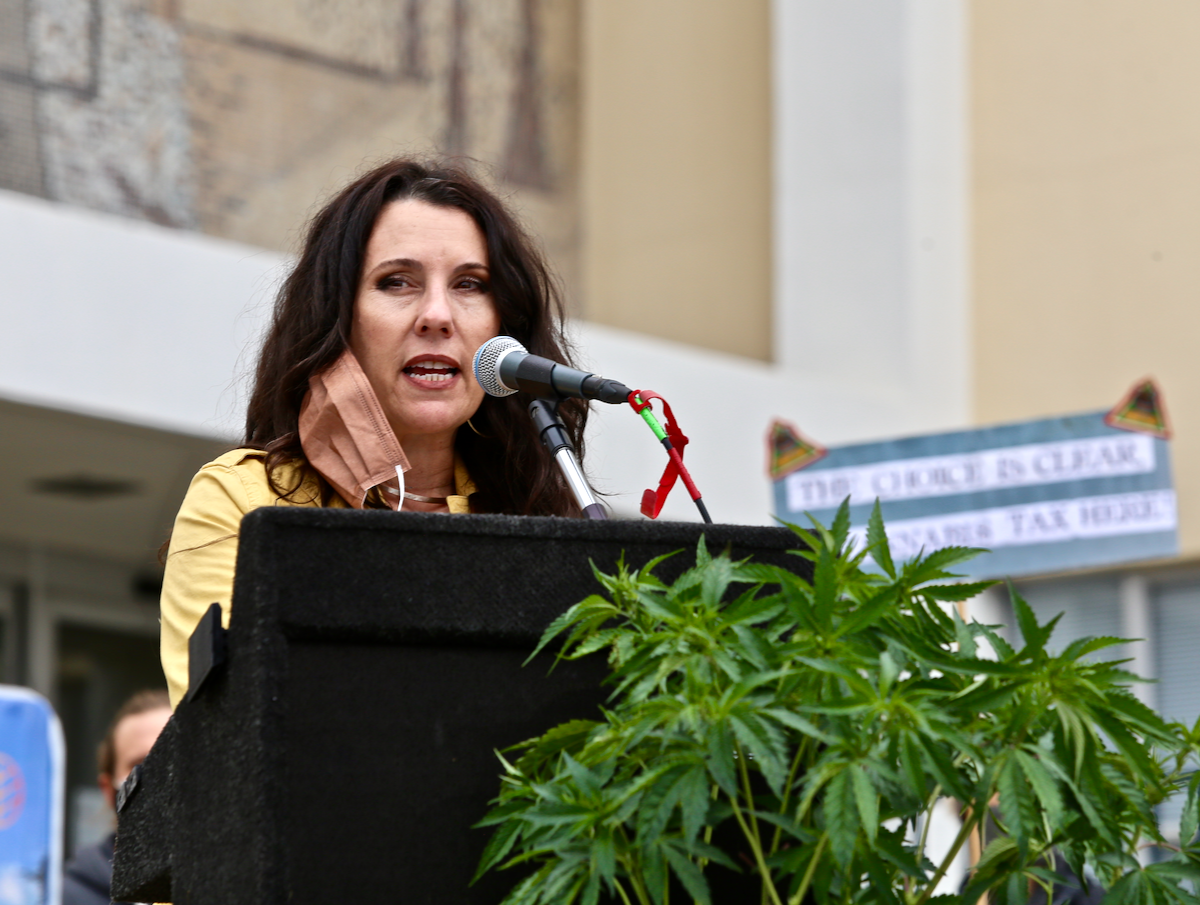 As director of operations for the Southern Humboldt Business and Visitors Bureau, Laura Lasseter views cannabis as the "driving force" of Humboldt's economy and looks forward to a developed cannabis tourism sector.
"The Humboldt craft legacy farmers hold the key to a story that many visitors want to hear, but these farmers and their stories are facing extinction. What makes Humboldt unique is our history, our story, our legacy. These legacy cannabis stories are a vital key to a puzzle of the history of Humboldt cannabis."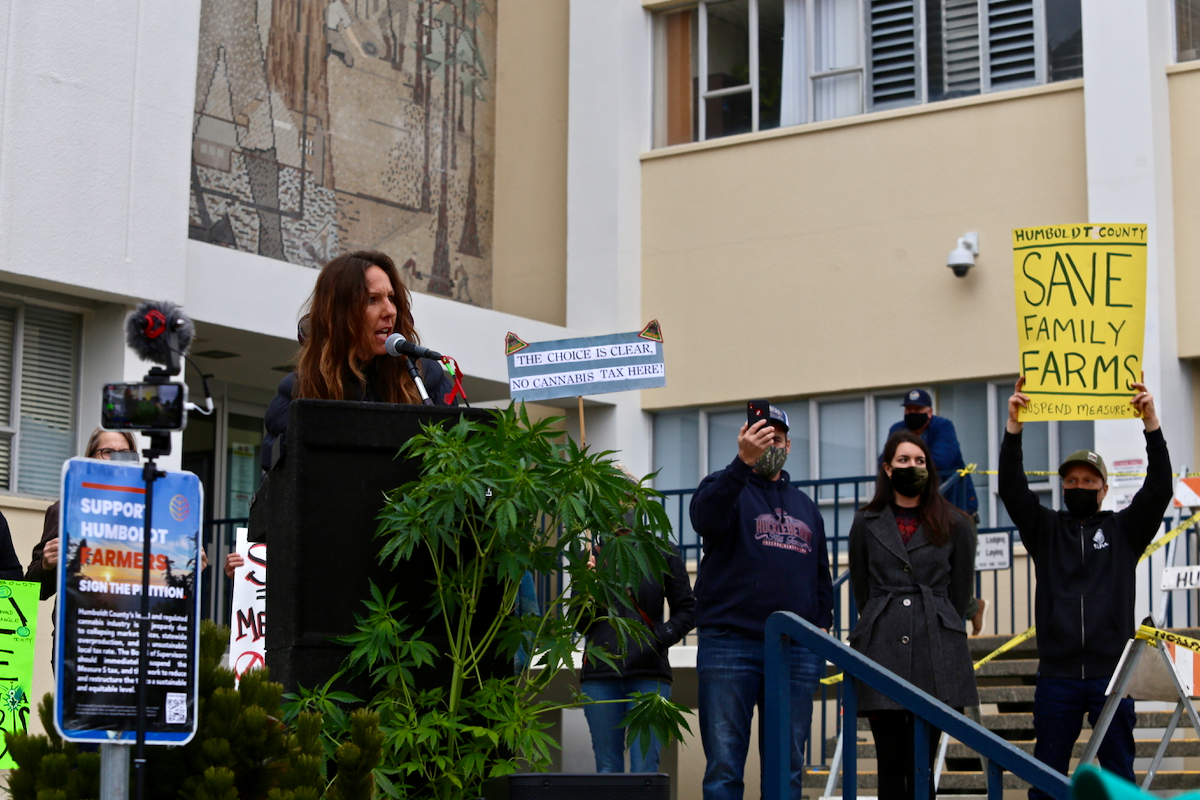 Melanie Johnson, a longtime local cannabis farmer at Alpenglow Farms, echoed what her fellow speakers said, but went further seeing this struggle as a moral issue. She spoke about the fear she feels about potentially losing the only life and home she's ever known.
"I need not continue to describe and define [the impacts of] Measure S. I need not continue to defend the morality of us cannabis farmers and the myriad ways in which we support our communities. It has already been stated and it has already ben said. Instead, I call on Supervisor Bass, Supervisor Bushnell, supervisors Wilson, Bohn and Madrone to hear the words of their constituents with open hearts and open minds, to accept and acknowledge that those of us left standing have managed every hoop and hurdle set before us. And we ask not only for a lifeline but the right for our way of life."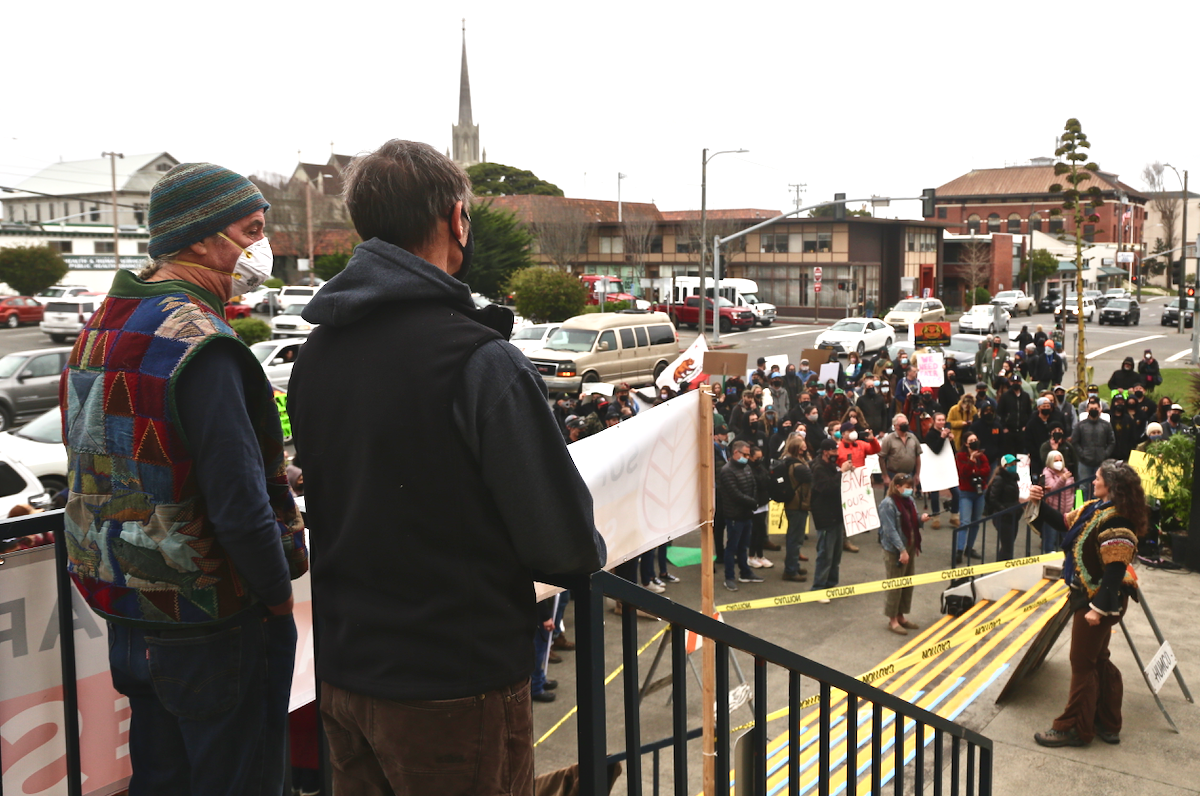 Find more crowd shots and signage from today's Suspend Measure S rally below.