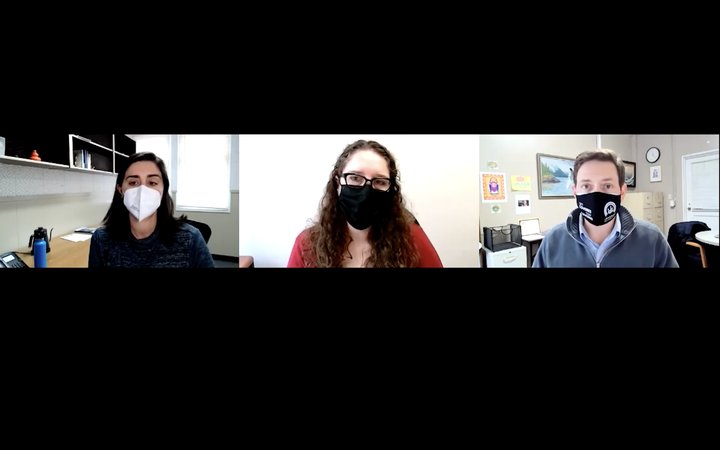 ###
If you've tried and failed to find a rapid COVID-19 test locally, to no avail, Humboldt County Health Officer Dr. Ian Hoffman says you're not alone — and with the omicron variant fueling the largest surge in cases to date, things might not get better for a little while.
"We're certainly not going to have enough tests to get through the omicron surge," Hoffman said at a press briefing Wednesday. "It is overwhelming all testing across the board. So we might have to prioritize some in the coming weeks."
That means, ideally, saving those tests for people who are actually showing symptoms, he said. That way they can figure out if they've got the now not-so-novel coronavirus or something more benign, like a cold.
Hoffman mentioned the federal government's website, deployed on Tuesday, that allows each household to order four rapid tests that will be delivered in the mail later this month or early next month.
Hoffman also mentioned the importance of masking during this outbreak, noting that the California Department of Public Health recently updated its "Guidance for the Use of Face Masks" website. There's a wide variety of masks available on the market. Hoffman said the N-95 or KN-95 varieties are the best options.
Surgical masks provide some protection, though Hoffmans said you may want to double-mask to create a better fit. Even if you only have cloth masks, that's better than nothing. "It's just not as good as others that are widely available now," Hoffman said.
As for this unprecedented surge, Hoffman said we likely haven't seen the peak here in Humboldt. In fact, we're probably still a week or two away from the high-water mark, he predicted, and he cautioned that cases will remain high even on the other side of that peak.
And since it bears repeating ad nauseam, Hoffman again reminded the public that vaccination "continues to be the most effective tool against all forms of the coronavirus, COVID-19."
People who've been fully vaccinated and boosted have a much, much lower risk of hospitalization and death.
You can watch the full news conference below.