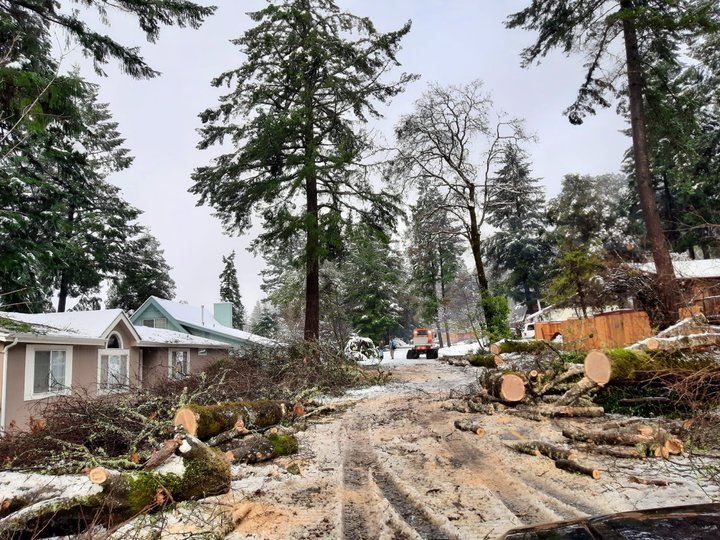 PREVIOUSLY: Sheriff Declares Local Emergency in Snow-Bound Hills, Asks Residents for Reports of Local Damage
###
At a special meeting Monday morning the Humboldt County Board of Supervisors voted unanimously to ratify and continue the local emergency declared last week by Sheriff Honsal in response to extensive winter storm damage.
The storm, which arrived early last week, brought heavy snow, wind and rain, causing more than $10 million-worth of damages, property loss and emergency personnel costs, according to a staff report. And those figures can be expected to rise.
With downed trees and power lines, telephone and power outages and major roadways closed due to hazardous and impassable conditions, the county launched an array of emergency response measures, bringing in state and local agencies as well as volunteer organizations to offer emergency services, clear debris and provide shelter.
The emergency declaration is expected to help the county recover costs through state and federal financial assistance.
Fifth District Supervisor Steve Madrone said communities in Hoopa and Willow Creek were hit particularly hard. He thanked crews from PG&E for their work trimming trees and clearing debris, and he questioned whether the National Guard could be brought in to help the cleanup efforts.
Honsal said the county has mutual aid agreements with myriad agencies and that the National Guard would be a "last-ditch resource" to be requested "after exhausting all other mutual aid options."
Madrone said he wants to figure out how to bring aid to local residents "because right now people don't have a clue."
Second District Supervisor Michelle Bushnell thanked the county's Public Works Department for clearing downed trees and plowing roads in Southern Humboldt to keep the open.
Madrone mentioned that people who've suffered extensive property damage can get some temporary tax relief by filling out a "calamity damage reassessment form" that's available on the county's website.
First District Supervisor Rex Bohn made the motion to ratify the emergency and it passed by a unanimous 4-0 vote with Third District Supervisor Mike Wilson absent.