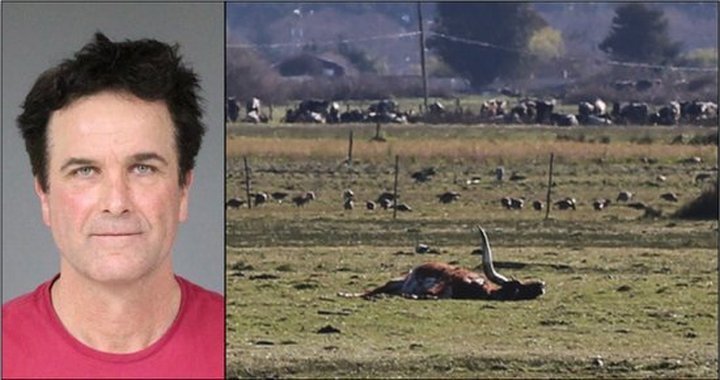 Judge Gregory Elvine-Kreis will issue a ruling within two weeks on whether possible evidence-tampering justifies dismissing animal cruelty charges against Arcata rancher Ray Christie.
Today Charles Adams, an expert in extracting data from electronic devices, said some photos taken at Christie's ranch during a March 2018 raid were missing. Others had been re-named. A few of the photos were actually taken in January 2018, two months before the multi-agency raid on Christie's various properties.
Defense attorney Rick Richmond sent subpoenas to a number of law enforcement officers involved with the raid. One of them was sheriff's Deputy Travis Mendes, who was the livestock deputy at the time and who led the operation.
Mendes testified he took a number of photos and submitted them — along with photos and videos by another officer — as evidence. He said a total of three devices were used, including his department-issued camera and cellphone and a video camera used by another officer..
But defense expert Adams said he was able to identify eight different devices used, along with about nine more he couldn't identify. Adams said some photos were missing. There was evidence that "metadata" had been stripped from some pictures so no information could be gleaned.
"Somewhere along the line those photos had been altered," Richmond told the judge today.
Most of the photos show cow carcasses or animals down and too weak to get up.
Adams also pointed out today there was no information on the "chain of custody" for evidence. He said it should be meticulously documented: who checked out the evidence, when it was returned, why it was checked out.
Instead, there was one line in Mendes's report, stating that he had booked the photos into evidence.
There was also testimony today about six electronic devices seized from Christie and his girlfriend during the raid. One of the computer laptops was wiped clean of all information, possibly by someone doing a "factory reset."
The defense believes this was nefarious, though it also was suggested today that Christie wiped the computer before it was seized.
Some of the photos in question were dated on Oct. 23, the day federal agents conducted their own raid on Christie's ranch. Adams said it's possible someone may have opened the photos on that day.
Deputy District Attorney Steven Steward argued the defense has to prove any missing or altered evidence was exculpatory (benefiting Christie).
"There is no evidence other than speculation from Mr. Adams and Mr. Richmond about exculpatory evidence out there," Steward said. " … The question isn't whether evidence was destroyed. The question is whether any of that evidence had exculpatory value."
Elvine-Kreis made several comments during the day-long hearing that indicated he was skeptical of the defense position. He would have to find law enforcement acted in "bad faith," and he didn't see evidence of that. He noted that Mendes wrote in his report that he gathered evidence and booked it.
"That's not bad faith," the judge said.
Mendes was in the courtroom during the testimony of other witnesses, including Adams.
Elvine-Kreis said he is concerned about photos that were taken in January 2018, yet were portrayed as being taken during the March raid.
"Where did they come from?" he asked.
Steward informed him the investigation into Christie's doings began in January, which would explain the mix-up.
Elvine-Kreis attempted throughout the day to narrow the scope of the hearing, saying this is a simple felony case that has been needlessly complicated.
One of the attorneys subpoenaed today was Adrian Kamada, who is now a public defender but prosecuted Christie during his first trial. Kamada filed a motion asking the judge to quash the subpoena, which Elvine-Kreis did.
As a prosecutor Kamada simply wrote a search warrant for the six devices seized from Christie, and a judge issued the warrant.
In court today, Kamada argued "there has to be substantial proof that this (evidence in question) exists and that it is exculpatory … this is really an abuse of the court's time."
Elvine-Kreis responded by telling Richmond "You threw a huge wide net over a very old case at the last minute."
Richmond, though, said more than once that the District Attorney's Office is hoping to be clever enough to hide evidence and get away with it.
As of now the trial is scheduled to begin Jan. 31, with a trial confirmation on Jan. 18. Now Jan. 18 will likely consist of the judge issuing his ruling, along with setting a new trial date. Richmond has said he has medical issues to deal with and can't be prepared by Jan. 31.
Christie's first trial ended with the jury convicting Christie of about two dozen misdemeanor counts of animal cruelty. The jury deadlocked 11-1 for guilt on four counts of animal cruelty.