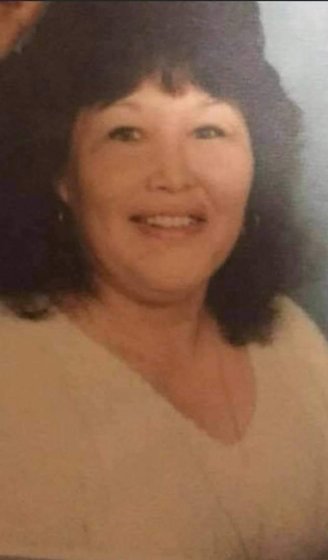 A beautiful soul, Vicki June Aubrey, age 71, a loving mother of eight, a doting wife to Loren H. Aubrey (Papa), passed away peacefully in her sleep the morning of December 23, 2021. Vicki was born May 10, 1950 to Arliss Roberts and Edmund Sherman.

She was known as Grandma Queen to all her grandchildren and great-grandchildren, being the strong independent woman she was. She was the rock to our family. Living in Hoopa for over 20+ years, moving from Fairhaven. In her early life she was a tomboy, playing with snakes, lizards and bugs. She chased the boys away with them. Not liking peas as a child her mom would often find them in her pockets on laundry day, a trait that seemed to be passed down to her grandchildren.
Vicki was willing to help anyone from family to friends, even strangers. Her door was always open to all the same. She often had people over just to talk, and she always had a prayer or advice or food to eat. Grandma Queen loved thrift shops, yard sales (any bargains) — she loved church, and also loved camping (Dillon Creek, mostly). She could camp for weeks at a time, playing cards, board games, dice, dominoes — just being around her family, and being able to see her children and grandkids happy and laughing, their rising up and sometimes falling down. She was always there. She had her life-long friends Chris and Sedgie Stogner, who were always there and seen her grow into a strong Christian woman. She became a faithful servant of the Lord along with the love of her life, Loren H. Aubrey, over 25 years ago.
Later they moved to Hoopa and started a church there, starting in their own house with pastor Guy and sister Cindy. They would have weekly Bible studies and dinner. They were faithful in church and picked up and dropped off many fellow church members. Vicki and Loren also took on raising grandkids Eagle, Monique, Annette and Edmund, and took part in raising Cherri, David, Josh, Katie and Jerry when they were young — also Jaime, Chyanne, Windy, Lil Vick, and many of papa's grandkids to.
Survived by her three remaining children — Geraldine Moon, Cassandra Moon, Shelly Noneo — her grandchildren and great-grandchildren and great-great-grandchildren, too many to name. They know who they are.
Preceded in death by her husband, Loren Aubrey; five of her children, Cheri Moon, Lil Wayne Moon, Edmund Hayden, Arliss Goodman and Margarett Moon; granddaughter Lil Shelly Moon; son-in-law Nikki Metcalf; and other close family members Lil Debbie Sherman, Sharky Sherman, Norma Jean and Ike Carter, Joy and Chuck Burkhart, Pat and Leroy Bean.
Services will be held on Saturday the 22nd of January 2022 at 12 p.m. at Eureka the Pentecostal Church located 1060 Hoover St., Eureka (Myrtletown). Followed by a celebration of life (food and drinks will be provided) which will be held at 266 Keisner Rd., Loleta at the Bear River Recreation Center from 2:30 to 4:30 p.m. If anybody wishes to send their condolences through card or flowers if you could send it there during that time.
###
The obituary above was submitted on behalf of Vicki Aubrey's loved ones. The Lost Coast Outpost runs obituaries of Humboldt County residents at no charge. See guidelines here.