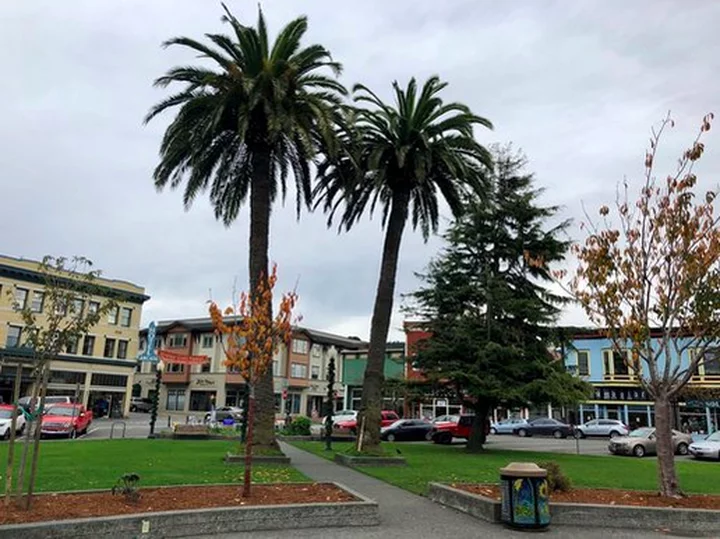 ###
For years the City of Arcata has been looking for ways to make the town's social and economic nucleus – the Plaza – a safer and more attractive place for community members and tourists. The City's latest idea is to station a few friendly folks around the Plaza and downtown to help address some of the day-to-day issues in the area.

These people will be known as "community ambassadors" because they will be sort of like ambassadors of Arcata – interacting with tourists and locals to provide recommendations and help them feel welcome. The Community Ambassador Program was approved by the council a few months ago. Now, with grant funding from American Rescue Plan Act (ARPA), the City is looking to hire people to be community ambassador.

"The idea is for them to be a helpful presence," Arcata Mayor Stacy Atkins-Salazar told the Outpost in a recent interview. "We need great people for this job. They will be interacting with all people from all walks of life – from someone in a crisis to someone just looking for a place to eat."

The Community Ambassador Program is a collaboration between the Arcata Police Department and the nonprofit Arcata Main Street, Atkins-Salazar explained, and the ambassadors will focus both on supporting local businesses and helping with some police-like duties related to safety and security. With the ARPA funds, Arcata will be able to fund a pilot program for two years, Atkins-Salazar said, initially focusing on the Plaza and downtown neighborhood. If the program is successful, she hopes it can expand to other parts of the city.

Other cities, including San Francisco, Oakland and San Bernardino, have implemented Community Ambassador Programs to strengthen community partnerships and make their cities a prettier and safer place to live and visit. Ambassador duties vary from city to city but generally include things such as answering visitors' questions and connecting them to businesses or services; checking in with local business owners and assisting with their needs; interacting with the unhoused population and connecting them to services; and helping with city cleanup, including picking up trash or removing graffiti.
Sgt. Luke Scown, APD's community outreach team supervisor, is in charge of overseeing Arcata's ambassador program. He's now looking to hire six community ambassadors and one team lead. In these part-time positions, ambassadors will work 20 hours per week in four-hour shifts. Scown wanted to emphasize that although the program will be overseen by the police department, the community ambassadors are not police officers. They will be trained in de-escalation techniques, Scown said, but only so they may safely navigate any dangerous situations that may arise while they are working. They are not expected to respond to crime in the way a police officer would.

"[The ambassador program] is working with us but also very much its own thing," Scown told the Outpost in a recent interview. "I don't want people to feel that this is an immediate extension of the police. It's got a different focus."

The program will help take some of the burden off the police department, which is already stretched thin, by having ambassadors patrol downtown and respond to situations that don't require an officer, while also providing a presence that may be less intimidating to some folks than armed and uniformed officers. The ambassadors will wear some type of uniform, though – likely a brightly colored shirt and/or vest.
The idea is that anyone can approach a community ambassador for whatever kind of help they need – whether it's asking where to eat, requesting directions to the beach, reporting graffiti or a gross mess around the plaza or asking where to go for a free meal or shelter. If the ambassador is able to help, they will. When necessary, they may call the police department for help. The ambassadors can also act as "safety escorts," Scown said, walking people to their car, home or hotel if they feel unsafe. Scown added that the organizers are still figuring out exactly how that service will work. Most likely, he said, there will be a phone number posted publicly that people can call for this service.

Scown and Atkins-Salazar said they're still figuring out ways to post public information about the ambassador so that people will understand the role of the ambassadors when they see them out in public. They will probably post informational signs or create a pamphlet about the program. But they feel the most effective way to let people know about the program will be through the ambassadors themselves. They're hoping to fill the positions with people who aren't afraid to introduce themselves and explain their role to business owners, service providers and people just walking around downtown.

"The main way this program will work is by getting the right people who are outgoing and engaging," Scown said. "This is not a position for passive people."
If this sounds like something you'd be good at, you can find more information and apply for a community ambassador position on the City of Arcata's website.
###
PREVIOUSLY: Arcata City Council to Consider Launching Rental Inspection Program to Protect Tenants, Community Ambassador Program to Improve Downtown Area