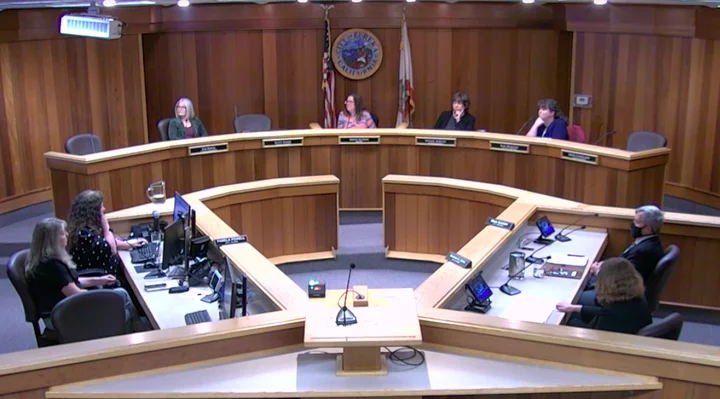 ###
The Eureka City Council returned to the contentious topic of City-owned security cameras during its regular meeting on Tuesday night. The policy proposal, which was discussed during the council's last meeting in June, seeks to define the ways in which City-owned cameras can be used and ensure the uses align with public interest.

The policy proposal was brought before the council last month following City staff's decision to erect an unsightly surveillance pole, popularly known as a "Lot Cop," directly in front of Eureka's Old Town gazebo without the council's knowledge or approval. During the meeting, the council acknowledged multiple benefits and several downsides to City-owned security cameras and ultimately agreed to postpone the vote for further consideration.
City Attorney Autumn Luna presented a slightly modified version of the policy proposal during last night's meeting. The modified proposal reflects several concerns raised by the council during its previous meeting, including the definition of "security camera" itself. It specifies that the City-owned cameras will be used to "record video footage and images on City-owned property where the public generally has unrestricted access such as streets, parking lots, sidewalks, and squares."
One suggestion that was not reflected in the modified proposal was a slight shift in the language surrounding facial recognition and license plate reading capabilities in City-owned cameras. Previously, Councilmember Natalie Arroyo had asked that the proposal state, "the City's security cameras will not have facial recognition or license plate reading capability," rather than stating that the cameras "do not" have such capabilities.
"I have put in that any additional data collection, use or sharing [has to] come back to council for further discussion before any expansion of that user collection," Luna explained. "That's what I opted for, in this case, rather than saying the word 'never' and I had several reasons for that. Namely, I think the term 'never' suggests to people that this policy can't be changed and that's not true. I thought it was better – and I hope that the council agrees although, of course, you're free to not agree with me – that it was perhaps more honest."
City Manager Miles Slattery added that "there is always a possibility that another council could back and want to change that policy."
Councilmember Leslie Castellano was especially critical of the policy proposal, citing concern over how the security cameras could impact free speech in public spaces.
"I think it will – whether we want it to or not – limit freedom of speech," she said. "I think it is a deterrent [for undesirable behavior] but it is also a deterrent to things that we really don't want to deter. As a society, we have to really think about the consequences of trying to take away the things we don't want … and I think it's a question of risk that comes to mind. What kinds of beauty will we lose?"
Castellano added that she would be more supportive of non-permanent security devices. "I do understand that there is a concern for staffing and I think I could support temporary uses … as we have used in the past in a problem area," she said. "…For me, there's a real line crossing with a permanent installation."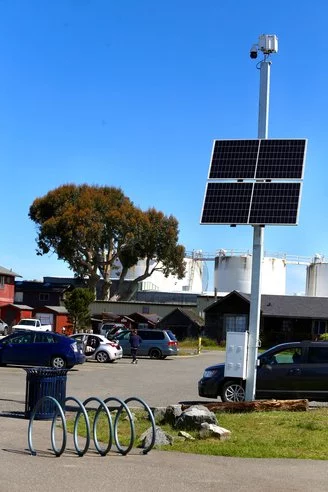 Before the thwarted attempt to install a Lot Cop at the Old Town gazebo, City staff parked mobile Lot Cops at various problem locations around town – near the Wharfinger Building and the Carter House, on Fifth Street downtown, along the Hikshari Trail corridor and elsewhere, and it proved successful.

Councilmembers Kati Moulton and Arroyo tried to differentiate between surveilling a high-traffic town center versus trails and other open and desolate spaces.
"I find use in certain areas more appropriate than others," Moulton said. "I do use [the Hikshari Trail] and it can get pretty nerve-racking to think that you're just sort of completely out of sight, even if you are inside the city limits."
Arroyo agreed, noting that the "public gathering spaces and centers of town are one thing" but outlying areas are another. "I think about our Old Town and downtown where we have a lot of calls for service and a lot of concerns from some folks who spend a lot of time there. … And then I think about our trails and open spaces that are much less frequented by people. … I really appreciate seeing the cameras at some of the waterfront locations."
She added that the policy proposal "is a step in the right direction," but acknowledged that the location of the security cameras "seems to be the main sticking point."
Moulton asked if the policy proposal could include some criteria surrounding aesthetics and security camera locations. Although Councilmember Bergel expressed strong opposition to the gazebo becoming a surveillance site, she did not like the idea of excluding specific locations within the policy.
"What's really important is to look at criteria for why [a security camera] would be there," Bergel said. "How many police calls or what would be the determination that something would go in? If it was permanent, could it be reevaluated over time if that were to change?"
Slattery noted that the policy could be subject to change by future councils.
During the last meeting, the council asked the City counsel to include a provision that would require the City Manager to present an annual report to the council regarding the "use, number, placement, and effectiveness of the security cameras" to the City Council. Arroyo suggested "rationale" be added to the list and made a motion to approve the item. Bergel offered a second.
The council passed the policy proposal in a 3-1 vote with Castellano dissenting and Councilmember Scott Bauer absent.
PREVIOUSLY: