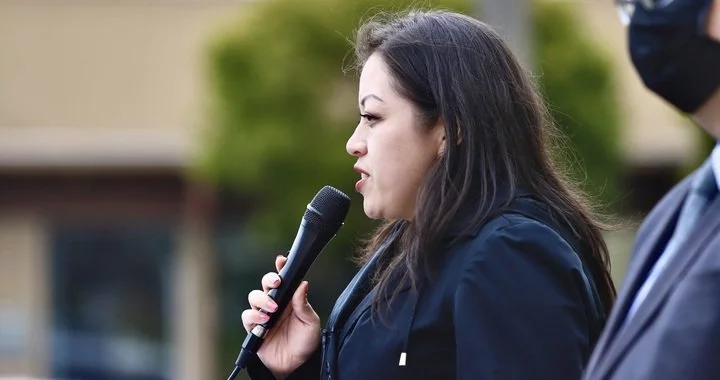 ###
Humboldt County is negotiating terms for the early departure of embattled Auditor-Controller Karen Paz Dominguez, who may leave office within a week, according to First District Supervisor Rex Bohn.
After a closed session hearing at the end of Tuesday's Board of Supervisors meeting, Deputy County Counsel Natalie Duke reported that "authority has been delegated to the County Administrative Officer [Elishia Hayes] to execute a final separation agreement" with Paz Dominguez, who recently lost her re-election bid to challenger Cheryl Dillingham.
Hayes was also given direction to return to the board at the next available meeting to ratify the agreement.
Asked after the announcement how soon the transition would occur, supervisors Virginia Bass and Michelle Bushnell declined to comment, but First District Supervisor Rex Bohn said it would "probably be within a week."
Asked for comment, the County Administrative Office sent the following statement via email, attributed to Hayes:
The county has been struggling for years to get the Auditor to complete some of our most basic financial reports, and the Board this year sued the Auditor to mandate that she complete those tasks in response to a state suit on the same issues.

Timely and accurate financial recordkeeping is critical to the county's ability to secure state and federal funding and ultimately to provide services to the most vulnerable members of our community. Accordingly, we have come to a tentative mutual agreement with the Auditor regarding the lawsuits filed by the Board and the State Controller wherein she will end her term early. Auditor-Controller-elect Cheryl Dillingham will assume the role of interim Auditor-Controller until her term officially begins in January. We appreciate Ms. Paz Dominguez's cooperation with this transition.

The Board has always been focused on ensuring the county can continue serving our community - providing public safety services, housing, road repairs, trails, workforce and economic development and other critical services. The Board has full confidence that Cheryl Dillingham will be successful as Auditor-Controller and serve the people of Humboldt County well.
The announcement came after the board returned from a closed-session hearing with legal counsel to discuss existing and potential litigation. The cases under discussion included the California Attorney General's suit against Paz Dominguez, both personally and in her professional capacity, and the county for failure to comply with fiscal reporting requirements, as well as the county's own suit against Paz Dominguez for misappropriating public funds, failing to comply with legal reporting requirements and violating a conflict-of-interest doctrine, among other charges.
Last week, Paz Dominguez told the Outpost via text that she'd talked with her staff about the possibility of Dillingham "coming aboard" before she's due to take over the auditor-controller office in January, "and we all agree that we want what's best for the department long term so we're all going to work together."
Asked if if she planned to leave office before the end of her term Paz Dominguez replied, "No, not necessarily. The department is short-staffed and we need everybody right now. As you know, I don't feel entitled to the position of A-C so I am staying flexible. I wouldn't just leave Cheryl and the team hanging but if we all agreed that there was a 'good' time for the transfer to take place before January, I would happily transition."
Asked for an update on the situation earlier today, Paz Dominguez said via text, "Under the advisement of counsel, I will not be providing a comment at this time."