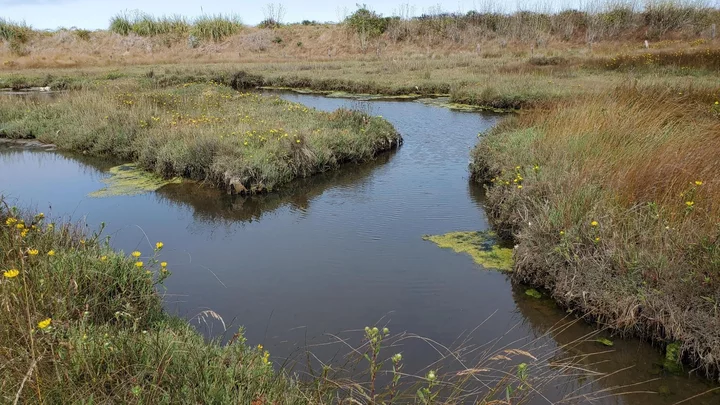 City of Eureka release:
The City of Eureka celebrated the groundbreaking for the Elk River Estuary Enhancement Project with a golden shovel gathering on June 28, 2022. City officials were joined by staff, project contractors, consultants and partner agencies to kick-off the construction phase.

The Project will restore and enhance estuary and inter-tidal wetland habitat across approximately 114 acres of City property, located west of Highway 101 between the Herrick and Humboldt Hill exit. The City of Eureka worked closely with the State Coastal Conservancy to align more than six million dollars in grant funding toward the project and related natural resources benefits such as habitat restoration, Spartina eradication, adaptability to climate change, and coastal access.




The north side of the project will restore 25 acres of low-functioning salt marsh and remove 20 acres of Spartina to create a channel network with varied marsh plains. South of the Elk River the project will convert 89 acres of existing pasture into a salt marsh and inter-tidal channel network, connecting to the Elk River, to reclaim historic floodplain and provide capacity for king-tides and resilience to sea level rise.

The restoration work will create seventy-eight acres of salt marsh habitat and 2.8 miles of navigable channels connected to Elk River. The project will construct public access amenities including a new non-motorized boat launch, a new parking area with trailhead via the Humboldt Hill exit, and a one-mile extension of the Eureka Waterfront Trail.

A construction contract was awarded to Figas Construction to perform earthwork, grading, water management, and trail construction. Redwood Community Action Agency Natural Resources Division will conduct the Spartina removal effort. During the summer construction season trail segments along Pound Road and the Hikshari' Trail will be closed to the public at intervals.

The major project features will be constructed and open to the public by December 2022, with ongoing Spartina eradication, re-planting, and monitoring continuing through 2027.