UPDATE, March 2, 1:50 p.m.:
This story includes some conjecture — primarily from Auditor-Controller Karen Paz Dominguez and CAO Elishia Hayes — about the possibility that a "final notice" letter sent by the state Attorney General's Office (regarding the county's delinquent 2019-20 financial transactions report) was sent in error.
The reasoning behind this theory, offered by Paz Dominguez, was that the letter was sent on behalf of the State Controller's Office, an agency that recently sent an audit team to Humboldt County to conduct an investigation into the county's financial reporting practices. That team has yet to issue its report, and Paz Dominguez said she was under the impression that the report will include instructions on how to proceed with filing the delinquent report.
Today, we got some clarification from Jennifer Hanson, press secretary for the State Controller's Office. She told the Outpost via email:
The State Controller's audits team is conducting a review to determine whether the county's inability to submit timely financial reports is due to a lack of internal controls. This review does not excuse the county from its responsibility for timely filing of required reports. The letter from the Attorney General was not sent in error. It was sent at the request of the State Controller.
###
Original post:
###
After nearly two years of gathering virtually due to the COVID-19 pandemic, the Humboldt County Board of Supervisors returned to their chambers Tuesday morning, and the in-person meeting brought plenty of drama as Auditor-Controller Karen Paz Dominguez came out swinging.
She'd been on the defensive in recent months, which saw a succession of no-confidence votes against her, some testy exchanges with county supervisors and, late last week, a final notice letter from the California Attorney General's Office threatening legal action over her failure to submit a financial transactions report that's more than a year past due.
That letter was high up on Tuesday's agenda, giving Paz Dominguez her first turn at the lectern facing the supervisors. She said there have been some misconceptions about the letter. Chief among them is that, while the A.G.'s office ostensibly sent the notice on behalf of the State Controller's Office, an investigation team from the latter agency — which had recently spent time in Humboldt County doing a field review of the county's fiscal management and reporting practices — knew nothing about it.
The implication was that the letter was sent in error — or automatically, at any rate, "probably because we were on a list and the Attorney General has a schedule that they check … and because we were still on the list by that date, they chose to write that letter," Paz Dominguez said, though she acknowledged that she hasn't gotten an official explanation yet.
The State Controller's Office has yet to issue findings from its investigation, and Paz Dominguez said those findings will determine whether the office sends in its own accountant to complete the delinquent report.
"So it does seem a little bit out of the timeline for the Attorney General to be demanding this report," she said.
County Administrative Office Elishia Hayes confirmed that this appears to be the case. "That being said," she added, "I think this just highlights how extremely far behind we are on critical functions of government … and this is, you know, an unfortunate repercussion of being so delinquent on our audit reports."
The first sparks of the day flew as Paz Dominguez chastised First District Supervisor Rex Bohn, who'd brought this agenda item forward, for allegedly misspelling her name. (A rogue "q" somehow made its way into "Dominguez" multiple times in the staff report.) Bohn, in response, said he didn't write the agenda item; he merely presented it.
The evident tension between the two was a sign of things to come.
The main event came a bit later in the morning, and stretched into the afternoon. On paper, the matter under consideration sounded mundane: a request for the county to extend its existing contract with outside accounting firm CliftonLarsonAllen so that its staff could wrap up work on the county's past-due 2019-20 single audit.
Paz Dominguez had hinted at deep grievances on Friday when, in the wake of the A.G.'s letter, she composed a letter to Humboldt County taxpayers, which she then issued as a press release. The letter suggests that her partners in the county's fiscal management — including the Board of Supervisors, the County Administrative Office, county counsel and certain department heads — don't share her goal of serving the public's best interests.
The letter further alleged that by decentralizing financial and accounting operations, the county paved the way for rampant mismanagement, including "confirmed cases of errors and fraud," while leading to "inhumane conditions for County employees and coverups under the guise of confidentiality."
Paz Dominguez maintained that pugnacious tenor today as she delivered an oral report peppered with serious allegations — or "findings" — against various county departments. Those accusations, in turn, led to a procession of bitter refutations from county department heads and other staffers.
The failure to close the books for fiscal years 2019-20 and 2020-21 lies with the entire county, Paz Dominguez said before getting into specifics.
"The items I will share with you today will at times be difficult to hear," she said, "much like medicine can sometimes be difficult to swallow. But it is also necessary if we want to heal."
Her allegations focused on a few key departments: She said that when her staff reviewed the fiscal management of the Department of Health and Human Services (DHHS) they learned that petty cash was not regularly reconciled; that cash, in one instance, was "accidentally destroyed"; that a case of stolen petty cash was reported to law enforcement but not to the Auditor-Controller; that gift cards were given to employees as travel advances; and that outside bank accounts and advance payments to vendors were not reconciled.
In reviewing the Humboldt County Sheriff's Office, she said, her staff learned of other misdeeds: Cash had been deposited "of sources unknown"; the county had made payments for a donated vehicle; and a previously sold vehicle somehow resurfaced for sale.
In reviewing the County Administrative Office, she said, her staff learned that outside investment accounts were not reconciled or recorded in the general ledger and that bank statements from those accounts were not submitted to the Auditor-Controller on time or at all.
In one division of the CAO's office, she added, there had been an unauthorized loan write-off. (More on that below.)
Her list continued. In the Planning and Building Department, she said, "we learned that sources of cash deposited were not reported to the Auditor-Controller, so we were not able to provide it to our external auditors when they requested it of us. … We also learned that there was a write-off of a home loan that was not authorized."
The allegations kept coming. The Sheriff's Office, CAO's office, Public Defender's Office and DHHS sometimes failed to submit invoices on time — sometimes years late, she said. There were unauthorized expenditures, non-contractual payments and unapproved timesheets. Inter-fund loan activity was not recorded accurately.
When she informed the CAO's Office that they'd been misapplying the cost of shared utilities, she was "threatened," she said, with a reduction in funding for her department. CAO employees were given unauthorized access to financial software, she said.
Paz Dominguez accused the CAO's office of forging an actuarial report and sending it to the State Controller's Office.
At this point, Board Chair Virginia Bass cut in. "Excuse me," she said, and then she asked Paz Dominguez whether she has proof of this allegedly forged document.
Paz Dominguez said she does have proof, and she went on to lambaste the CAO's Office for implementing "an untested and unapproved financial software update," leading to various difficulties, and for ordering her to release budget blocks during a state of emergency only to blame her later for complying.
The county has "opportunities for fraud," she continued, including "edited and manipulated records, unreconciled cash, un-recorded cash, the submission of unsubstantiated expenditure claims and the interference by a county supervisor."
Here, she accused Bohn of pressuring departments to perform tasks for him and his friends, including requests for rushed payments of invoices, some without contracts, and rushed processing of property tax transactions and permit applications.
She also alleged that the county is being sued by the state Department of Health Care Services for $1.5 million for submitting un-allowed expenditures for reimbursement a decade ago.
About 20 minutes into this recitation of alleged wrongdoing, Paz Dominguez accused Bohn of showing her his middle finger. Bohn, who had been holding his glasses by the side of his face, sat up straighter and looked confused.
"What?" he asked.
Bass chimed in: "He holds his glasses that way."
Paz Dominguez continued, undeterred, and soon reaching her conclusion.
"By facing these difficult issues in this way, in the public's view, we are now accountable to each other to improve," she said. "I may have lost some friends today, but I am a firm believer in service above self and entrust that we will all benefit from our improvement in the long run."
Then came the responses.
###
Second District Supervisor Michelle Bushnell asked Paz Dominguez if she planned to submit documentation for these allegations and the auditor-controller said she would.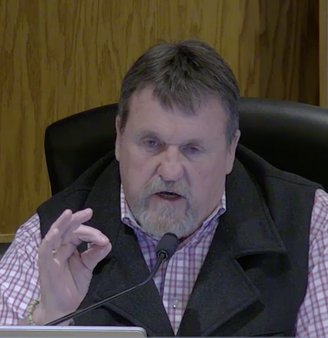 Bohn challenged Paz Dominguez pointedly. He admitted that he hasn't engaged with her directly of late — not in the 18 or 20 months since she brought charges against him, he said, referencing a previously unreported complaint that the county spent $23,000 investigating and finding no confirmed claims against him.

He then encouraged her to take all of her allegations against him to the District Attorney, who will recuse herself and pass them along to the Attorney General.
"And I welcome that with open arms — since you just blasted all over with no basis whatsoever," he said.

Hayes, the CAO, said she had a lot to say in response to Paz Dominguez's report, but before she could begin, Third District Supervisor Mike Wilson reminded everyone that the matter at hand was whether to approve a contract extension for CliftonLarsonAllen. He encouraged folks to stick to that topic.
But people insisted on responding to the allegations.
"My office was just run through the mud like no other," Hayes said, "as was DHHS and the sheriff, so I feel compelled to speak somewhat to that."
###
She said none of the matters Paz Dominguez addressed came as news to her. "Every staff member who's sitting in this office, or in this audience today, has tried to communicate with the Auditor-Controller's Office to rectify all of these challenges," she said, adding that the problem she keeps hearing about — from within the county as well as from partner agencies and external vendors — is that there's a lack of communication from the Auditor-Controller's Office.
The ensuing inability to discuss critical functions of the county — short of calling Paz Dominguez to report before the board — has led to "disarray and dysfunction," Hayes said.
"The problem is [that] critical tasks are not being completed," she continued. "And there is no accountability on behalf of the Auditor-Controller to take responsibility for those functions. … This includes interest apportionment, cash reconciliation, completing the external audits, and the list goes on and on. These are vital functions that your board and my office need [completed] to effectively manage a half-billion-dollar organization, and that work is not being done … ."
Bass then invited department heads to respond to Paz Dominguez. Regina Fuller, the deputy director of sheriff's administration (appearing as Sheriff Billy Honsal's designee), said that, unlike Hayes, today was the first time she'd heard the accusations about the Sheriff's Office. She said her office may have additional information that could clear up any misconceptions, or maybe there were indeed mistakes made, in which case they'll own up to them.
But she agreed with Hayes about the lack of communication and collaboration from the Auditor-Controller's Office, despite multiple offers to meet and collaborate in a shared effort to improve processes and become more efficient.
Planning and Building Director John Ford said Paz Dominguez had correctly identified a "stupid mistake" from his office — an improperly re-conveyed loan in the amount of $19,600. But he added, for context, that the loan portfolio in question amounts to $22 million, making the error rate less than 0.1 percent.
As for the other allegations, Ford said his department has receipts for all activity, and he's willing to open the books to Paz Dominguez.
Connie Beck, director of DHHS, said some of the things Paz Dominguez brought up, including the stolen petty cash, happened long ago and have been resolved. She also refuted Paz Dominguez's claim about a lawsuit from the state, saying it's merely a routine closeout process that many counties go through.
Beck also said Paz Dominguez's presentation was part of a "political game" and that it had no place in a Board of Supervisors meeting.
Treasurer-Tax Collector John Bartholomew said he felt like Paz Dominguez's report blindsided everyone. He has always wanted her to succeed, he said, but he's grown frustrated by her "poisoning of public perception of county operations and staff," such as in last week's press release. He finds such actions beneath her elected position, he said.
"Why would you say that to the public — to disparage the organization for which we work?" he said, turning to face Paz Dominguez, who had taken a seat at a staff table beside the lectern. He went on to say she has failed to answer a simple question about interest apportionment that he asked at a meeting a month ago, despite several follow-up attempts.
"There's been millions of dollars of interest accrued over the last couple of years in the treasury," he said, "but we can't apportion that interest. And I'm not getting answers."
District Attorney Maggie Fleming said everyone in the county wants Paz Dominguez to succeed, and her office and others have offered staff to help, but things aren't working well.
"People have to be paid; they have to be paid on time, and benefits have to be appropriate," Fleming said, alluding to problems with payroll. She added that employees have had to go directly to the Auditor-Controller's Office because they couldn't get responses any other way. "That's not fair to staff," she said, and she stressed that the most important thing right now is closing the books on the 2019-20 fiscal year.
"Too much is counting on that closure," Fleming said. "We have too many grants. We have too much at stake, so this has to move forward, and it has to move forward as soon as it can."
Connie Stewart, the executive director of initiatives at Cal Poly Humboldt, called in during the public comment period. She noted that when the SMART Business Resource Center quit serving the county last year due to chronically late payments, the university took over, confident in its ability to manage workforce development programs with funding from the Workforce Innovation and Opportunity Act (WIOA). Alas, things aren't running smoothly because of the county's overdue single audit. "It's very frustrating," Stewart said. "More importantly, it's jeopardizing our relationship with the state ongoing, and there's more than a billion dollars out in California for workforce funding that we would be eligible for if our systems were moving successfully."
The critiques kept coming. A McKinleyville man named Daniel said, "It feels like we're losing millions chasing down pennies here, because the basic functions of the office aren't getting done." He said Paz Dominguez's presentation and the letter she submitted as a press release seemed "wildly unprofessional," adding that it was hard not to interpret them as a distraction from the Attorney General's letter.
###
Economic Development Director Scott Adair said his office would fully comply with any investigation into wrongdoing, though he explained that the loan write-off Paz Dominguez had referenced earlier was issued by the Headwaters Fund, not by the county. He called her understanding of that loan process "uninformed" and her accusations "inaccurate."
"I feel blindsided and betrayed," he continued. "Why would your Auditor- Controller's Office take the time to issue, write and deliver a surprise report but not process $1.89 million in cannabis equity payments to the cannabis community, which our office communicated to the Auditor-Controller back in November?"
There are improvements needed in county functions, he said, but his office has made dozens of requests to her office for guidance, direction and help — "most of which went unanswered."
Two public speakers did speak in Paz Dominguez's defense — both of them employees in her office. Amanda Cherry said staff there has worked diligently to identify broken processes and opportunities for fixes. And Senior Accountant-Auditor Jim Hussey said the office's staff has taken undue blame for a variety of fiscal problems, damaging their morale.
"We are human beings," he said. "We are tired of being the focus of these attacks. This is what happens when toxicity in government is out of control!"
In the end, the board voted to approve the contract extension with CliftonLarsonAllen, and to have Paz Dominguez return at the March 15 meeting with a written report on the allegations she made in today's oral presentation. The vote was unanimous.