PREVIOUSLY: Board of Supervisors to Consider Censuring Auditor-Controller Karen Paz Dominguez
###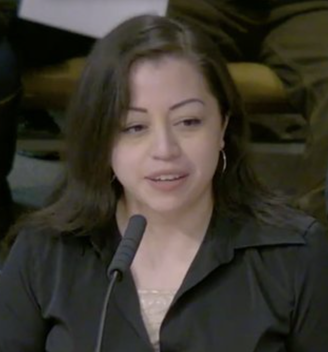 Earlier today we reported that the Humboldt County Board of Supervisors voted unanimously to meet on Monday, April 4, to consider censuring Auditor-Controller Karen Paz Dominguez. Thanks to the release of an informational report from the board's closed session hearing this morning, we now know more about why.
According to the report — the release of which was also approved unanimously by the board — an independent, third-party investigation into allegations against Paz Dominguez found that she has engaged in retaliatory, harassing and/or bullying behavior.
The investigation also found that the auditor-controller's financial decisions have increased staff workload and caused financial losses to the county, the report says.
Deputy County Administrative Officer Sean Quincey noted in an email that the Board of Supervisors has limited authority to direct the actions of the auditor-controller, who is independently elected and thus ultimately answers to voters.
"However," Quincey said, "her actions, including treatment of staff and others she interacts with, impact the entire county government, employees and the community."
He took pains to differentiate between "censure" and its homonym, "censor." The board is not suppressing the auditor-controller's speech.
"A censure is an official reprimand or opportunity to express disapproval," Quincey said, adding that this rebuke is intended "to prompt a person to change their actions or at least prevent future offending actions."
The investigation was conducted by Filomeo Investigative Services and the law firm Prentice|Long. The staff report released today, which was written by county counsel, also reveals that there was a previous independent investigation into Paz Dominguez, conducted in 2018, that reached similar conclusions.
Namely, it found that she mismanaged her department, showing a lack of leadership and making poor policy decisions; that her actions and comments caused animosity, stress and anxiety among employees; and that she had been inconsistent in her directives while blaming her own errors on subordinates, according to the staff report released today.
It's not entirely clear which allegations prompted this latest investigation into Paz Dominguez. On November 3, a group of anonymous department heads, deputy directors and other employees sent the board a letter expressing concerns about a "severe" and "looming" fiscal crisis allegedly caused by "failures and financial missteps" from Paz Dominguez. The letter said the unidentified employees were considering a range of options, including litigation against the county, the Board of Supervisors or individual elected officials.
Less than three weeks later, the Board of Supervisors passed a resolution expressing "no confidence" in Paz Dominguez by a vote of 3-2, with supervisors Mike Wilson and Steve Madrone dissenting. A staff report from that hearing laid out a long list of alleged deficiencies from Paz Dominguez's tenure as auditor-controller, including chronic delays in legally mandated fiscal reporting; late payments to vendors, child support recipients and employees; and failure to adequately manage county payroll, among other items. You can read that report here.
We reached out to Paz Dominguez for a response. She replied via email, "It is inappropriate that you were provided information from a closed session of the board and it is inappropriate that I now have it. It would be inappropriate for me to comment on this material and I am forwarding it to my attorney."
Quincey reiterated that the Board of Supervisors authorized the release of the material with this morning's vote in closed session.
When we passed that point along to Paz Dominguez, she sent a follow-up email, saying, "As I have not received any communication or evidentiary documentation from the Board or [County Administrative Office] or County Counsel on this matter, I will not comment on the contents of the document you shared. It is also unclear to me how this information was released or whether it is, in fact, the 'closed session update as discussed' that [County Counsel] Jefferson [Billingsley] referenced. Should the evidentiary information be released in full to the public for review under an official capacity, I will be happy to comment."
The county counsel's report from this morning's closed session hearing is reproduced below:
Last year your board authorized an investigation into allegations of workplace misconduct and delayed payments by the Auditor-Controller, Ms. Paz Dominguez. Your Board also authorized an agreement to retain an independent third-party investigator to look into the allegations and directed county staff and officials to participate.

Due to several intervening factors, that investigation faced significant delays but has now been concluded. The retained third party attorney investigator has reached findings in that investigation which are summarized below. These findings were based on numerous witness interviews and written materials:

Whether Karen Paz Dominguez has engaged in retaliatory, harassing and/or bullying behavior in the exercise of her duties as an elected Auditor-Controller.

This allegation was sustained by the investigator.


The report notes broad agreement among those witnesses interviewed outside of the AuditorController's office that they have experienced a change in communication levels and tone after challenging or criticizing the Auditor-Controller. Many believed that once the AC is challenged, that she will intentionally stop processing requests, or at least significantly delay them. They also assert that she will stop communicating with that department or person who is challenging or criticizing her. Other witnesses described retaliatory, bullying and/or harassing conduct.

Whether Karen Paz Dominguez' financial decisions resulted in increased staff workload and financial losses to the county.

This allegation was sustained by the investigator.


Regarding the workplace misconduct findings, a prior investigation in 2018 reached similar conclusions regarding the conditions created by Ms. Paz Dominguez. Highlights of findings from that third-party report are below:

Ms. Paz Dominguez fostered an atmosphere of hostility, retaliation, and bullying.
Ms. Paz Dominguez demonstrated a lack of leadership, mismanagement and making poor policy decisions.
Ms. Paz Dominguez's actions and comments caused animosity amongst the employees and increased employee's stress and anxiety.
Ms. Paz Dominguez was repeatedly inconsistent in her directives and blamed her errors on her subordinates.

As your Board is aware, the Auditor-Controller is an elected official over which your Board has limited supervisory authority and no power to impose disciplinary actions. However, the types of behavior which the investigator has substantiated demonstrates harassing and bullying behavior within the workplace which is not acceptable under County of Humboldt and other policies. Possible actions in response to these workplace conditions and corresponding effects on county employees will be discussed in the closed session.


There are also the findings regarding delayed transactions and reports which have been previously discussed publicly by your Board on numerous occasions over the last several years.