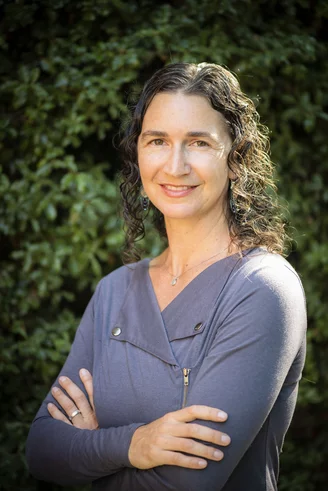 Dr. Mneesha Gellman is an associate professor of political science at Emerson College in Boston, and for most of her scholarly career she's been interested in minority and indigenous rights. However, before embarking on a scholarly path that would take her to such far-flung locales as Turkey, Mexico, El Salvador and Sierra Leone, Gellman grew up right here in Humboldt County, attending Freshwater Elementary, Zane Junior High and Eureka High School, graduating in 1998.

In a recent phone interview, Gellman said her academic pursuits eventually dovetailed with her upbringing.

"When I had a pause after I'd published my first book and was really taking stock of what I wanted the next phase of work to look like, I realized that so many of the issues that I've been focusing on elsewhere are absolutely front and center in the place that I still consider to be my home," she said.

The issues she'd been focusing on included language rights and their relationship to cultural survival. She'd studied student access to "mother tongue" or heritage languages in Turkey and Latin America.
Looking to direct her academic gaze closer to home, Gellman reached out to the Yurok Tribe's education department in 2016. She learned that the tribe wanted to gain a better understanding of the impacts of Yurok language classes, which have been offered at Hoopa Valley High School since 1996 and at Eureka High School since 2012.
The programs have been heralded as integral to the revival of a nearly extinct language, one of many Native American dialects that were actively and often violently suppressed at compulsory federal boarding schools.

In recent years, through data collection, interviews and analysis, Gellman has learned that the impacts of the Yurok language program go even deeper than language revival, helping indigenous students to reconnect with their heritage and improving their academic success while expanding the worldview of all students, reminding them that Native American cultures shouldn't be relegated to history books.

After securing permission from the Yurok Tribal Council and local school administrators, Gellman began making site visits at Eureka High and Hoopa Valley High "to better understand how schools are supporting students of indigenous heritage and also how they can do a better job of facilitating their success."
Her studies have led to several published academic papers and contributions to published books, and she recently took some time to share some of what she's learned.
Sometimes you can glean information about a school's dominant culture without even stepping inside a classroom. In a recently published paper, titled "Unsettling settler colonialism in words and land: A case study of far Northern California," Gellman opens with a description of the Eureka High School mascot: a "grizzled logger" with an ax slung over his shoulder. She also quotes the city's slogan — "I have found it!"
Such emblems and mottos are intricately linked with the history of our region, "where logging, land claims and White militias went hand-in-hand in the second half of the 19th century," she writes.

The paper goes on to examine two ways in which such cultural messaging is being deconstructed — how settler colonialism is being "unsettled," in other words. One way is through the Yurok language programs in local high schools; the other is through the 2019 return of Duluwat Island to the Wiyot Tribe.
In interviews with students, Gellman found that the Yurok language courses offer benefits to all types of students, even those who were aware of the classes but didn't take any of them.
For example, her paper quotes a white EHS alum whose Spanish class was across the hall from the Yurok class: "I told my mom, 'It seems like kids don't take Yurok class seriously,' and she said, 'Yes, but at least it exists.' I never had to think about it, what it means to lose a language or culture, because I'm White and speak English, but that struck me."
One of the white students who did take Yurok classes told Gellman that they learned a lot more than just vocabulary and syntax. "Well, learning the language kind of helps me understand their experiences and certain things that they may do or say a little bit better, since that … can inherently lead to me learning more about the culture," the student said.
Gellman is currently working on a project that analyzes U.S. history textbooks in California and other parts of the country, and she said it's disturbing to see the extent to which Native American people and cultures are referred to exclusively in the past tense.
"One book I documented had 15 pages talking about Native houses and food and ritual and regalia — all in the past tense," she said. The Yurok courses serve as reminders that this is a contemporary language and culture.
"For white students who are actually enrolled in the classes, many of them said things to me in interviews like, 'Before I took this class I thought that Native Americans were extinct,'" Gellman said. "So it was a tremendous space of intercultural learning or intercultural consciousness raising that I think will serve young people very well as they navigate increasingly diverse worlds."
Reached by phone, Eureka High Interim Principal Rob Standish said administrators are extremely proud of the Yurok program, which includes up to three levels of Yurok studies.
"It's more than language," he said. "[Students] also learn about culture, tradition and different perspectives. It helps students broaden their perspective and be more worldly."
The program's longtime instructor at EHS, James Gensaw, recently took a job in Del Norte County, but Standish said the tribe qualified a new teacher, Roberta Chavez, who is in the midst of her first year teaching the courses at Eureka High.
"This new set of kids, they're so appreciative of Ms. Chavez coming in," he said. "They welcomed her with open arms."
Gellman said that for indigenous-identified students, the Yurok classes have been found to boost self esteem and improve academic achievement.
"It validates a sense of Native or indigenous identity as something that is worthwhile and legitimate," she said. "And it also boosts school success by bringing people to the school in the first place, getting people to walk through the schoolhouse door because they know they can go to the Yurok language class, and while they're there they might as well attend geometry since they've already, you know, gotten out of bed."
Even students from different minority backgrounds benefit, she found.
"Hmong-American students, Polynesian-American students, Latinx students who are taking the Yurok classes, they reported things like, 'Being in this class made me more interested in researching my own family heritage,'" Gellman said. "So the inclusion of one minority language class in the curriculum validated the existence of minority identities for students from a range of other backgrounds."
It allowed these minority students "to be one whole self without having to assimilate into the dominant framework of whiteness that still characterizes Eureka City Schools and most of the public school systems in the United States today."
Eureka City Schools has been forced to reckon with its treatment of minority students on several occasions over the past decade. In 2013, for example, the district was sued by the ACLU of Northern California over allegations that its educational environment was characterized by pervasive racial harassment and hostility toward Black and Native American students.
A 2020 report from the ACLU found that achievement gaps persist and issued Eureka City Schools a failing grade. Native American students in the district met or exceeded English standards at only half the rate of other district students over the 2016–2017 and 2017–2018 school years, according to the report.
Just last year, the Eureka City Schools Governance Board and Eureka High administrators found themselves in hot water over their handling of a mural-painting initiative led by four Eureka High clubs representing BIPOC students — the Black Student Union, Native American Club, Asian and Pacific Islander Club and Latinx Club.
Administrators first told students that they'd need to develop official criteria and procedures before proceeding — something that had never been required for previous murals — and then Superintendent Fred Van Vleck recommended banning murals altogether, noting the difficulty of developing guidelines that wouldn't be controversial.
Last November, the board did just that, voting 3-1 (with one trustee absent) to ban all new murals on campus. The board eventually reversed course in response to student, staff and community outcry, clearing the way for four new student murals representing cultural diversity. They were unveiled in June.
Standish told the Outpost that the district is continuing to work on cultural awareness. A couple of years ago, he said, the school board and district office opted to bring in a third party to perform a cultural equity audit, interviewing staff, parents and students. The results will be presented to the district in the next few months.
"That's something that we're proud of doing and we're doing on our own so we're not blind to our shortcomings," Standish said.
Gellman, meanwhile, has been conducting more research on local schools. She has another academic article, called "Speaking Up: School Climate and Language Politics in the Trump Era," that will soon be published in a special issue of the Humboldt Journal of Social Relations. It examines identity politics during the Trump era — again through observations at Eureka High School and Hoopa Valley High School — and finds that schools, particularly Spanish and Yurok language classes, can be sites of resistance to our era's toxic political culture around issues of diversity.
She has also written a just-published book called Indigenous Language Politics in the Schoolroom, which includes chapters about Eureka High and Hoopa Valley High. Her next book will examine BIPOC student wellbeing across Eureka High, Hoopa Valley High, Del Norte High and McKinleyville High.
Much of the public education curriculum in the United States is rooted in whiteness, Gellman observed. "It's really rooted in white experiences, white historical figures and a narrative that uses Manifest Destiny and the Doctrine of Discovery in describing what it means to exist in the United States today."
In that context, classes such as those offered through the Yurok program can provide safe harbor for students who often feel attacked and discriminated against, Gellman explained. In her academic work she argues that there's room to reform public school curricula in ways that will make it "more resonant and meaningful" for students who haven't felt represented within that setting.
"And it will take bravery in leadership on those issues, because doing work around whiteness is scary," Gellman said. "It's confronting, it's painful, and it's also deeply necessary in order to move forward as a society."