2017 Team Goddess Lightning Bug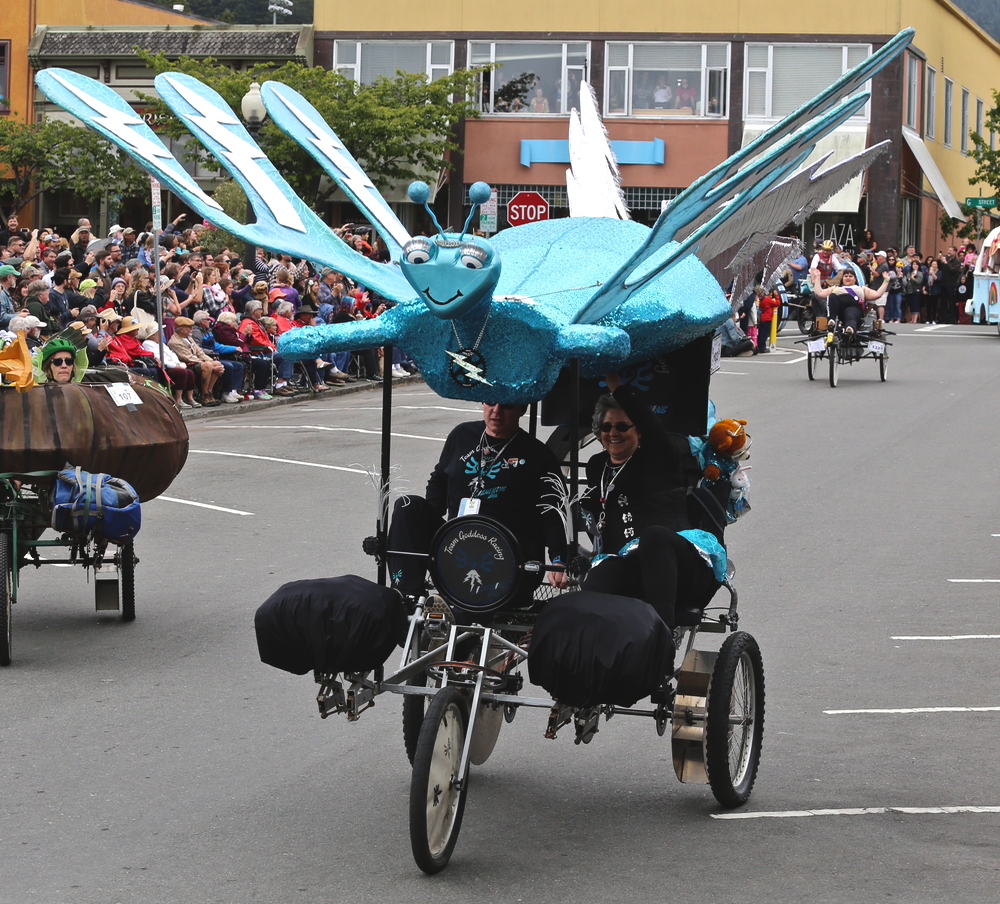 2017 Team Goddess Lightning Bug
2017 Team Goddess Lightning Bug
"And lights!!! A Lightning Bug must have lights!!"
Captain: Tina Kerrigan / Years Raced: 7 / Years Aced: 4
UPDATES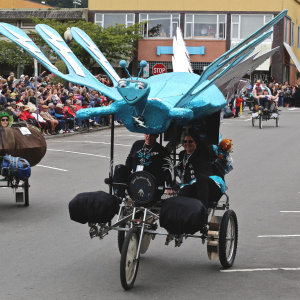 Description of the the sculpture courtesy its creator:
Art: Team Goddess Racing is pleased to bring you our Lightning Bug! It has many cool features including a lightweight aluminum body, awesome teal holographic fabric, flapping iridescent wings, flashy silver lightning bolts, internal storage, carved sand tires, logo branding throughout, and glass art (of course). And lights!!! A Lightning Bug must have lights!! Our costume skirts and lightning bugs on the backpacks are handmade of the same fabric as the wings and body of the bug. We also have an awesome variety of artistic bribes for judges, race teams, and spectators. Tina will be piloting with Steve Cross this year, with Dave Kime and Linda Jo Alexander as pit crew. We've grown to a 12-person team and have a fabulous entourage. Wave your flag to cheer us on!

Engineering: After two years of mechanical issues slowing us down at the Humboldt County Race, Steve and Tina did a complete rebuild over the fall and winter including rebuilt bike frame and additional supports, rebuilt art frame supports and wing mounts, new rear end sand tire storage/ergonomic legal push zone bar, new hydraulic brakes, pillow block bearings, redesigned sand tires, and new ergonomic brake handles. The art and Lightning Bug frame was designed and built by Tina and Steve with help from Goddess Jen-O and is made to disassemble for easy transport in a horse trailer.

Other: Racing as Team Goddess Busy Bee in 2015 (Tina and Jen) and the Kinetic Dragonfly in 2016 (Tina and Molly), the team completed the entire course for the Grand Championship both years, but were hella slow in the sand due to a number of mechanical issues. We are hoping that our extensive modifications over the last year will allow us to earn our very first ACE on this machine in the Kinetic Grand Championship!
---
---