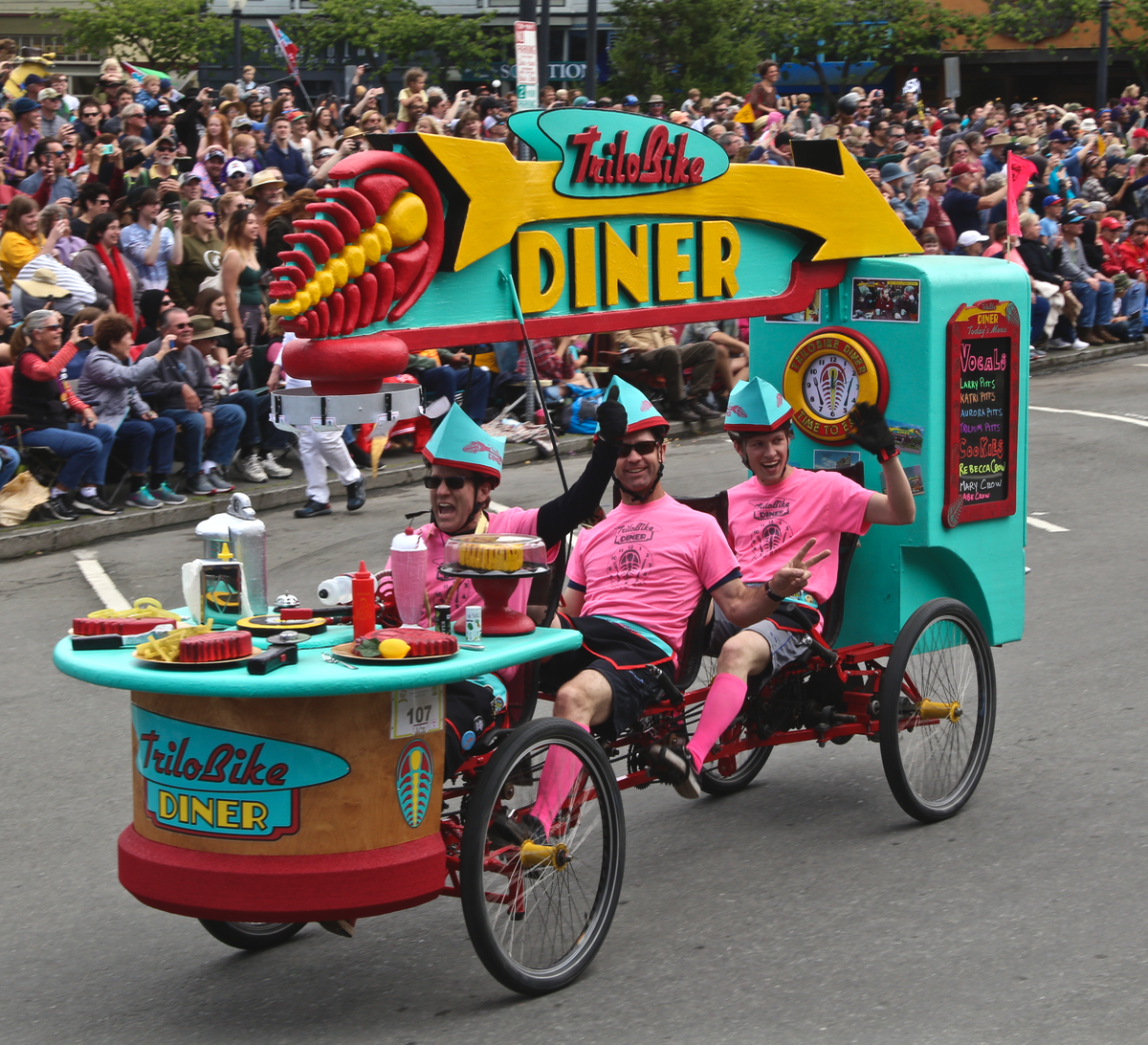 2018 Trilo Bike
2018 Trilo Bike
"2017's Grand Champions return!"
Captain: Steve McHaney / Years Raced: 4 / Years Aced: 3
UPDATES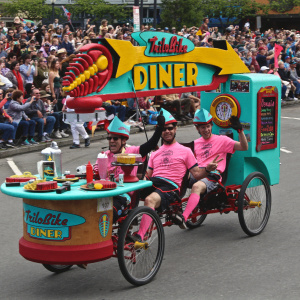 Ferndale Foto Finishes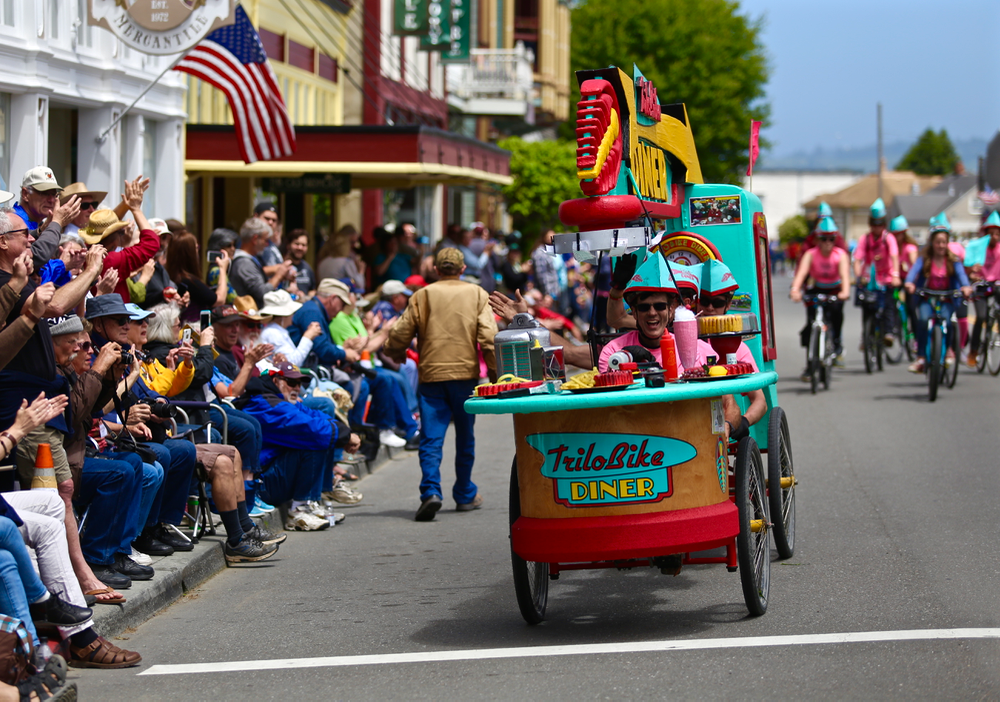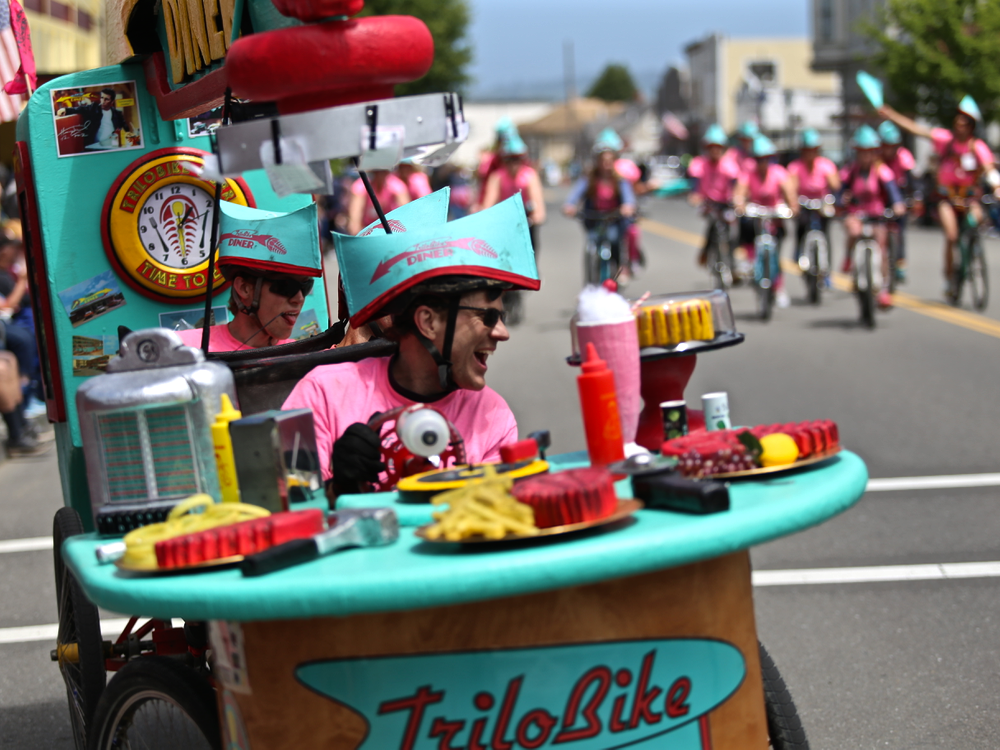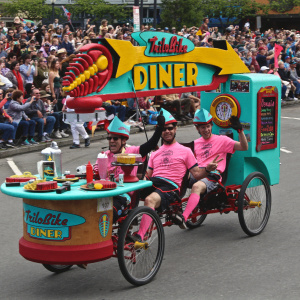 Soggy Glory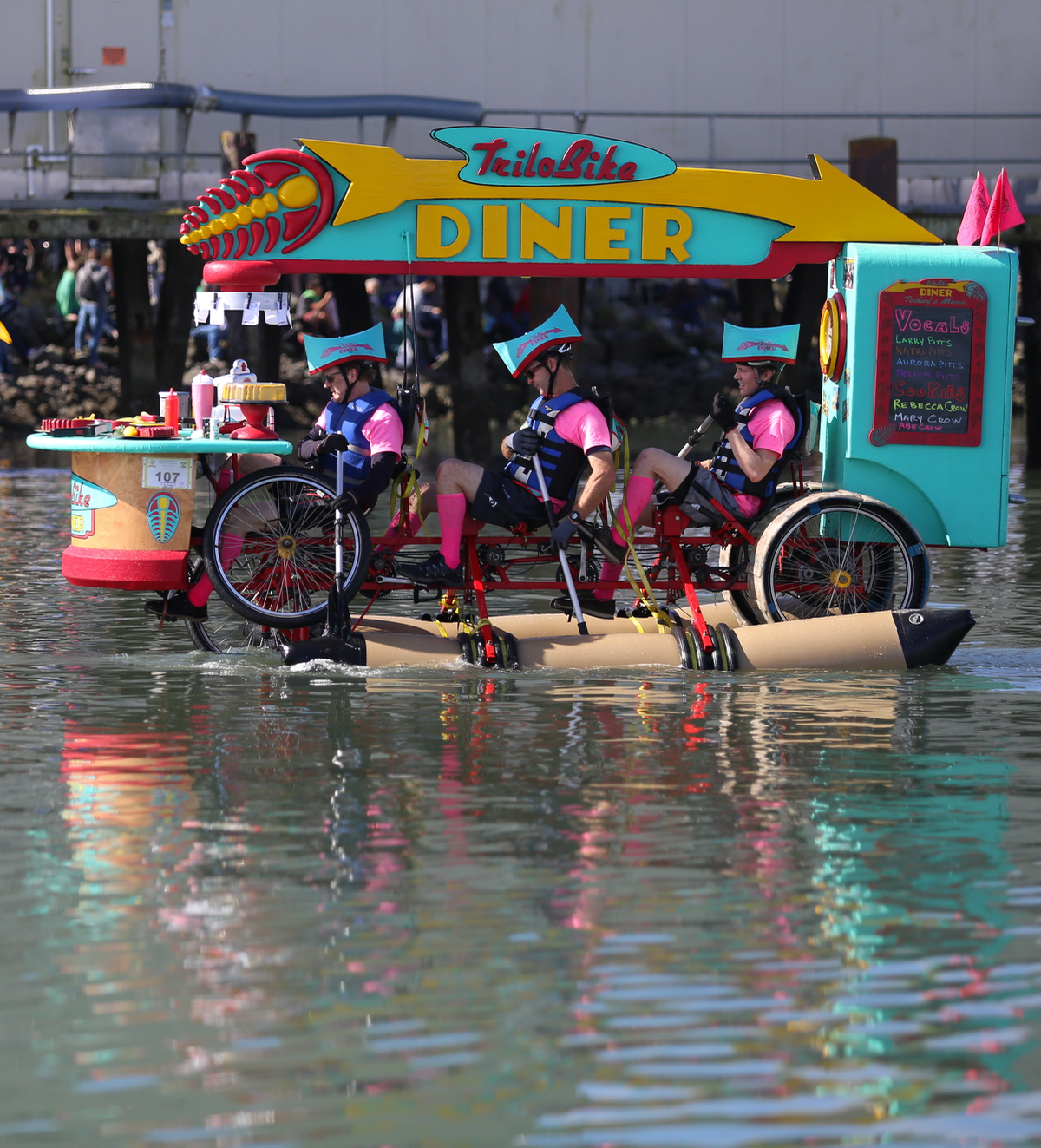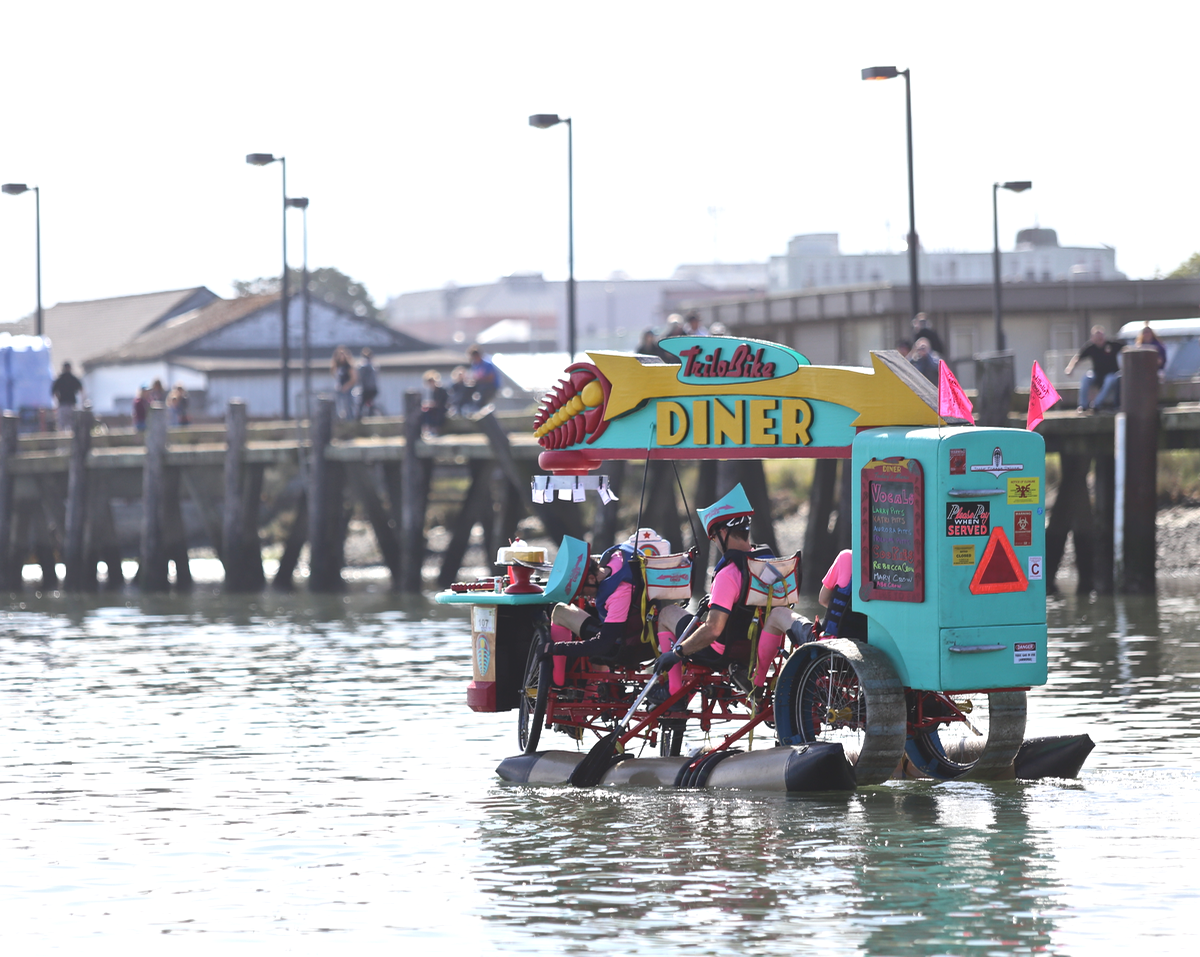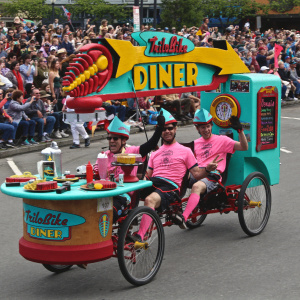 A description of the sculpture courtesy its designer:
ART: For 2018 we have built on our 2017 Grand Champion Theme, TriloBike Test Kitchen, and have done major upgrades with TriloBike Diner. We were able to reuse the vintage style refrigerator on the back for gear storage but we had to make some structural upgrades because at one point last year the giant fork was torn off its mounting to the fridge and the body of the fridge it got tweaked from pushing against it to get us up the steep bank of the Eel River. The fridge is now stronger than ever and is used to stow sand tracks, inflatable floats, float supports, winches, Sandy Claws, tools, spare parts, and the 2 gallon bucket with all the "required" stuff. The front aerodynamic fairing is now a curved counter of a retro diner serving up the finest paleontological fare. Check out the juke box controller and the record player up front along with "fresh" trilobites with a side of fries. Life jackets and paddles stow under the counter. The stem to stern giant arrow diner sign with rotating menu wheel up top ties the diner theme all together, but unfortunately it is a bit heavier than the fork from last year. Next year I must make it lighter. We have a real functioning diner clock if you ever want to know what time it is. I put way too much work into the costumes this year with cool diner hats, aprons, hot pink tee shirts, and flags. We have done a rewrite of Be Our Guest for the pageantry competition and will have a team cheer for the race course. For those of you lucky enough to see us at night at Crab Park, you will see some cool lighting effects as well.

ENGINEERING: The current TriloBike machine is seeing its fourth year in the race and each year there have been major upgrades. Our system of extremely low gears, robust sand tracks, and wrap around "sandy claws" will get us up the sand dunes without too much fuss. Our new float system introduced last year works pretty well, but we use custom made worm drive winches to lift the machine onto the floats and they are under a bit of stress (keep fingers crossed). We upgraded our water drive system this year and use a twisted chain on a fold down propeller drive assembly. Unfortunately it has not been fully tested yet and so we may end up padding if it craters. We need a reverse gear to get us back up the launch ramp and get us out of the water and this year we simplified the chain and tensioner pulley arrangement. Once again, not really tested under actual field conditions yet, so we will see how it goes. I just hope we have fixed the variety of problems in the past such as not low enough gears, key stock slipping out of the brake disk, insufficient axle support, difficulties with lift systems, water drive and rudder problems (mounting the propeller backwards!), etc. so this year it will be smooth sailing.

OTHER: The machine is three riders in line with four wheels. This may seem simple in concept (which is what I thought), but it is logistically very complicated. We pack a lot of complexity into a small area. It is a bit narrow and I am always worried about getting blown over, but so far we have been in good shape. It is too heavy for my liking as well. The next machine will be made of titanium or maybe excelsior. Also I have spent an insane amount of time on my artwork. We do all of it with little outside help. Some of the work is very time consuming. Just wait for next year, my ideas are even more outrageous (but lighter).
---
---