2018 Hunka-Hunk-A Burnin' Ham: Glazed for Glory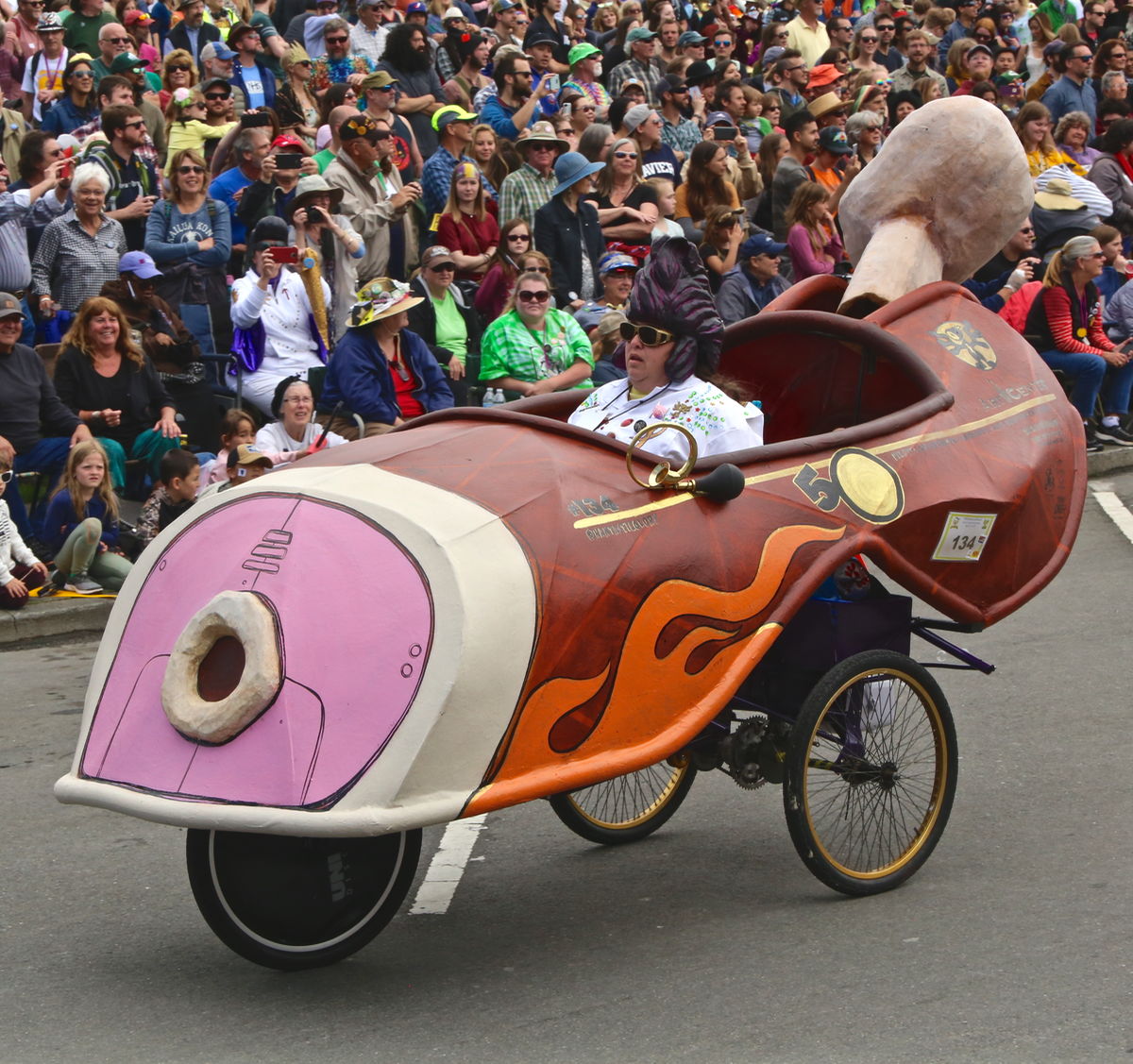 2018 Hunka-Hunk-A Burnin' Ham: Glazed for Glory
2018 Hunka-Hunk-A Burnin' Ham: Glazed for Glory
"An all-terrain cartoon ham with a wiggling bone that is piloted by a team of rhinestoned, squirrel-caped Elvises."
Captain: Malia Matsumoto / Years Raced: 7 / Years Aced: 0
UPDATES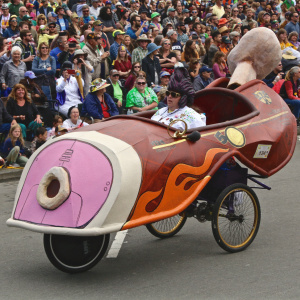 Ferndale Foto Finishes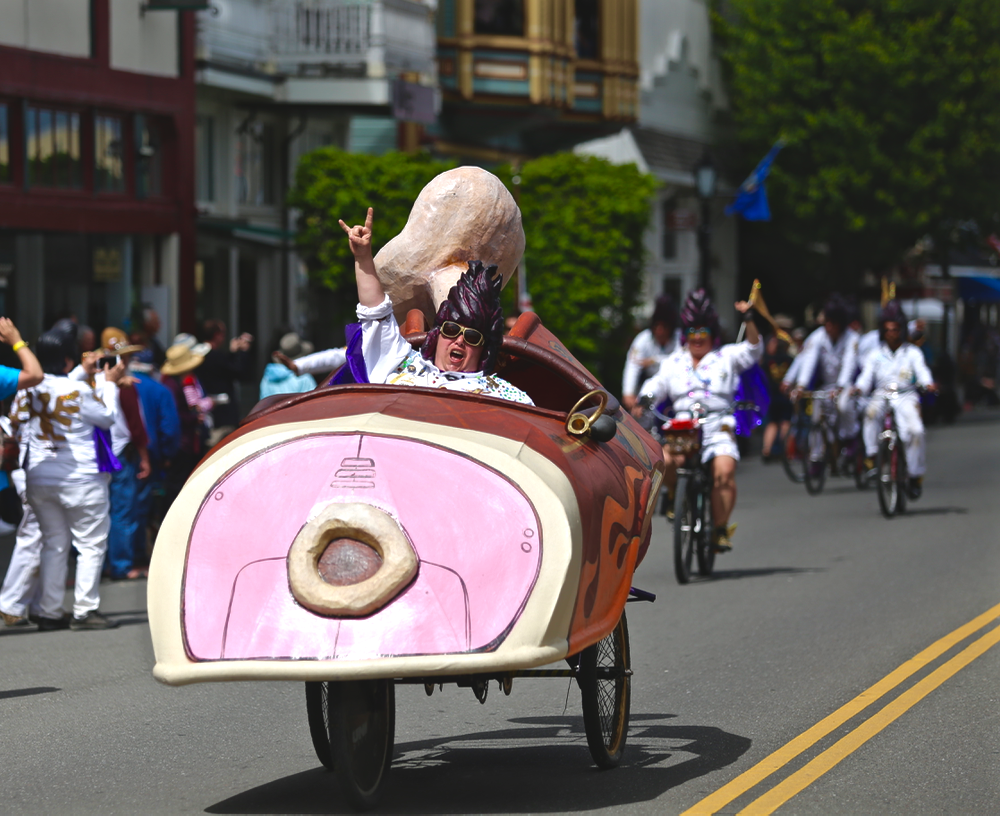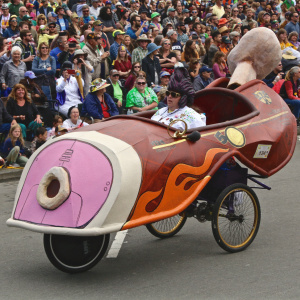 Soggy Glory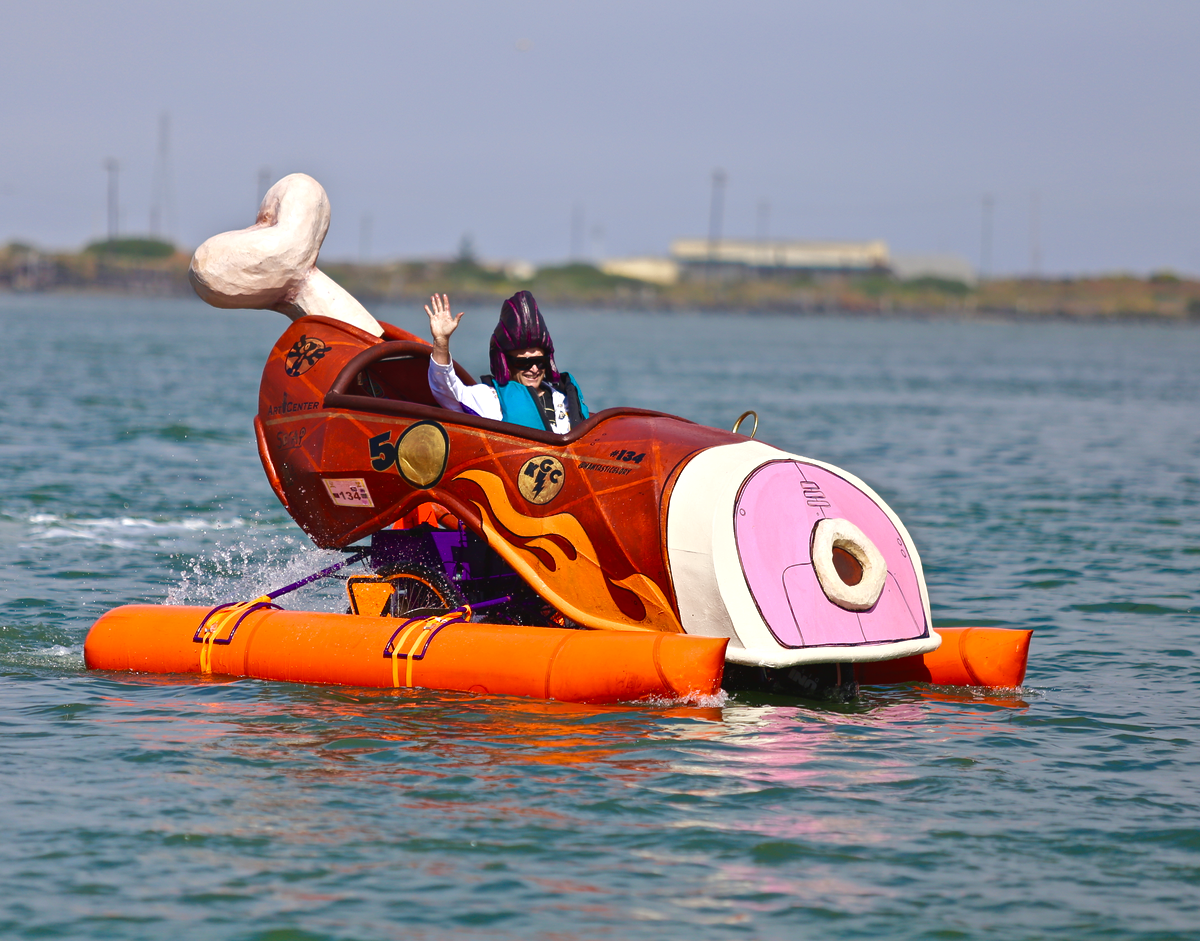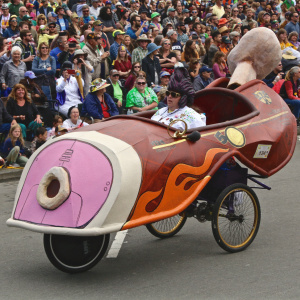 A description of the sculpture courtesy its designer:
ART: Hunk-aHunk-a Burning Ham: Glazed for Gloryis an all-terrain cartoon ham with a wiggling bone that is piloted by a team of rhinestoned, squirrel caped Elvises. It's creator Lush Newton's long-envisioned dream machine, designed to look like a funny car. The doing-doing of the bone will get your hips shaken cuz we're just a Hunk-aHunk-a Burning Ham!

ENGINEERING: The one-person recumbent tricycle was created and engineered by Ken Beidleman many years ago. It has only competed in the 1989 Kinetic race as part of the Mugheads. When the Hunk-a Hunk-a Burning Hambegan, the differentials still had its factory grease, making it pretty much a brand new, vintage machine. Since 1989 it has traveling thousands of miles on the top of the Lost Coast Brewery as June Moxon's stationary exercise bicycle. It had an overhaul and upgrade this year including new wheels and disc brakes. The ham bone, in the rear of the machine, is mounted on a large spring so it will bounce, jiggle, and doing-oing-oing while racing. A new kinetic innovative technology is the use of coffee filters for the skin of the vehicle. The light and strong coffee filters are papier-mâché with waterproof wood glue on top of modeling pulp board to make the skin of the machine. It is rumored that this new material is bullet proof.

OTHER: The three-wheeled machine weighs more than 222 pounds, 88 inches tall, 55 inches wide and 135 inches long. It has a top land speed of 15 miles per hour. Water speed is "super fast," according to Ken Beidleman, who built the chassis. Hunk-a Hunk-a Burning Ham was designed by Lush Newton and built by Newton, Mike Burford, Malia Matsumoto and Carey Smith. Newton has been involved in Kinetics since 2002 when she created Rocket Boy, a machine that is still on display in the Kinetic Lab. Our team has raced on June Moxon's team for many races; but this is our inaugural year with our own machine, uh-huh-huh!
---
---