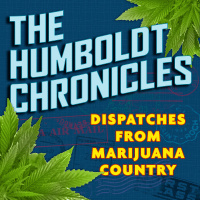 KLGE
The Humboldt Chronicles
Dispatches from Marijuana Country.
Subscribe
Episodes
In this episode, we continue our look at the history of marijuana in Humboldt County and also take a peek at what the future might bring. Guests include Dr. Dominic Corva, Hezekiah Allen and Anna Hamilton.
Episode 1 of new documentary series about marijuana and Humboldt County. Part 1 of a 2 part historical overview with guests Nick Angeloff of Archaeological Research And Supply Company and attorney Erik V. Kirk who also produces the SoHum Parlance Blog.
The Humboldt Chronicles: For residents of Humboldt County, there's no telling how much of their spending money has filtered through the local marijuana industry. Or is there? Hear from a banker, a grower, a business owner, and an economist. See lostcoastoutpost.com for more.
• (Thursday, Jan. 19, 2012) Trailer
A preview of the upcoming Lost Coast Communications documentary series on Humboldt County, Calif. and marijuana culture.