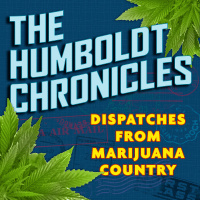 KLGE
The Humboldt Chronicles
Dispatches from Marijuana Country.
Subscribe
Episodes
In the May episode, we invited the candidates for 4th and 5th District Supevisor into the studio to discuss their views on appropriate cannabis policy for Humboldt County. Our guests included 4th District candidates Dani Burkhart and Mary Ann Lyons as well as 5th District candidates Ryan Sundberg and Steve Madrone.
In this episode, we explore the mysterious and potentially significant topic of cannabis patents. Guests include journalist Amanda Chicago Lewis, Nat Pennington, of Humboldt Seed Company, Beth Schechter, of the Open Cannabis Project, and attorney Dale Hunt, of Hahn Loeser & Parks LLP
In this episode, we spoke with Bryan Wilkomm of Humboldt Patient Resource Center and John Dalby, CEO of Redwood Capital Bank regarding banking and finance in the cannabis industries.
In the February episode, we examined the local implementation of Proposition 64 in a few areas of Humboldt County and also took a look at the present situation and future implications for Southern Humboldt. Our guests were Kym Kemp, Publisher of news blog The Redheaded Blackbelt, Kevin Jodrey, Owner of Wonderland Nursery, and Rob Holmlund, Director, City of Eureka Development Services Department.
In this episode, we spoke with Ray Markland of Eco-Cann in Eureka and Nate Wittington of HCGA about the challenges of doing business in an industry that is legal in California but illegal in the eyes of the US Department Of Justice. We also spoke with Cong. Jared Huffman and Mason Tvert, Vice President at VS Strategies in Denver, CO.
In this edition of The Humboldt Chronicles, we take a look at some of the changes coming our way on January 1 as Proposition 64 is implemented in Humboldt County. Guests include Patrick Murphy (Public Policy Institute of CA), Mike Wilson (Humboldt County Supervisor), William Honsal (Humboldt County Sheriff) and Patrick Finnegan (CPA).
In this episode, we continue our look at the history of marijuana in Humboldt County and also take a peek at what the future might bring. Guests include Dr. Dominic Corva, Hezekiah Allen and Anna Hamilton.
Episode 1 of new documentary series about marijuana and Humboldt County. Part 1 of a 2 part historical overview with guests Nick Angeloff of Archaeological Research And Supply Company and attorney Erik V. Kirk who also produces the SoHum Parlance Blog.
The Humboldt Chronicles: For residents of Humboldt County, there's no telling how much of their spending money has filtered through the local marijuana industry. Or is there? Hear from a banker, a grower, a business owner, and an economist. See lostcoastoutpost.com for more.
• (Thursday, Jan. 19, 2012) Trailer
A preview of the upcoming Lost Coast Communications documentary series on Humboldt County, Calif. and marijuana culture.