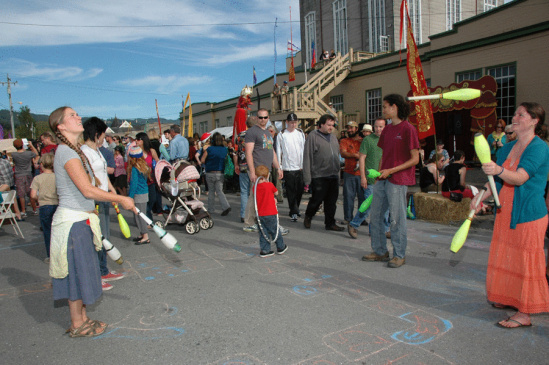 Local music wizard Tim Gray was commissioned to write Footfall, a companion soundtrack to Arcata's burgeoning Creamery District for Creamfest 2013.
It's a dizzying eight-part suite dedicated to, and inspired by, the district that now houses Tomas Jewelry and the Arcata Playhouse.
Sure, ambient audio impressionism isn't burning up the charts this summer, but this is our ambient audio impressionism, which is why you just heard it on KHUM.
In addition to engineering a mountain of local CDs at his Myrtletown Studios, Gray is known for his work as Dell' Arte's resident sound designer and composer. Those songs in Mary Jane: The Musical? That's his job.
Maybe it'll blow your mind. Maybe it'll redefine your understanding of art. Maybe you'll wonder why even bother. Maybe you'll use it as directed.
From the artist:
It is designed to envelop you, the listener, into another aural world, an alternative universe in sound. I have designed this primarily for headphone/earbud use with the portable devices that are ubiquitous in the human culture, cell phones, iPods and other mp3 players, freely downloadable here.
The results range from the plainly literal (Birds) to the downright trippy (The Playhouse). Here's a sample of the titular piece.
This piece was created to reflect the act of walking around the creamery district. The listener is encouraged to match their walking pace to the footsteps in the soundscape and take a random stroll throughout the district. How much of the Creamery District is covered of course, depends upon the listener's size and stride.
Hear all of Footfall here.
Photo: creameryfestival.com