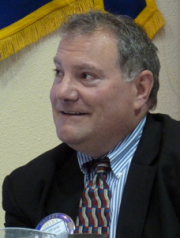 By now we've all heard how Lance Madsen is resigning from the Eureka City Council due to health reasons. Lance, may your health continue to improve and you and your lovely wife enjoy your life together. Thank you for your service to the City of Eureka.
The City of Eureka Charter outlines what happens in case of a city council seat opening up for whatever reason. There are three options:
Hold a special election
Appoint a person to the open seat
Keep the seat open and wait until the next scheduled election
Let's look at the three options.
There is a large cost from the City of Eureka involved to hold an immediate special election and the voter turn-out would be even lower than the 20% from the recent election.
Appointing a person for a short-term City Council seat means they have to run for election next year.
Keeping the seat open means you are subject to a potential 2-2 vote with the Mayor having to make the tie-breaking vote.
Mayor Frank Jager gets to decide which course of action to do and decided upon #2, appoint someone to fill Councilman Madsen's soon to be vacated City Council seat.
The local media was notified and the City of Eureka posted notice that any person living in the City of Eureka's 5th Ward could put their name in the hat to be considered for this appointment.
The three candidates that stepped forward and put their names in the hat were Chet Albin, Barry Smith and Leslie Lollich.
Chet Albin: Retired insurance broker, current City of Eureka Planning Commissioner, former City of Eureka Parking Place Commissioner and the member of the Housing Advisory Board.
Barry Smith: Owner of Barry Smith Construction which employs 12 people here in the North Coast. Local youth sports coach. Member of the Chamber of Commerce, where he received the Business Person of the Year in 2011.
Leslie Lollich: Ron Kuhnel's daughter-in-law. Public Information Officer for the Humboldt County Department of Health and Human Services. On the Boards of Directors of the Humboldt Library Foundation and the Humboldt Botanical Gardens.
These three candidates had to submit a resume/bio with their application. Next they will be interviewed by Mayor Frank Jager's blue ribbon panel consisting of former Eureka City Council members Virginia Bass; Mike Jones; Polly Endert; along with Neal Latt, a Yale graduate and now employee with Mathews, Kluck, Walsh & Wykle; and Lorraine Dunaway a retired community activist. Finally Mayor Frank Jager will decide which person to appoint as our next City of Eureka Councilmember, 5th Ward.
Albin and Smith are registered Democrats, while Lollich is a No Party Preference. Not that this matters as our local races are non-partisan.
First I'd like to applaud these three candidates for stepping forward and going through the process. The thing about this is that cream rises to the top. I predict the best candidate will be a unanimous vote amongst the blue ribbon panel, whoever that person is.
Keep in mind, the lucky person that gets appointed will be running for election in just eleven months (November 2014). Politics is about compromising and moving forward. Go forth and be bold. I'd recommend you don't bash your perceived opponents, the city staff, nor the public, and don't sit there meekly.
Finally, this is a nine-year appointment to Eureka City Council if done properly.