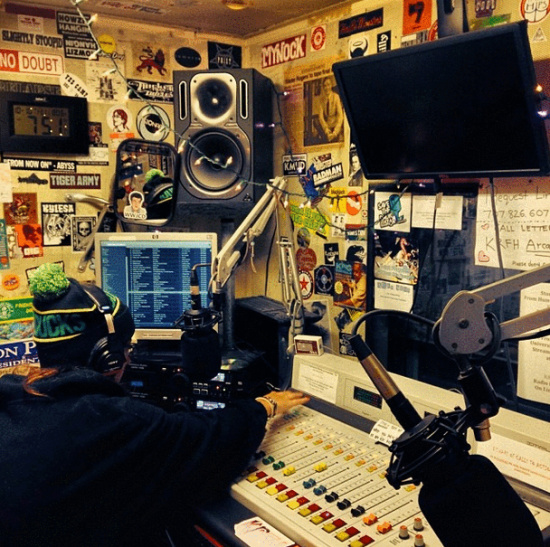 Humboldt State's student-run radio station will soon be available on actual radios throughout the northern Humboldt Bay Area on 105.1 FM, according to a press release from the station. KRFH will start broadcasting on its new frequency on April 18th.
Not to be confused with KHSU 90.5, KRFH is completely managed by students with faculty oversight. [Disclosure: Your LoCO writer spent a joyous seven semesters at KRFH.] It serves as a lab for radio students and audio producers, as well as a very-hard-to-hear radio station.
Also notable is KRFH's continued growth in the face of what the New York Times described as "waning support for college radio". Across the country, college radio stations are increasingly seen as easy 'purchase targets' for schools looking to raise some quick money.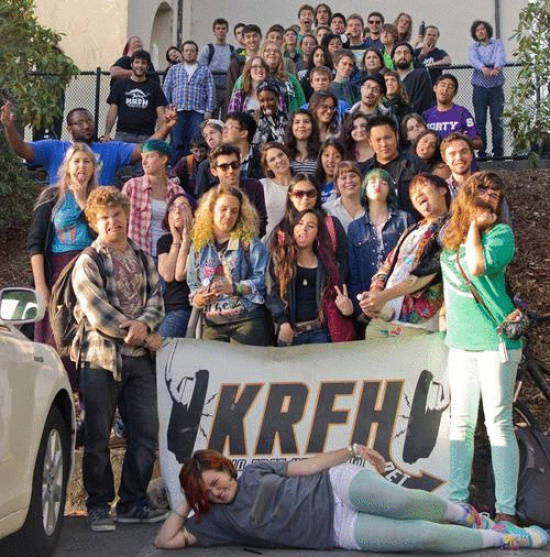 KRFH began in 1990 as a carrier-current broadcast on 610 AM from a dank facility underneath Gist hall. The late Dr. Gary Melton, who once worked under Pat Sajak, let the station flourish as a truly eclectic free-form laboratory.
KRFH is one of the very few Humboldt broadcasters to play hip-hop and EDM regularly, though the station also plays a very, very wide variety of other genres.
Countless local radio hosts honed their chops at KRFH: J.B. Mathers, Paul Woodland, Carole Ann, Myles Cochrane, Dr. Syd Reagan, DJ Bubba, Ryan Lee, Eli Rohl, Nikki Leskinen… it's a long list.
But KRFH was really hard to pick up. Some spaces on campus would play KRFH, like the Depot. You could kinda pick it up if you were parked in the right spots. If you plugged a radio into your dorm wall, you could also hear it.
But that was about it until KRFH.net started webcasting in the late 90's. This was a vast morale boost for the airstaff, since radio without listeners is an orphaned mixtape.
Faculty advisor Cliff Berkowitz [another disclosure: Berkowitz is a LoCO contributor & morning host for KHUM] was quoted in Humboldt State Now:
"The students will have an actual broadcast radio station that will no longer be a simulation of a broadcast," he said. "It will be real."
Congratulations, KRFH. Give 'em hell and watch your levels. Gary Melton is smiling on all of you.
——-
From KRFH:
Humboldt State University's student­run radio station, KRFH, is about to flip the switch that will take their internet based broadcast to the FM airwaves. The station was granted a low­ power FM (LPFM) license by the Federal Communications Commission in early February 2014.

Students and the community are invited to tune in to the new KRFH 105.1 FM on April 18th from 5:00­7:00 p.m. to hear the debut of the new frequency. KRFH alumni are welcome to join current DJ's in commemorating the long history and exciting future of the station. Former DJ's are also encouraged to email KRFH105.1@gmail.com to find out how else they can be a part of the launch day.

"This is a monumental event for anyone that has ever been involved with KRFH either as a DJ or a listener," says Alex Fest, KRFH LPFM Project Coordinator and student manager. "With our launch, we want to celebrate the contributions and the support that we have received from the campus community since our humble beginnings on KRFH DJ's will be on the HSU quad April 18th from 10am-­4pm giving away free radios to students who want to to tune in but don't have access to their own receiver. "We want all Humboldt radios to be tuned in during our launch," Fest said. "After all, it is not often that a frequency lies dormant for so long, and then, suddenly… there are voices and music."

The signal will cover all of Arcata, reaching North to Mckinleyville and South to Eureka.

Now approaching its 25th year, KRFH was established in 1990 by late journalism Professor, Dr. Gary Melton, with a small AM broadcast carried through telephone lines throughout the HSU campus. In 1997, the station broke new ground when it became one of the first college radio stations in the country to stream online. KRFH will soon make history once again when it launches it's FM broadcast and becomes the first and only student run 'Low ­Powered FM' station in the California State University system.
####