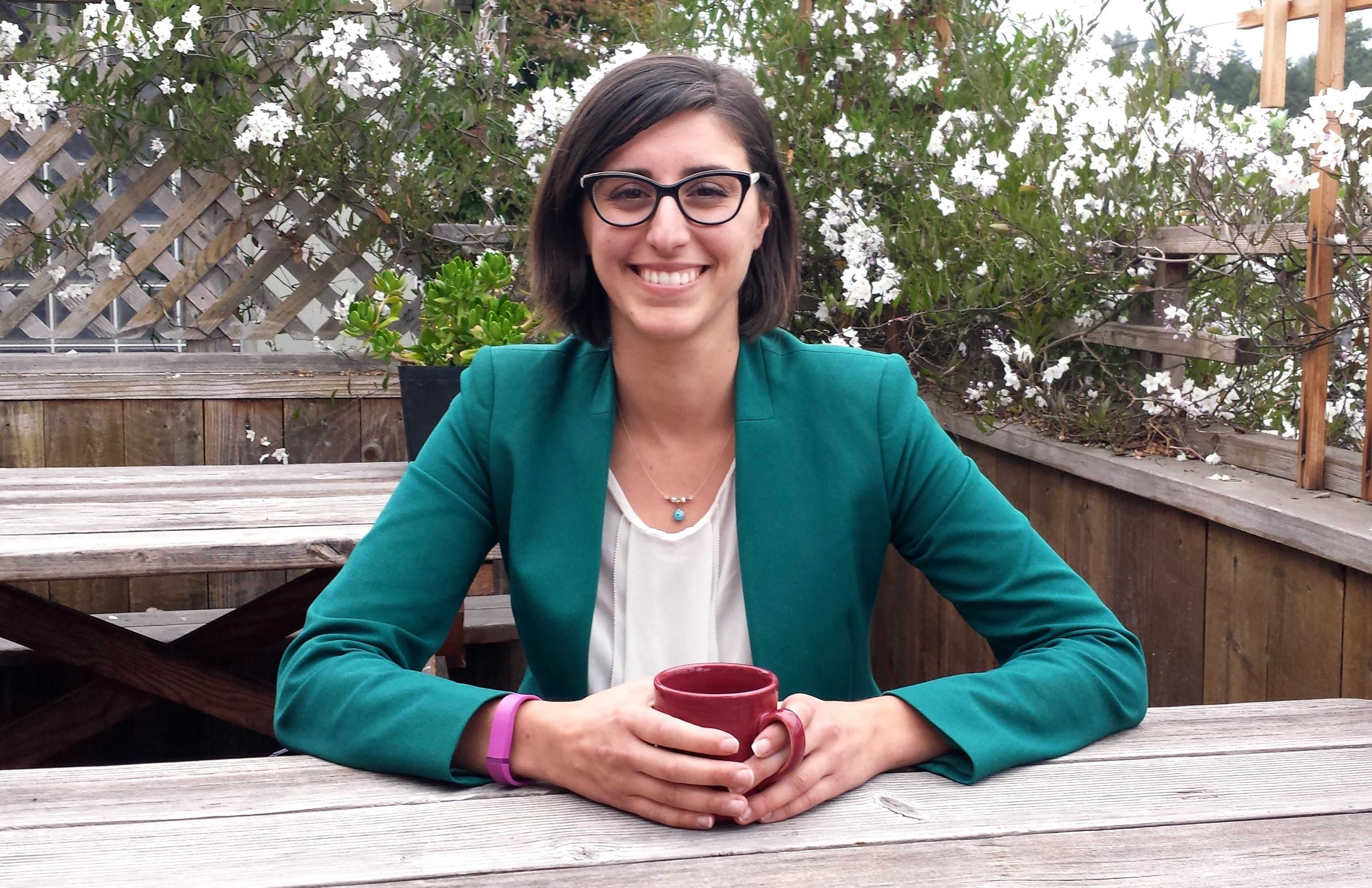 Sofia Pereira's dad has a story he likes to tell from when she was a toddler. He was driving the family's GMC Jimmy, this story goes, and she was directly behind him, kicking his seat incessantly. He asked her to stop, but she refused.
"I was definitely a kid with conviction," Pereira explained nearly a quarter century later, sipping decaffeinated green tea in an Arcata coffee house. "Maybe they would call it stubborn."
Fed up with the seat-kicking, Pereira's exasperated dad finally tossed her beloved Teddy bear out the driver's-side window. And yet Pereira still refused to let him win. Lip quivering, she steeled herself and declared, "That. Didn't. Hurt."
Pereira smiled at the thought. "Perhaps that says what kind of kid I was," she said. (Her dad went back for the Teddy bear, in case you were worried.)
Now 27, Pereira is running for a seat on the Arcata City Council, and she apparently hasn't lost any of her conviction. Though still in her 20s she has amassed a good deal of political experience, getting herself elected Associated Students president as a write-in candidate her senior year at Humboldt State University, then going on to intern at the Eureka offices of both U.S. Congressman Mike Thompson and state Assembly Member Wes Chesbro.
Later she earned a fellowship from the Women's Campaign Fund, a nonpartisan political activism group based in Washington, D.C., where she met 2012 Congressional candidate Stacey Lawson, who eventually asked Pereira to join her campaign team. And she spent a year and a half working as a local field representative for Chesbro before getting hired as a legislative analyst for the county Department of Health and Human Services.
Now she's hoping to replace Alex Stillman, who has chosen not to run for a third consecutive — fourth total — term on the council. Stillman personally suggested to Pereira that she run, though with the filing deadline just a day away the field of candidates is suddenly looking crowded. Candidates for the two available four-year terms on the council include Pereira and incumbent Council Member/Mayor Mark Wheetley as well as Juan Fernandez and Patrick Hyland, who have both qualified for inclusion on the November ballot. A fifth potential candidate, Jason Carr, has taken out papers but has yet to officially qualify, according to City Clerk Bridget Dory.
Meanwhile, the seat vacated by Council Member Shane Brinton, who left to care for his ailing mother, has two years remaining under the current term, and a special election is being held concurrent with the November general election to fill the seat. Former Council Member Paul Pitino and Arcata resident Ryan Kaplan have both qualified for the ballot in that race.
Pereira grew up in Santa Clara and attended high school in the Sacramento suburb of Elk Grove, which had the fastest-growing school district in the country at the time, Pereira said. She had a political awakening of sorts during her senior year when she and some fellow students protested urban sprawl, appearing before the city council to address related issues such as water quality and and the destruction of wildlife habitat.
She first came to Arcata with her dad in October 2004 to attend HSU's fall admission's day. She said she fell in love with the plaza and ate dinner with her dad at Live From New York. "I just remember feeling that this was a unique place," she said. "It wasn't just like Anywhere, America."
While attending HSU Pereira was active in the climate change movement, and one summer she attended a Greenpeace training in Washington, D.C., where she had the opportunity to lobby Congressman Thompson. That's roughly the point where she decided what she wanted to do with her life.
I knew I wanted to make a change," she said. "I knew I wanted to make the world a better place. And that was kind of the pivotal point where I realized that working on policy was really where change can happen." The next year she ran for Associated Students president, but she missed the filing deadline and had to run a write-in campaign. Undaunted, she set about talking to as many people as possible and embraced social media, producing a series of YouTube videos for her campaign.
"At the end of it I won with like 58 percent of the vote," Pereira said. She attributes her unlikely victory to talking — and listening — to as many people as possible. And if elected to the city council she said she'd like to strengthen the bridge between the university and the city.
Pereira earned her Bachelor's in communications with a minor in social justice. After graduating she worked for about two years for Verizon Wireless in Eureka while volunteering for organizations such as the Arcata Commission on Democracy and Corporations and the Human Rights Commission and serving on the board of Six Rivers Planned Parenthood.
Pereira said she learned a lot about the issues along the entire North Coast while working on Lawson's campaign and, later, as Chesbro's field rep. Now, as the county health department's legislative analyst, Pereira said, she tracks state and federal legislation, analyzing how it may affect the department's services, and does research for the county Board of Supervisors and department Director Phil Crandall.
As for a political platform, Pereira is focusing on three main goals, as articulated on her campaign website:
• Make Arcata the first zero waste city in Humboldt County by adopting practices to prevent waste and promote entrepreneurship.

• Better serve residents by working with HSU and community partners to improve our community.

• Promote technology that supports public participation and streamlines city services. As a city we can harness technology to engage residents and increase access to information.
Pereira pointed to such beloved Arcata features as the Arcata Marsh and Wildlife Sanctuary and the Arcata Community Forest as examples of successful collaborative efforts.
"We have a history of pushing the envelope, trying something new, being willing to take those risks, and I think that's why Arcata has become an environmental and economic leader in the county," she said.
These goals aren't exactly unique, Pereira admits — in fact they're included on the list of official city goals. "My hope is to move those forward," Pereira said, "make progress so they're not just a line on the goal sheet."
Pereira voted for Measure I, the so-called "grow house tax," though she said she's been interested in hearing opposition to the measure since. She did not vote for support the city's 2010 panhandling ordinance, which was subsequently gutted for being "largely unconstitutional" — a ruling Pereira agrees with.
She would also like to make city government more user-friendly by embracing modern technology.
"What I would love to see is an app for the city where people can file a claim, like, 'Hey, there's a pothole at this particular corner,'" she said. "They can log it. They can see that it was received by the city, and then you can check the status."
Another suggestion: People could sign up for email alerts and get notified when items specific to their interests come up on the council agendas.
"I think the more ways we can engage people to be interested in city issues the better," Pereira said.