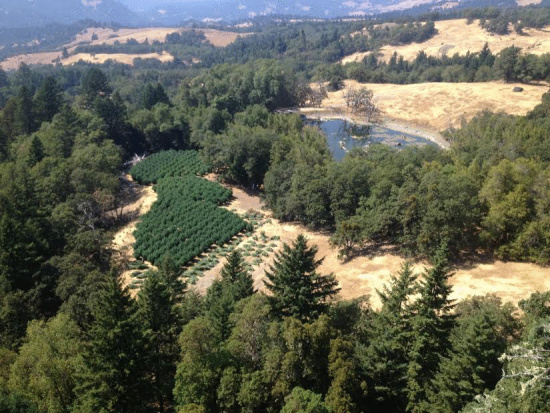 Humboldt County Sheriff's Office press release:
On 8-26-2014, at approximately 10:00 a.m. Humboldt County Sheriff's Office deputies, assisted by members of the Campaign Against Marijuana Planting and the Humboldt County Drug Task Force drove to an area just north of Blocksburg. At the open field location, deputies eradicated 10,276 growing marijuana plants ranging from 6" to 9' tall. The plants were grown on three different parcels, all on private property. There were no residences or structure in the area. Deputies also located two large water lines drafting water from a nearby creek to water the marijuana plants.

No suspects were located at the scene, and the investigation is ongoing. The case is also being referred to the California Fish and Wildlife for an investigation into possible environmental crimes.

Anyone with information for the Sheriff's Office regarding this case or related criminal activity is encouraged to call the Sheriff's Office at 707-445-7251 or the Sheriff's Office Crime Tip line at 707-268-2539.
PREVIOUSLY: CAMP — Yes, CAMP! — Conducting Raids in Blocksburg Today