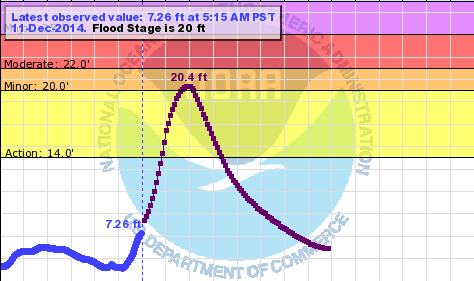 Yesterday's overheated flood fears have cooled down quite a bit as of this morning.
Right now, the National Weather Service is predicting only minor flooding at Fernbridge when the river peaks at around 4 a.m. tomorrow. The South Fork, Van Duzen and Mad rivers are now all expected to stay within their banks throughout the duration of the storn, at least at the monitoring locations (Miranda, Bridgeville and Arcata, respectively).
This isn't to say that there will be no flooding anywhere in the county: Notoriously flood-prone areas such as Elk River, Hookton Slough and King Salmon will likely spend a good deal of the day partially submerged. But it looks like the major rivers will all behave.