Oyster farmers and environmental advocates want the same thing: a clean and healthy Humboldt Bay. Which is why Coast Seafoods is matching up to $10,000 in donations to Humboldt Baykeeper this month. So far, $7,500 has been donated – excellent! – but you have a few days left to bump that total up. Do it here.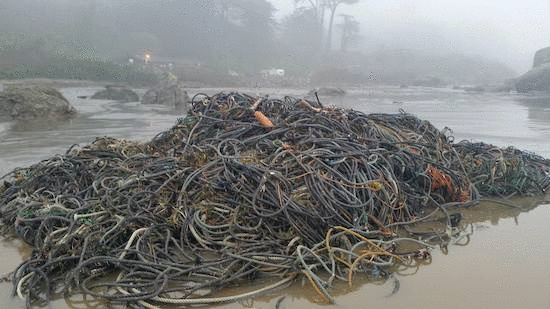 Rope pile at Moonstone Beach Photo courtesy PacOut Green Team
As you may know, the indefatigable PacOut Green Team has been tackling a gigantic wad of fishing line, rope and buoys that washed up on Moonstone Beach. Part 1 resulted in much of the mess being removed, but the project is such that it requires a second attempt. Join the crew at Moonstone this Sunday at 8:45 a.m.
From the event page:
We need cordless side grinders, crab net knives (available at Englund Marine in Eureka for $8), bone/limb saws, etc., which we will use to cut the netting into smaller, more manageable pieces. We will also need a few wheelbarrows to use to get the netting from the beach to the parking area. Safety glasses or a face shield should be worn for operating the grinders and to avoid getting sand in the eyes. We made this a Sunday event so we could use the low tide in our favor. This event may take more than our usual hour to complete so some of us will be there for the duration.
#CaliforniaMPAs In other news, December 19 marked the two-year anniversary of California's marine protected area network. Here on the North Coast, we proved (again) that we prefer to do things our own way by being the only region in the state in which all stakeholder representatives agreed on a single unified proposal determining where the new MPAs should go.
As healthy ocean advocates and partners look to the future, many opportunities to expand our knowledge, share information, and otherwise coordinate outreach and education efforts await. You can read about the baseline monitoring efforts in the current EcoNews publication and, if you want to get deeper in the weeds, explore The California Collaborate Approach: Marine Protected Areas Partnership Plan, adopted by the Ocean Protection Council earlier this month.
(TL;DR version: We're learning stuff about the ocean out there and working together to share the knowledge, yay!)
PREVIOUSLY
Your Week in Ocean: #10DaysOfMPAs, MPA IPA, Coast Seafoods <3s Humboldt Baykeeper

Jennifer Savage is the Northcoast Environmental Center's Coastal Programs Director and can be reached at jsavage@yournec.org.