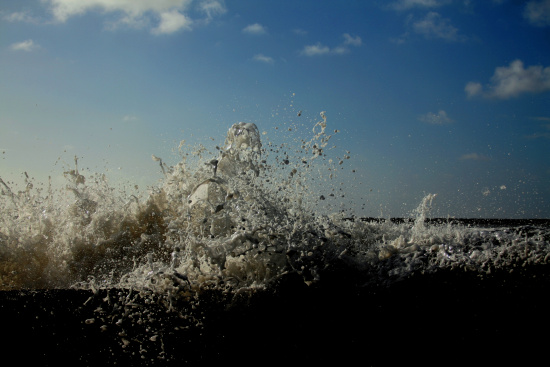 Waves splashing on the North Jetty from the big waves the North Coast had in late December (Photo by John W. DeLodder.)
Waves could be extremely high and dangerous this weekend. The Coast Guard is urging people to stay away from the ocean.
"Any activities on or near the water are discouraged as wave conditions approaching 20 foot in height are expected," wrote Lt. Commander Tombo Jones from the US Coast Guard. (See High Surf Advisory here.) These conditions are expected from Mendocino to Humboldt to Del Norte.
NOAA is saying that there is a front coming tonight that "will bring Southerly gale and near gale conditions." The winds will shift to northerly tomorrow night. But the shift will add to the size of the waves. According to NOAA,
A large long period westerly swell generated by the surface low associated with tonight`s front will move into the waters starting Saturday morning.
The high waves are expected to peak Sunday morning. The High Surf Advisory states,
Large breaking waves along the coast will lead to increased wave run-up on beaches with waves topping and washing over large rocks and jetties. These large waves can be erratic and unpredictable. Use extra caution near the surf zone as these large waves will be capable of sweeping people into the frigid and turbulent ocean waters… .
Rains are expected tomorrow with clearing on Sunday.