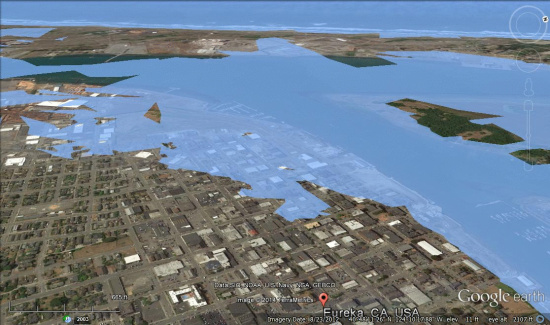 #EurekaRising via #DrownYourTown
"It's like when you get bad news from the doctor," explained author John Englander to the audience prior to speaking about his book, High Tide on Main Street, last Thursday at San Francisco's Aquarium of the Bay. His premise? It's better to know.
"I promise not to be all doom-and-gloom," he continued. The doom element proved unavoidable, however, as a significant part of Englander's message is, "It's too late." Without digressing into the harm anti-science forces have done on a number of fronts, let's consider his recommended options when assessing the future sea level rise that's going to happen:
1. Move to higher ground. Here's a useful tool: The Humboldt Bay Sea Level Rise Planning Project. (Also, #DrownYourTown!)
2. Share the reality of what can be expected. Upwell, sharers of all the hot ocean gossip, makes it easy.
3. Pressure elected representatives to make policy accordingly. Need some talking points? Here's a bipartisan report, appropriately titled "Risky Business," released last week. In an attempt to create a solid source of information, California Assemblyman Rich Gordon has a bill in the works that would task the Natural Resources Agency with creating a public website and database to warehouse response plans, studies, maps, computer models and Local Coastal Programs related to sea-level rise. (Sacto nerds, see here.)
Coastal Commission unshackled
On the topic of recent legislation, a recent bill gave the California Coastal Commission the ability to levy fines on landowners who prevent access to public beaches. As often happens, a law designed to prevent such abuse of California's citizens already exists – the increase in power simply puts some much-needed teeth in it.
The Commission's empowerment correlates with a high-profile case down in Half Moon Bay, where surfers and other beach-goers are fighting for their right to access Martin's Beach. This is hardly a unique circumstance – even Trinidad has been embroiled in the public vs private interests battle.
Happily, access to Humboldt Bay continues to improve. Note trails in progress, below, and download the entire project brochure via KHUM.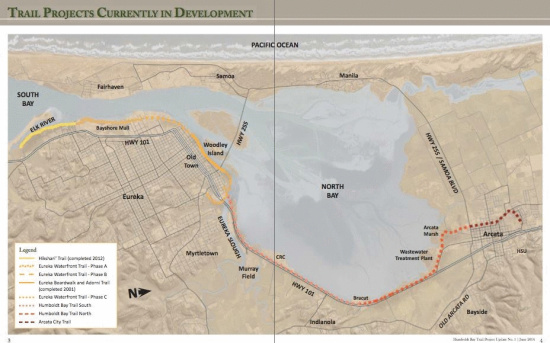 Interested in exploring Humboldt Bay while paddling a kayak or from the more leisurely deck of a motorized boat? With help from a Coastal Conservancy grant, Humboldt Baykeeper has partnered with HSU's Aquatic Center and the Humboldt Bay Harbor, Recreation and Conservation District to offer monthly bilingual tours covering a variety of topics on Humboldt Bay. Email jasmin@yournec.org for more info or to join a tour.
Tours with the Harbor District are scheduled for the following Saturdays: July 19, August 16, September 13 and October 11.
Tours with HSU's Aquatic Center are scheduled for the following Thursdays: July 24, August 28, September 25 and October 23.
'Rare and vulnerable'
Another place to explore with the help of an expert is the Lanphere Dunes. Join botanist Lisa Hoover for a free, guided exploration of ecological relationships in the coastal dunes on Saturday, July 5 from 10 a.m. to 1 p.m. You'll leave with a deeper understanding of the importance of conserving the natural diversity of this rare and vulnerable habitat. Meet at Pacific Union School, 3001 Janes Road in Arcata to carpool. For more information visit friendsofthedunes.org or call (707) 444-1397.
'Save the Devil'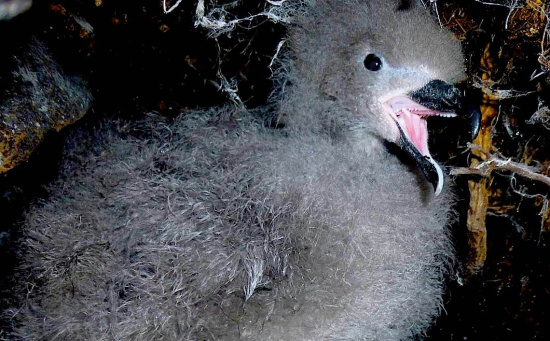 Adam Black-capped Pestrel chick
Adam Brown, a senior biologist with Environmental Protection in the Caribbean (EPIC), tells the story of working with one of the world's most endangered seabirds, the Black-capped Petrel (below), on one of the world's poorest island nations, Haiti. Follow him through finding the first Black-capped Petrel nest ever to working with a family of Haitian farmers to save one of the last known nesting colonies of this imperiled species in a free lecture sponsored by Explore North Coast on Monday, July 14 at the HSU Aquatic Center in Eureka.
From Save the Devil, the feature documentary chronicling these efforts, "This is a story of two families. One is a family of Haitian farmers struggling daily to feed their children. And one is a family of birds on the brink of extinction living in one of the last places on earth they can hide."
Local people helping you do things better
You know we like our fish local. If you're angling to catch your own, the T-S' "Fishing the North Coast" is your best source to what's happening on the water.
You also know we like our beaches clean. If you're looking to help make that so, the PacOut Green Team's Saturday cleanup events are the places to be. This Saturday, it's a post-July 4 trash collection on the north end of Manila Beach. Details via the team's Facebook page.
'Coastal Currents' on vacation this week, Ocean Night bumped to July 10
Due to your co-hosts both being on vacation simultaneously, your ears will have to wait till next Wednesday, July 9 for an aural look at Humboldt's coastal happenings.
Due to July being a notoriously light month when it comes to presenting moving documentaries inspiring audiences to action, this month's Ocean Night will be a "Surf Flick Spectacular" – expect the visual equivalent of getting pitted, so pitted, on Thursday, July 10. Doors at 6:30 p.m., films at 7 p.m. More info next week.