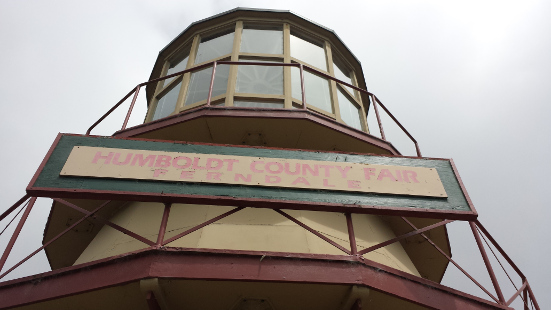 The Humboldt County Fair has some exciting entertainment lined up for its 118th annual go-round, which will run Aug. 14-24 at the county fairgrounds in Ferndale. There's a guy who juggles chainsaws, a sea lion show, six days of horse racing and celebrity chef Guy Fieri, Ferndale's most famous native son, who's scheduled to appear on Lady's Hat Day.
All of this has been arranged by the Humboldt County Fair Association, the nonprofit group that organizes the fair each year. And while the 2014 Humboldt County Fair won't look dramatically different than in previous years, the group behind it has been mired in controversy and turmoil thanks to an ongoing feud with local couple Caroline and Stuart Titus and a recent snafu with the state tax board that left the fair association in an organizational crisis.
In April the fair association found out that the California Franchise Tax Board had revoked the group's tax-exempt status, which came as a complete surprise to the group's 21-member board, leaving them scrambling to figure out what happened. The revocation has also sparked existential confusion. Exactly what type of legal entity is the 90-year-old fair association? Is it part of the county government? Is it an autonomous nonprofit? Something in between?
The fair association's current general manager doesn't seem to know. The previous general manager says he knows, but the county evidently disagrees. And the state doesn't seem to match up with the feds: The California Franchise Tax Board has now reinstated the group's tax-exempt status, but the Internal Revenue Service apparently has no record of the group whatsoever.
This identity crisis has been unfolding under the glaring scrutiny of Caroline and Stuart Titus. Caroline is the editor/publisher and sole news reporter of the Ferndale Enterprise, a 135-year-old newspaper published once a week and sold for a dollar per issue in Ferndale's stores and restaurants. Stuart, her husband, is the mayor of this Victorian gingerbread city. He's also the previous general manager of the Humboldt County Fair Association, the same group he's now pitted against. His 22-year tenure came to a controversial end on Feb. 28, 2013, after the association's board of directors voted twice (13-7 and, two weeks later, 11-8) not to renew his employment contract.
The Tituses say this was an act of revenge — payback for a series of unflattering stories that had appeared in the Enterprise over the preceding months and years — and they are suing the fair association, along with three individual board members, in federal court for violating their free speech rights and wrongfully terminating Stuart Titus's employment.
And the Tituses say that, ever since Stuart was shown the door, the fair association has been woefully mismanaged.
"The fair and the fairgrounds are extremely important to the citizens of the county, and never in its 118-year history has it been operated in such a tumultuous and chaotic fashion," Stuart Titus recently told the Outpost. Caroline Titus says the board has shown flagrant disregard for the Brown Act, California's open meetings law, by regularly failing to respond to her public records requests in a timely fashion and by telling her not to take pictures or ask questions at meetings. Both say the board has been fiscally irresponsible and unaccountable. Last year's fair association budget projected a $3,000 profit; instead the organization lost more than $215,000, cutting deeply into the record-high reserves in place when Stuart Titus left.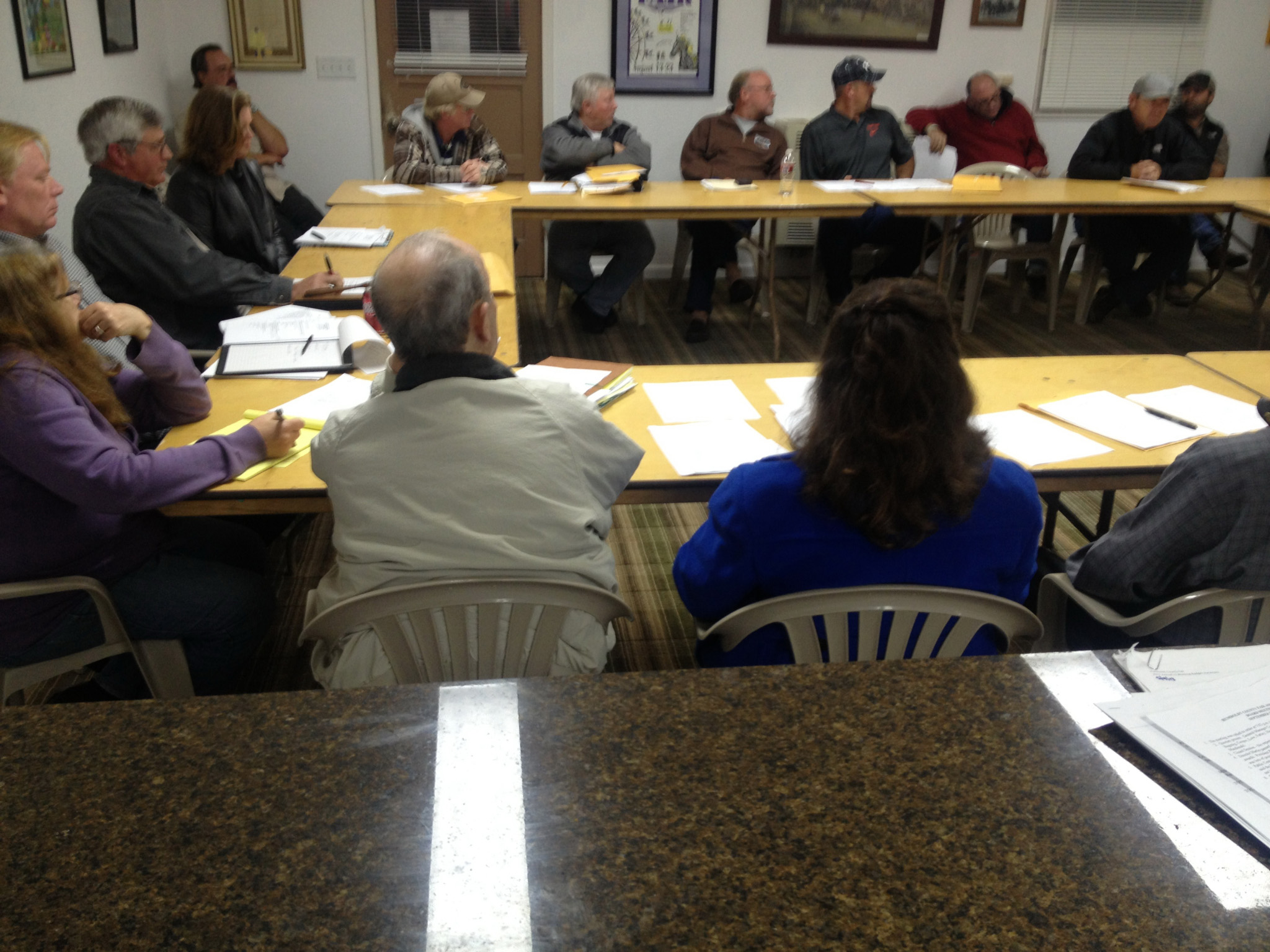 Clearly still wounded by his ouster, Stuart Titus offered a withering indictment of the current fair board, from its fiscal decisions down to its private, post-meeting drinking hour. "The once proud tradition of the Humboldt County Fair board has been reduced to a good ol' boys club that does its business at a corner bar," he charged in an email to the Outpost.
Tensions between the Tituses and the fair board started at least as far back as 2008 with a series of stories about fair association director Jeff Farley, who, as the city's then-mayor, voted to deny a home occupation permit to a gay psychotherapist. (This editorial cartoon by Jack Mays, showing Farley on the therapist's couch, added fuel to the fire.) Then there were the stories in 2009 about Farley getting arrested for driving inebriated with his 13-year-old granddaughter in the truck. (He later pleaded to a "wet reckless" charge.) And the stories in 2011 about a director's cousin who, in a radio interview, denied that a much-talked-about racist outburst at a Ferndale High football game ever occurred. Not to mention all the stories about the board itself.
The Tituses' federal complaint (pdf here) alleges that various fair board members threatened Stuart Titus with payback, implying (or even stating explicitly) that his job was at stake if he couldn't put a lid on the negative coverage in the Enterprise.
In its response to the court (pdf here), the fair association (through its lawyers) says, "Stuart Titus was responsible for the non-renewal of his employment contract due to the way he exercised his employment duties and conducted himself vis-a-vis Board members." The document doesn't get any more specific than that, and board members legally can't address the matter since personnel issues are confidential.
But the feud is ongoing. And because Caroline Titus runs the city's only newspaper, every new chapter of this saga has played out on the front pages of the Enterprise, which puts an unintended personal twist on the the paper's online slogan: "It's all about us." In the past year Caroline has penned stories about a Grand Jury investigation into the fair board's Brown Act compliance, steep declines in the board's financial reserves, ongoing squabbles between herself and board members at public meetings and, most recently, allegations that the fair board illegally obtained emails by hacking into Stuart Titus's password-protected personal Gmail account. The Tituses have contacted both the Ferndale Police Department and the FBI to investigate that last allegation.
The fair board's new general manager, Richard Conway, denies that any hacking occurred, but on the advice of the association's lawyer he declined to go into details.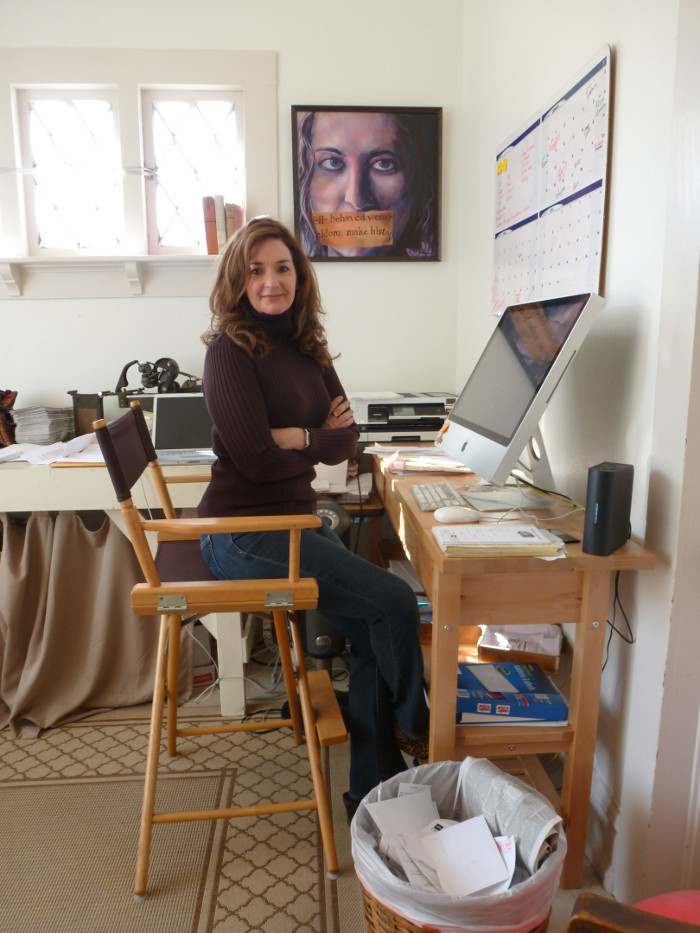 Photo courtesy North Coast Journal.
For Caroline Titus (right), the situation is problematic from just about every angle. As a staunch defender of the Fourth Estate, she takes seriously the task of holding public institutions accountable. In a town this small it would be all but impossible to avoid conflicts of interest altogether. But in writing about the fair board she's reporting on a group she and her husband are suing in federal court, a group she accuses of firing her husband, largely over stories she wrote.
"I don't want to be in this situation," she said in a recent interview. "If somebody wants to pay for me to hire a reporter, I'd do it in a second." But she can't afford it, she said, "'cause my husband lost his job!"
Regardless, she stands by her work over the 18 years she's been at the helm of the Enterprise. "No board member, no one, has ever disputed the facts," she said. "If somebody wants to dispute my reporting, my door is open. They know where to find me."
###
On May 24 the Times-Standard reported that the fair association had been notified the previous month by the state Franchise Tax Board about its tax-exempt status as well as its nonprofit status "due to years of misfilings with the IRS and state" from 2007 through 2012. This, explained Conway, the current general manager, spelled trouble for the upcoming county fair because a) the association couldn't accept tax-free donations without tax-exempt status, and b) it couldn't serve alcohol without nonprofit status.
Those two categories — tax-exempt and nonprofit — are related but different. Tax-exempt status is a federal designation granted to charitable groups, churches community organizations and the like, allowing them to solicit tax-free donations and giving them a pass on federal corporate and income taxes for most types of revenue. Nonprofit status, on the other hand, is granted by individual states.
It's not clear from the Times-Standard story that Conway understood the distinction. He seemed to use the terms interchangeably. Regardless, he blamed Stuart Titus for the snafu, saying, "Past management had been filing incorrectly for several years."
At least some of the information in that story turned out to be wrong — at least according to what Conway later told the Outpost. For one, it doesn't appear that the association ever lost its nonprofit standing. Nor was it "notified" by the Franchise Tax Board that it had lost tax-exempt status; instead, Conway said, fair board members happened upon this fact while researching another matter on the FTB's website. As mentioned above, the group's tax-exempt status has since been reinstated. (So don't worry: There will be beer at the fair.)
Here's where things get confusing. Why was it the state tax board that revoked the fair association's tax-exempt status rather than the IRS, the federal department that grants such status? Perhaps because the IRS never formally granted tax-exempt status to the Humboldt County Fair Association. (The group doesn't appear in the departments comprehensive database of such groups.)
That's not necessarily a problem: Certain groups are automatically granted tax-exempt status without having to file the 30-page application. Churches are one such group. Another is made up of subordinate organizations that are evaluated or covered by a parent group — like, say, a county government.
This is exactly what Stuart Titus says the Humboldt County Fair Association is: an affiliate of the county, which has oversight of the association's budget and other activities. Trouble is, the county's public information officer, Sean Quincey, says the only connection between the county government and the fair association is a lease agreement for use of the fairgrounds (pdf here).
Stuart Titus said Quincey must not understand the terms of the lease or its implications, since three separate audits of the fair association have validated his stance by calling the group an affiliate of a government unit.
What does the current manager think the group is?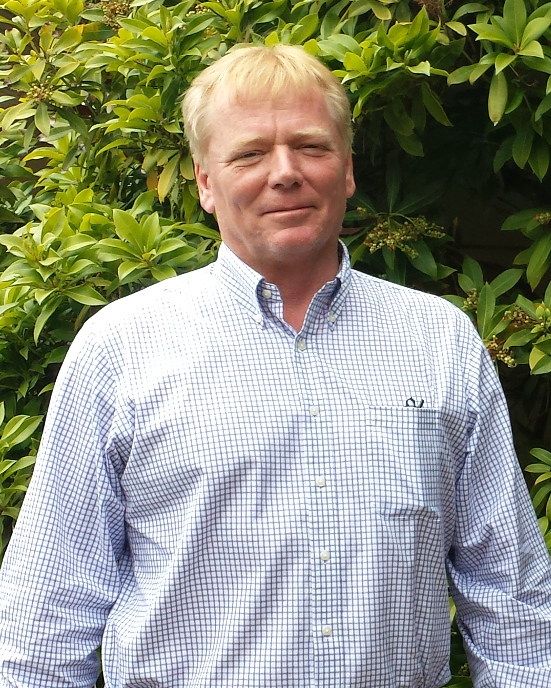 "Our current status — to me, in my eyes — it's kind of up in the air," Conway said in a recent interview. Yellow-blond and broad-shouldered, Conway speaks with the measured cadence of a seasoned farmer. He explained that the fair association has been exploring the possibility of becoming a 501(c)(3) nonprofit, or possibly a 501(c)(5), a tax-exempt status reserved for agricultural and horticultural groups. "Right now we're looking at both options," Conway said in an interview late last month. "I would think sometime next month we'll make a decision about which one we're going to apply for."
The reason for this change, Conway said, is not tax-related; rather, a couple of "big" foundations want to make donations to help with some major projects, but they refuse to do business with organizations that aren't organized as a 501(c)(3) or a 501(c)(5). He declined to identify the organizations taking this stance, and couldn't explain why they'd have such a requirement.
But he said that it was while researching these matters online that the board discovered its tax-exempt status had been revoked by the Franchise Tax Board.
When Conway called to ask why, he said, he was told that the fair association was supposed to have filed 199 forms in 2010, '11 and '12 but hadn't done so.
In fact, the fair association had almost never filed 199 forms. There were a few scattered years during Stuart Titus's tenure (1992, 2000 and 2001, at least) when the Franchise Tax Board actually sent the group those forms in the mail. In response, Stuart simply checked a series of "no" boxes to indicate the group had no taxable income to report and sent the forms back.
But in 2010 a new law went into effect — the 2006 Pension Protection Act. Designed to weed out tax-exempt groups that no longer exist but were still on the books, the law required all tax-exempt organizations to file paperwork each year. If an organization fails to do so in three consecutive years then its tax-exempt status gets automatically revoked.
That appears to be what happened to the Humboldt County Fair Association. Conway told the Outpost that the group regained its tax-exempt status simply by filing those three missing 199 forms.
(This differs from the explanation he gave the Times-Standard back in May. According to that story, "Conway said the association now has to file for a 501(c)(5) designation in order to regain its tax-exempt status." Conway claimed in a follow-up interview that he'd been misquoted. In subsequent phone calls asking for clarification Conway declined to comment at all on such matters, citing the advice of the association's lawyer.)
The Tituses remain angry with Conway (and, by extension, the Times-Standard) for laying the blame at Stuart's feet. "The fact of the matter is he made a really incriminating statement," Caroline Titus said, referring to a statement alleging Stuart Titus had misfiled tax form for years.
The Times-Standard and the Ferndale Enterprise made a California Public Records Act request for the documents that led Conway to that conclusion. The Outpost asked Conway to forward the documents when responding to those requests. He twice assured us that a formal CPRA request wasn't necessary — "just ask."
Last week, however, Conway provided the requested documents only to the Times-Standard. We called yesterday and he said it was a mistake, that he had asked staff to send it to the Outpost, and that he would ask again. The documents — which consisted of scans of 199 tax forms from 1992, 2000 and 2001 (and signed by Stuart Titus) along with the recently filed 199s for the past three years (pdf here) — arrived shortly thereafter.
Caroline Titus said that despite numerous follow-up emails, Conway has yet to respond to her Public Records Act request, which she filed on May 27, more than a month ago. The law requires a response within 10 days.
However — and this is key — that law applies only to government groups.
This, in part, is why it matters so much which type of legal entity the fair association is. If it's an affiliate of a government unit, as the Tituses believe, then it's bound by laws such as the California Public Records Act and the Ralph M. Brown Act, which ensures transparency and accountability at public meetings. If, on the other hand, the association is merely a nonprofit — or if it becomes one in the future — then it won't be bound by any such rules.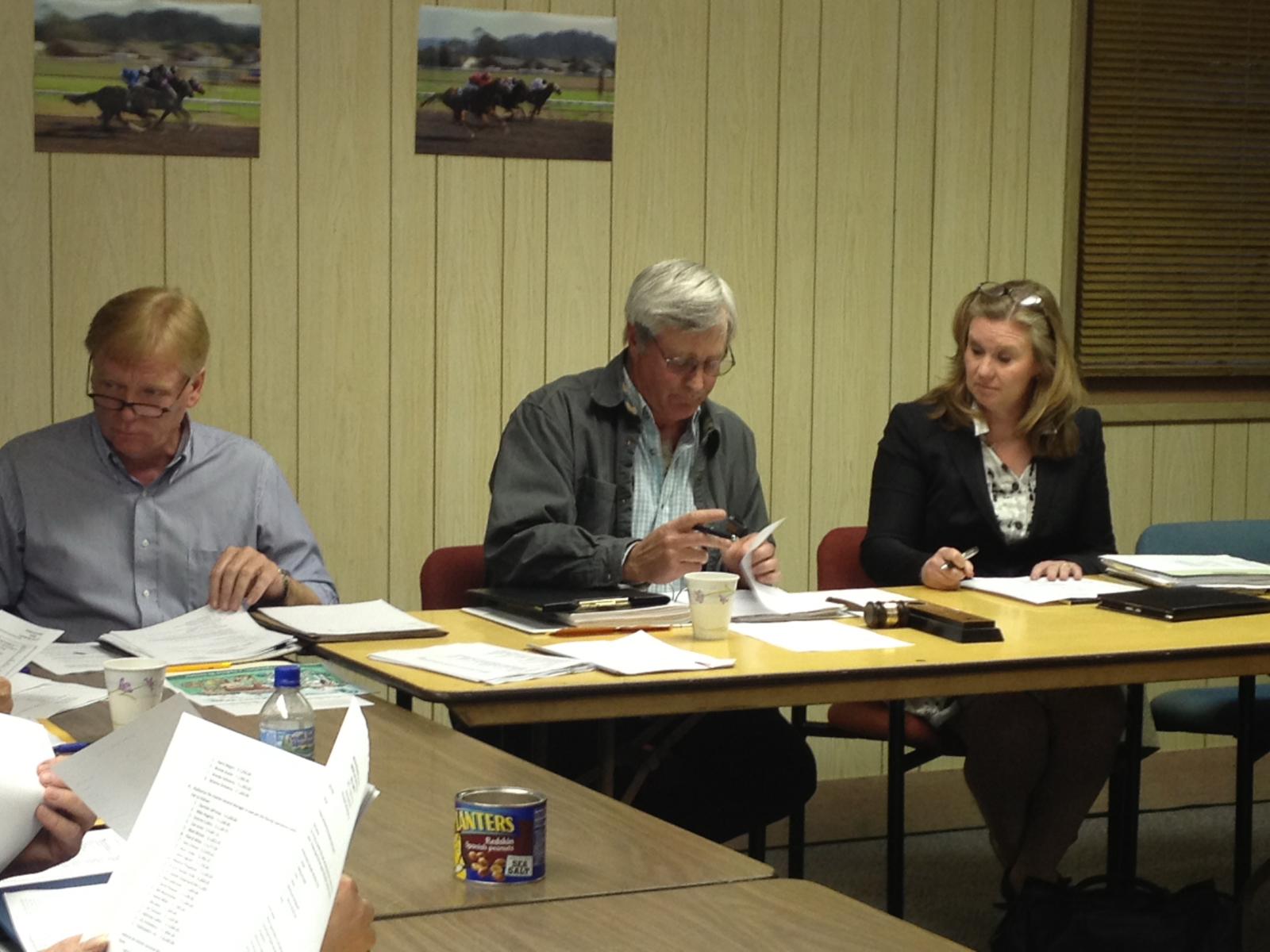 From left: Richard Conway, Board President Tim Renner and beleaguered Eureka City Attorney Cyndy Day-Wilson, who has been contracted by the fair association.
The Tituses believe that this is exactly what Conway and the fair association board are up to — trying to rid themselves of the glaring scrutiny that comes with being a public agency anywhere near Caroline Titus and her Ferndale Enterprise. The Tituses also believe that, by blaming Stuart for misfiling tax documents, the board is trying to come up with an after-the-fact justification for ending his employment, thus invalidating the Tituses' wrongful termination lawsuit.
That's likely the same motive behind the alleged email hacking, they argue. According to the Tituses, they learned of the alleged hacking during a discovery process for their lawsuit, when the fair association's lawyer turned the emails over.
"They handed to us emails from Stuart's personal Gmail account from when he was no longer employed by the Humboldt County Fair [Association]," Caroline Titus said. "They hacked! … We feel completely violated."
Her husband agreed. "To this day, every time I compose an email or receive one, I wonder if the association continues to invade my privacy," Stuart Titus said.
Asked in our original interview about these allegations, Conway closed his eyes briefly. "I'm not supposed to comment on it per our attorneys, but I can tell you that there's no hacking, period," he said. How, then, were the emails acquired? "Again, I'm not supposed to comment, but not as it's portrayed," Conway said. "I'll just leave it there. No hacking whatsoever."
The fair association's attorney declined to comment, as did a representative from its insurance provider, the California Fair Services Authority, which will pay any damages should the Tituses prevail.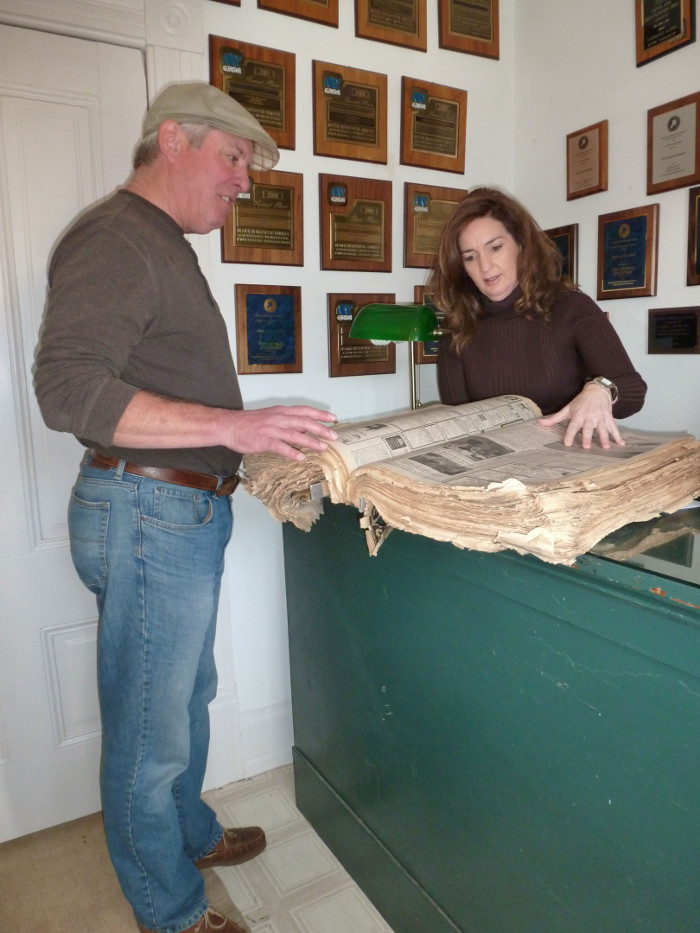 Photo courtesy North Coast Journal.
One more wrinkle, here: The Tituses are involved in another nonprofit called Friends of the Humboldt County Fair. As its name implies, the group's mission has been to raise money and otherwise help out the fair each year. The emails acquired from Stuart Titus's Gmail account were from Stuart to the four-member board of Friends of the Humboldt County Fair. In them, he speculates about the future of the fair, theorizing that the county may someday open up the lease to other bidders, and perhaps the Friends of the Fair should be ready to swoop in should the Humboldt County Fair Association stumble.
The Tituses now fear that the fair association's attorney will try to frame these emails as evidence that Stuart was trying to undermine the group while still employed there. (A couple of the emails were written after Stuart was voted out but before his accrued vacation time had expired.) More important, they say, is the hacking issue. As Caroline Titus put it in another front-page story last month, "It is against both federal and state law to access without authorization another person's private email."
Again, though, Conway denied that that's how the emails were acquired. He also denied that the fair association is trying to evade public scrutiny by changing its legal structure. Regardless of what form the association takes, he said, its intention — or at least his intention — is to remain publicly transparent, including adherence to the Brown Act.
"I feel like we're open with everything," Conway said. "When someone asks a question, we're happy to provide the answer. We provide the support documentation to go with it. We've not refused any request from somebody, other than things that involved ongoing litigation."
Not surprisingly, Caroline Titus disputes that. She provided the Outpost with copies of numerous emails sent to Conway informing him that specific Public Records Act requests remained unfilled after 20 days, a month, 40 days. Caroline said she has "dozens" of such emails. "The Brown Act means nothing to them," she said. "It's [merely] a nuisance."
What will all this mean for the Humboldt County Fair? Predictions vary depending on who you ask. The Tituses say that the dramatic decline in the fair association's revenues, along with other management bungling, is jeopardizing the stability of the fair and its key attraction — horse racing.
"2014 is probably the last year of [horse] racing in Ferndale," Stuart Titus said. The horse racing industry has been in decline statewide for years, and with the state cutting tens of millions of dollars in funding to county fairs since 2011, Stuart Titus said the Humboldt County Fair needs to be reinvented. But that will be difficult with the association's financial reserves down around 13 percent of its annual budget, well below the board's own policy threshold of 25 percent.
"The association already knows that next year's race meet and fair will take place during the first week of school in Humboldt County," he added. "That is a recipe for disaster."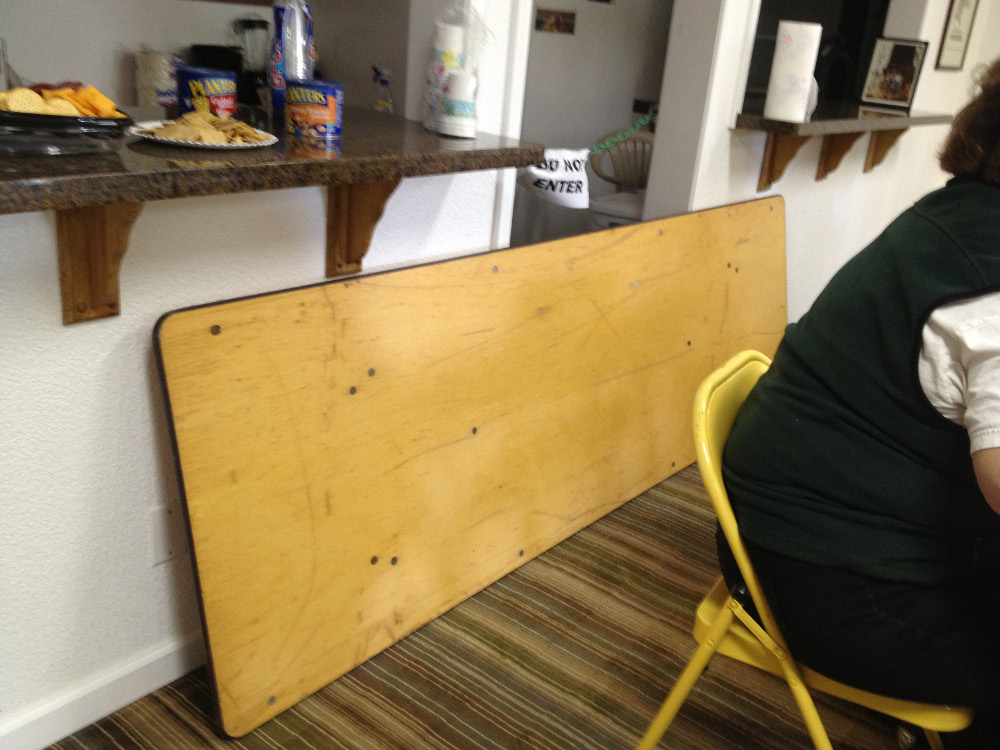 The barricade: Caroline Titus said the fair board used escalating measures to keep her from reporting on meetings from behind a new granite bar, starting with a sign and moving to a chain and, eventually, a banquet table.
Where did all the money go? During our initial interview Conway said that much of the $1.5 million-plus that the fair association spent last year went to deferred maintenance — hiring vendors to repair broken gas and water lines, for example. "Certainly we overspent in a couple of places," he acknowledged. "Not huge numbers but additional expenses that you don't find — and you're not billed for — until after the fair is over."
Caroline Titus said that doesn't quite cover it. She pointed to the numerous categories where the fair association went over budget last year — way over, in lots of categories, but particularly maintenance and general operations, where expenses went $109,172 over budget.
"They pissed it away," Caroline Titus said. "And there were no controls. And none of this was approved by the board." In the past, she said, various board subcommittees would request funds for specific expenditures. Those requests would then be discussed and either approved or denied during board meetings. Not anymore. "This was just a free-for-all."
Stuart Titus said this change in procedure can be traced back to his departure. "It was only after my employment agreement was not renewed … that a small group of directors decided to independently go on a spending spree, with a lack of oversight by management."
Before Conway stopped addressing such issues, he disputed these characterizations and defended the people he meets with each month in a little converted house at the front of the county fairgrounds. "This is a really good board," he said, "just a really solid group of people who devote a lot of time and effort to the fair."
Without specifically addressing the Tituses, he said that a lot of the comments made about fair board members are, well, unfair. And he strongly disagreed with Stuart Titus's prediction that horse racing will come to an end after this year.
But his pet peeve, he said, is being asked about all this negative stuff when he'd really rather be talking about the upcoming fair and all the fun new attractions, like the guy who juggles chainsaws, the sea lion show, and Guy Fieri.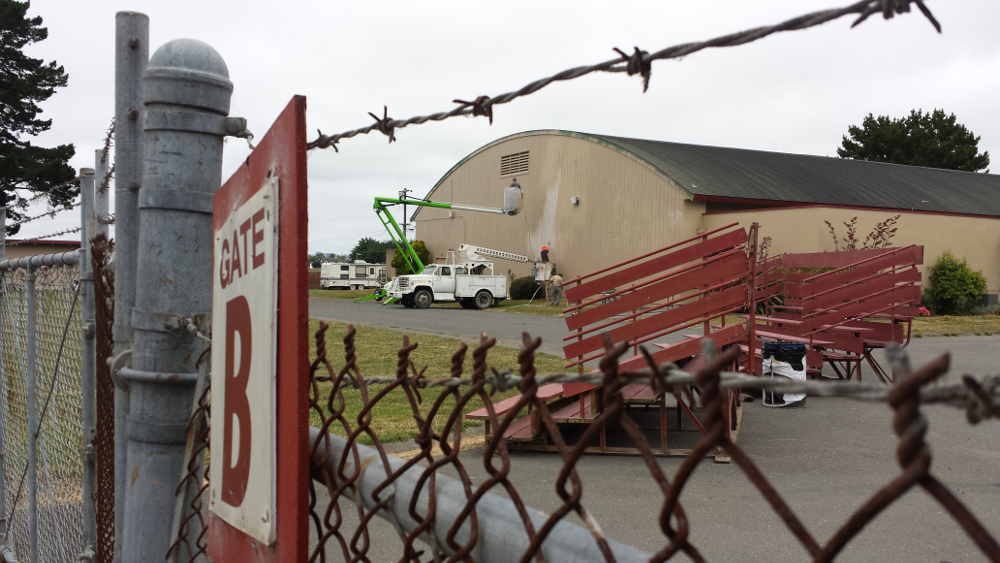 Workers apply a new coat of paint in preparation for this year's fair.