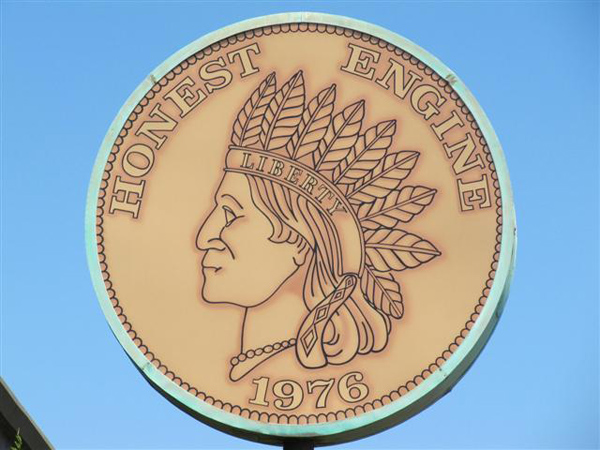 Our Wednesday post questioning the racial sensitivity of Eureka auto repair shop Honest Engine's name and sign (right) sparked quite a response. Between Facebook and the Outpost's Disqus forum the post has racked up more than 600 comments thus far, with some saying the name and image are blatantly racist and others saying, effectively, "Puh-leeze."
In the meantime we've gathered a few more thoughts and opinions, and just last night we received an email from Honest Engine owner and founder Robert Neely, who says the name was inspired by his affinity for Indian Head pennies along with respect for native people.
"The Native Americans always impressed me as being truthful and noble," Neely says. He adds that, while he doesn't want to change the logo, which he finds personally endearing, his business began the process of doing just that a couple weeks ago with an ad placed in The Black Book phone directory. "We will proceed with this process of eliminating the logo as soon as possible," he says. (Read the full email below.)
That move will likely go a long way toward appeasing critics such as Greg Gehr, assistant director of the Northern California Indian Development Council, who posted his opinion on his personal blog. We had reached out to Gehr earlier in the week, but his response came in after the post went live.
In an emailed statement, Gehr said, "The local business name, coupled with the logo, is insulting to say the least. The entire concept of the pun behind that business name belongs in the history books chronicling the dark ages of this country, next to blackface and minstrel shows. …"
"While I am not Indian," Gehr continued, "my wife and 8-year-old son are Indian. I am tired of having to try and explain why society allows the inherent racism of the Washington R-word team name splashed all over national media to my son, and I am saddened by local businesses using cultural appropriation and racist implications in their pun-based name as a dark ages advertising gimmick."
Joseph Orozco, a member of the Hoopa Valley Tribe and general manager of Hoopa Tribal Radio station KIDE, said in an email that while he doesn't think the Honest Engine name and logo are quite as troubling as the Washington Redskins, they are still potentially problematic.
"If there is an issue it could be the logo that uses the image of the discontinued U.S. minted Indian Head penny," Orozco said. "This raises the question of whether or not the Honest Engine owner flagrantly chose the image to conjure a positive or a negative statement toward local Native people. If Native people have or had no involvement or influence in the choice of the image used, it would be simple to save face and change the logo to relate to the business of engine repair."
He continued: "I don't think an apology is necessary; in fact I don't put value in apologetic words. It is the action to change one's ways that is of importance. Don't hit me and say you're sorry — stop hitting me." He concluded by saying he doesn't speak on behalf of all Native Americans: "This is one Native American opinion."
André Cramblit, a Karuk Tribe member and former customer of Honest Engine, told the Outpost that he sent the following message to Neely:
I am a member of the Karuk Tribe and I have been a customer off and on for over 20 years. I have never said anything about your logo because I understand it as a pun. Now I do think it is time to eliminate your logo. The business name is OK still as a pun, but the image is offensive and has to go. It is broad caricatures such as these that dehumanize Native people. I have known you for a long time and have NEVER once felt any racism nor bigotry in any of our interactions, so please do not take this as a personal attack. I call upon you for the good of the community to voluntarily remove your logo. I know it will be difficult as it has served your since your inception but it is the right thing to do.
Neely says he is doing just that. Here is his email in full:
We moved to Arcata in 1974 with the idea that we'd found a beautiful place to raise a family. I started a business in my garage working on Volkswagen engines. I did air-cooled engine machining and rebuilding.

A couple years later I opened my business at 25 Third Street in Eureka and my specialty was air-cooled Volkswagens. Our work was strictly Volkswagen for the first 10 years and mainly engines.

I was looking for a name that would say something about what we did. I worked on engines and I wanted something which infers honesty and integrity.

My grandfather taught me about car repair. He had an auto repair business in Hollywood. I learned a lot from him. He also got me interested in coin collecting. When I was really young he gave me his Indian Head penny collection. They have always fascinated me and I like collecting coins.

The Native Americans always impressed me as being truthful and noble. The Indian Head penny is really a personal symbol for me. It's a positive symbol.

In the '80s we did repairs on VW vans for the Hoopa Valley Business Council. They had an open account with us. They never said anything negative about our name. I sold our T-shirts with the Indian Head penny on it to several Native Americans! I heard complimentary comments about the shirts from them as well.

I did ask some of my Native American customers if they were offended. They said they were not.

In the 38 years we've been in business there have been a handful of people who have questioned our name. None of them have been Native Americans. If I had received complaints from Native Americans, I would have changed the logo a long time ago.

I don't want to change the logo; its endearing to me. However, I've felt concern about this for quite a while. Ironically, I started the process [of eliminating it] two weeks ago with our new Black Book ad. We will proceed with this process of eliminating the logo as soon as possible.

I love my business. I care about my mechanics and their families and the employment I provide. I care about my customers, many who I have known for a long time. I like to think that we do a good job of providing service to the community.

Sincerely,

Robert Neely

P. S. Sorry I couldn't respond sooner but I'm a recent quadriplegic and needed a bit of help to get this to you.