Before unleashing all the news about the various terrible things happening in the ocean, let's take a look at ways people can enjoy the recreational joy available in local rivers, lagoons and Humboldt Bay.
Being on the water is a wonderful thing
Today on Coastal Currents, Northcoast Environmental Center Executive Director Dan Ehresman and KHUM Midday Master Mike Dronkers talk to Center Activities' Assistant Manager Bridget Hand and Lori Turbes from Sierra Rescue about all the goodness HSU offers youth and adults alike through camps, programs,lessons and paddles on Humboldt Bay.
And what could be more useful than knowing how to navigate and enjoy Humboldt's waterways? Knowing how to help others who get into trouble out there. Note that Center Activities is also offering Swiftwater and River Rescue Certification courses.
Tune in today at noon at 104.7 FM or khum.com.
Cleaning up the Klamath is also cool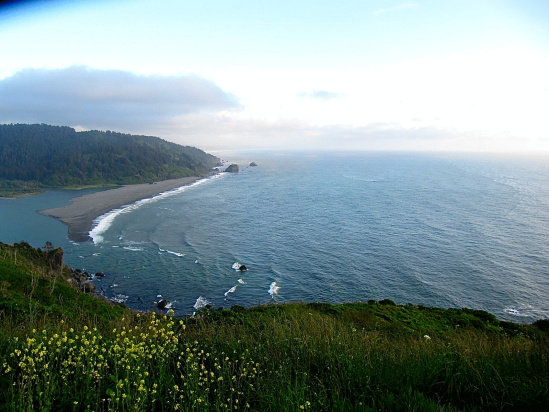 Klamath River meets the Pacific Ocean
The 13th annual Klamath River Cleanup takes place this Saturday, May 10 when the Yurok Tribe and AmeriCorps gather volunteers to help restore the Klamath river. Meet at 9 a.m. in the Community Room of the Yurok Tribe Main Office, 190 Klamath Blvd., Klamath, with appropriate footwear (boots), gloves and water. Volunteers will be picking up garbage or removing invasive species. The event includes a free breakfast and a traditionally cooked salmon lunch for volunteers at the end of the day. All volunteers will receive a T-shirt to commemorate their participation in this event.
You can also clean up with the PacOut Green Team
The PacOut Green Team continues to kick trash's butt every Saturday. On May 10, the team tackles the southerly end of the Samoa peninsula – see the map if you need it. Also, the dedicated do-gooders could use some support in the form of sponsorships and supplies in addition to the usual need for warm, motivated bodies.
Discover what lurks beneath
Explore North Coast invites the public to attend "What am I Paddling over in Humboldt Bay? Shellfish and Fish Species of Special Concern," Monday, May 12 from 6 to 8 p.m. at the Humboldt Bay Aquatic Center.
The talk by Sharon Kramer and Adam Wagschal, of H.T. Harvey and Associates, local ecological consultants, will focus on describing and providing an update on species in Humboldt Bay from shellfish culture activities in Humboldt Bay to how special fish species of concern use various Humboldt Bay habitats, focusing on salmonids, tidewater goby, longfin smelt and eulachon, all of which are listed under the California State or Federal Endangered Species Act.
Thomas Dunklin, a local geologist and videographer, will show some underwater and out of water views of coho and Chinook salmon, as well as cutthroat and steelhead trout. He will also provide an overview of some major fisheries restoration efforts.
North Coast producers fund fish film
Speaking of fish, graduates of Mendocino High School's Natural Resources program are in the editing stages of Of the Sea, a beautifully filmed and well-balanced documentary about California fishermen, sustainability and seafood. They've met their Kickstarter goal, but it's not too late to get in on the support action – and in any case, worth making a note that it exists so that you'll be sure to look for it at a future Ocean Night.
Fish FADs gone wild
The Fisheries Biology Department at HSU has arranged for a second Michael G. Scott Distinguished Lecture. In this one, David Itano discusses modern tuna fisheries and various ecological issues that arise from the modern practice of using FADs ("fish attraction devices") to aggregate tunas for capture in purse seines. The fun happens Wednesday, May 14 in HSU's Native American Forum. Free.
Coastal Commission staff briefs on Fukushima fallout
California Coastal Commission staff has investigated radioactivity released during the partial meltdown of several nuclear reactors at the Fukushima Dai-ichi Nuclear Power Plant during Japan's March, 2011 Great Tohoko Earthquake and Tsunami.
The takeaway:
The levels of Fukushima-derived radionuclides detected in air, drinking water, food, seawater and marine life in California are extremely low relative to the pre-existing background from naturally-occurring radionuclides and the persistent residues of 20th century nuclear weapons testing. The additional dose of radiation attributable to the Fukushima disaster is commensurately small, and the available evidence supports the idea that it will pose little additional risk to humans or marine life. However, it should be noted that the long-term effects of low-level radiation in the environment remain incompletely understood, and that this understanding would benefit from increased governmental support for the monitoring of radioactivity in seawater and marine biota and the study of health outcomes linked to radiation exposure.
Also, eat local fish. Perhaps catch your own.
And now for some terrible news!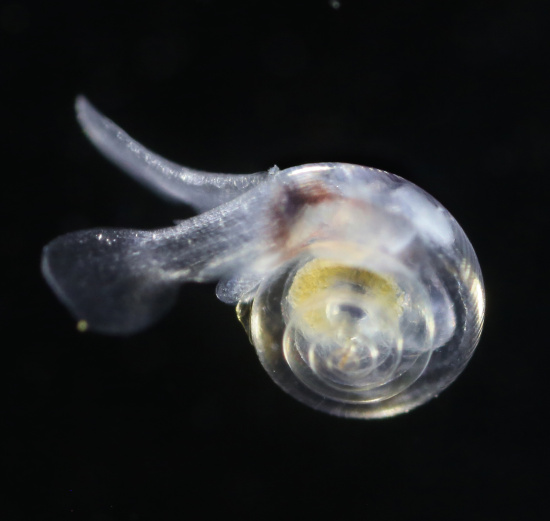 Photo courtesy NOAA
NOAA-led researchers discover ocean acidity is dissolving shells of tiny snails off the U.S. West Coast. The tiny snails, called pteropods, provide food for pink salmon, mackerel and herring. Imagine the collapse of the food chain.What can you do about ocean acidification (besides despair)? NOAA has some advice and the City of Arcata is (again) leading the way by participating in the CoolCalifornia Challenge.
Let's end on a good note: fish stocks and marine protected areas
NOAA and NMFS have released their annual report to Congress on the status of U.S. fisheries and 34 fish stocks have been declared rebuilt since 2000, including Chinook salmon. Go, science!
One of the most effective tools in rebuilding fish stocks around the world is establishing marine protected areas – we have 20 on California's North Coast. Be sure you know where they are so you don't accidentally fish inside them. You can, of course, kayak, surf, tidepool and otherwise enjoy the bountiful wildlife typically seen in and around MPAs. Want to know more? Check in with "California's Coastal Ranger" via Via.