The Loleta Cheese Company, which has been putting out Humboldt County-made cheeses since 1982 and operates the Cheese Factory, a popular attraction in downtown Loleta, filed for Chapter 11 bankruptcy protection yesterday.
In paperwork filed with the bankruptcy court, the Loleta Cheese Company details nearly $2.7 million in unsecured debt that is currently on the company's books, including nearly a million dollars in trade debt to Clover Stornetta Farms and nearly $600,000 to Nilsen Feed and Grain, a Ferndale company.
Nicole Laffranchi, the company's CFO, asserted in a declaration to the court that the company did not run into trouble because of these unsecured debts. Rather, she said, the company's hand was forced by one of its secured creditors – Loleta Operations LLC.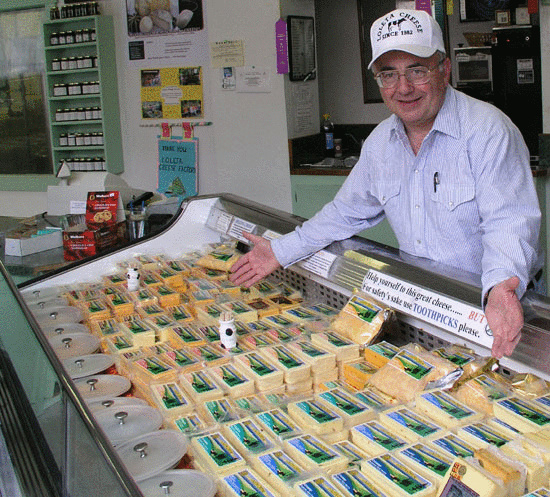 Laffranchi said in the declaration that Loleta Cheese owes Loleta Operations roughly $400,000 that is currently due, which is secured by farming equipment that the company no longer uses. Loleta Cheese is petitioning the bankruptcy court to allow it to sell this equipment, which Laffranchi believes will allow them to almost entirely pay off the debt.
However, she said, the company has been blocked from pursuing this course by Loleta Operations, which won a temporary restraining order in Humboldt County Superior Court last week that, in her words, "… prevents the Debtor from continuing to manage its assets and to remain in business."
The restraining order, Laffranchi said, made the company's bankruptcy declaration necessary to forestall what she characterized as Loleta Operations' "ulterior motive."
"[It] wants to take over the Debtors' business," she writes.
Who is "Loleta Operations"? Laffranchi asserts that her debt to this limited liability company, which, according to the California Secretary of State's office, was only created in August of this year, belonged, until then, to the Bear River Band of Rohnerville Rancheria.
The Loleta Cheese Company was founded by Bob and Carol Laffranchi in 1982. Attempts to reach the Laffranchi family this morning at their work and their home were not successful. A message left with the company's bankruptcy attorney, Steven Olson of Santa Rosa, was not returned as of this writing. Likewise, the Outpost has not yet heard back from the Bear River Band. We will follow up this story when we have more information.
In her declaration, Nicole Laffranchi testified that the company had nearly $5.5 million in revenue last year, and currently employs 21 people.
A hearing is scheduled in the bankruptcy case for tomorrow morning at 9 a.m. at the federal courthouse in Santa Rosa. At that hearing, and a follow-up one on Dec. 5, the court will determine whether or not Loleta Cheese may use certain of its current assets to pay off the Loleta Operations debt.
Another hearing in the Humboldt County Superior Court case – Loleta Operations v. Loleta Cheese Company – will take place on Monday at 1:45 p.m. in Courtroom 8 of the Humboldt County Courthouse.
DOCUMENTS