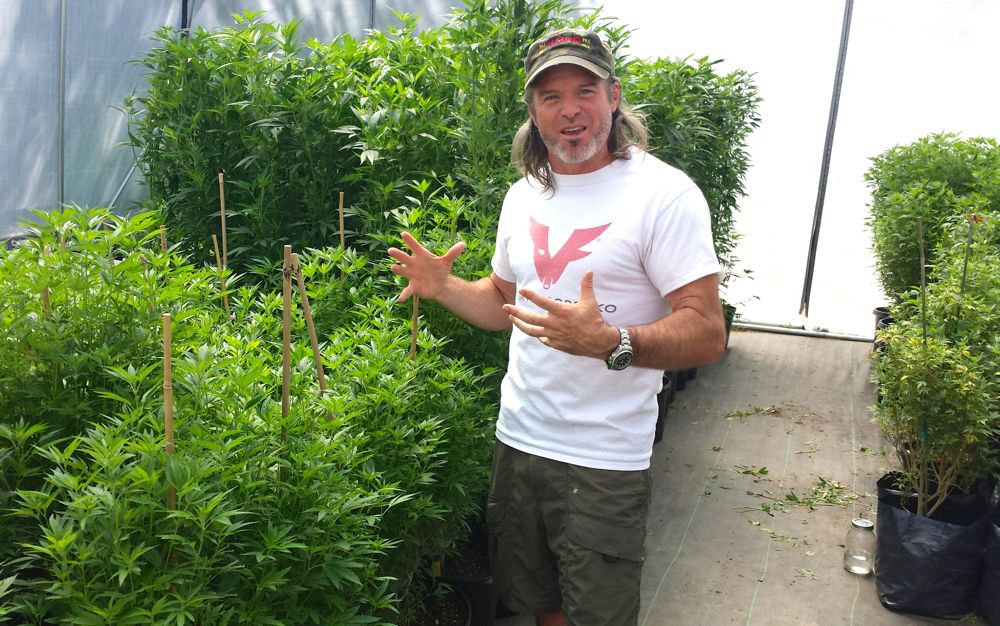 Kevin Jodrey, owner of Garberville's Wonderland Nursery.
On a recent warm and sunny Friday morning just outside Garberville, Kevin Jodrey and his employees were bustling around Wonderland Nursery, a medical marijuana dispensary tucked behind a Renner gas station on a strip of land between Hwy. 101 and the South Fork Eel River.
If you'd walked through the open garage door of the dispensary — a corrugated metal warehouse formerly home to Garberville Grass (another dispensary) — you'd have found Jodrey and his crew tending to trays of tiny cannabis clones arranged with geometric precision inside dozens of little humidity domes stacked on rolling metal shelves. Like nurses checking on patients, the Wonderland workers looked in on each tray. Some needed water; others needed fertilizer; a few needed the dome lids raised a crack to cut the humidity.
Jodrey, a muscular man of 48 with salt-and-pepper stubble and iron hair flowing from his Castro KMUD cap, considers himself not just a cultivator of cannabis but a "ganjier" — a term coined by his adult son, Nocona. Pronounced à la française (think sommelier), it means, essentially, a weed expert, which Jodrey clearly is.
Standing in a greenhouse filled with potted marijuana plants, he explains the genetic journey of his crop — how cultivators like his late friend Lawrence Ringo identified varieties high in cannabidiol (CBD), a non-psychoactive compound popular in therapeutic medical strains, and how he often gives clippings away to the most needy patients. (Profits from his nursery more than cover the loss.)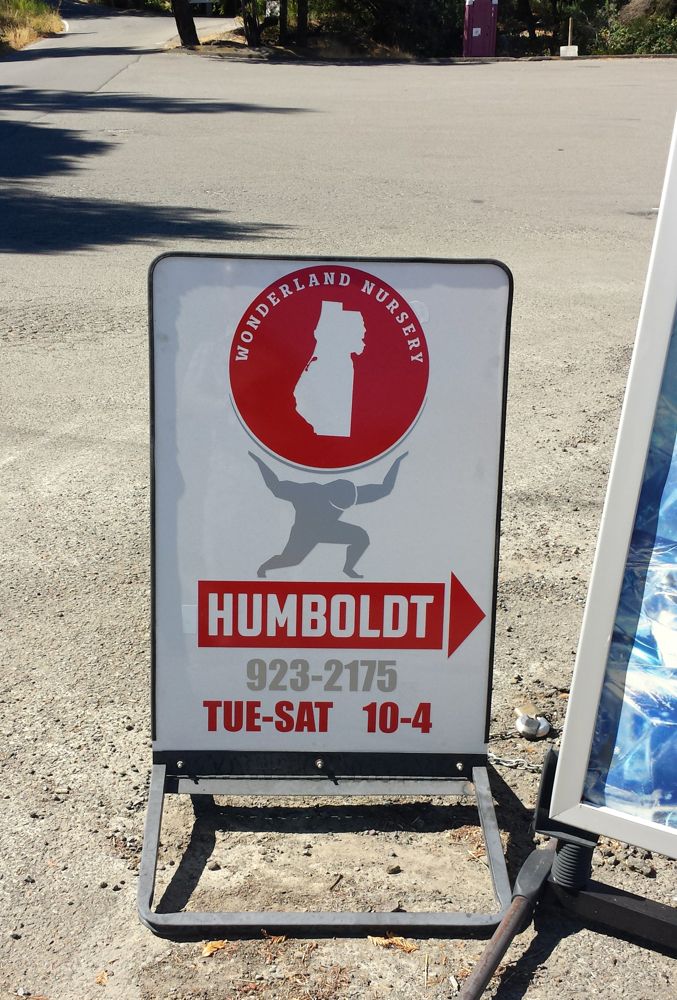 Jodrey grew up in Rhode Island, and he still has that distinctive New England accent. (For example, he told us, "My youngah bruthah's a world champion ahm wrestlah.") A certified master gardener, he casually tosses out terms such as "adventitious undifferentiated callus" and talks about "the synergistic effect" of cannabinoids, terpenoids and flavonoids in various strains.
Jodrey is not just a cannabis botany buff, though. His life practically revolves around the plant. He knows its history, reveres its recreational and medicinal benefits and lives in a community saturated with aficionados. Which is why he was recently sought out by San Francisco civil rights attorney Matt Kumin and activist/impresario Terrance Alan, a man who the New York Times once described as "a punk, pierced version of the 1930s labor organizer Harry Bridges."
Kumin and Alan had recently launched a political action committee called California Cannabis Voice, and they were looking for entree to the inside circles of the Emerald Triangle. Kumin and Alan are hoping that the local community — not just the weed players but business owners, environmentalists, elected officials, everyone — will drive a grassroots effort toward local regulations that could serve as a template for statewide rules, and even full-scale legalization.
"Kumin told me, 'You're the soul of the industry, and if we don't get you all to unite and run this forward it will never be correct, because you really embrace the cannabis culture, lifestyle, compassion," Jodrey recalled. He already knew Kumin from various cannabis conferences and trusted him based on his civil rights background. So he agreed. "I said, 'Alright, I'm down.'"
On Sept. 15 from noon to 1:30 p.m. Kumin will participate in a forum on legalizing marijuana in the state. The gathering is being hosted by the Rotary Club of Eureka at the Elks Lodge, and it will feature such local bigwigs as Sheriff Mike Downey, District Attorney-elect Maggie Fleming and Environmental Protection Information Center (EPIC) Executive Director Natalynne DeLapp. And next month, the recently formed local nonprofit affiliate of California Cannabis Voice will host a stakeholders luncheon where organizers hope to hammer out draft regulations.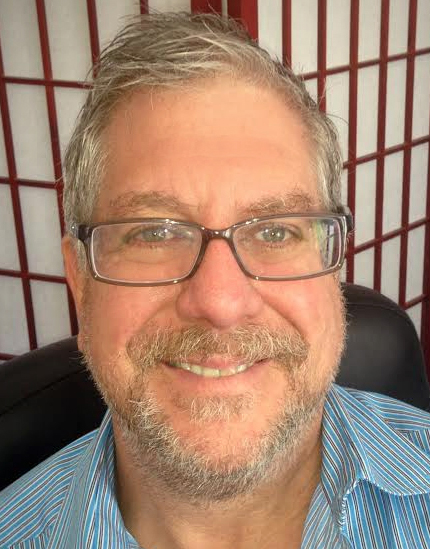 Kumin (pictured at right) has been fighting against the War on Drugs for nearly 20 years, in part by suing cities and counties that deny reasonable access to medical marijuana patients. In 2011 he and six other lawyers sued U.S. attorneys in California after the federal crackdown on state-legal dispensaries.
That suit was dismissed in a matter of months. Shortly thereafter — in the wake of full-scale legalization in Washington and Colorado — the U.S. Attorney General's Office sent out a memo directing federal prosecutors to make enforcement of marijuana laws a low priority, at least in states that have robust regulations on the industry. (California, with its patchwork local ordinances, is still vulnerable to federal meddling.)
Kumin had been focusing on nationwide legalization efforts, but in the past couple years he realized that the feds aren't going to take the lead when it comes to marijuana legalization, he told the Outpost in a recent interview.
"Ultimately we have to take this up on a state-by-state level, similar to the change in [alcohol] Prohibition," he said. While he and Alan apply pressure to lawmakers in Sacramento (their lobbyists recently helped sink SB 1262), Kumin said the real action has to start locally. "We knew it was critical to have a ground game, a local organizing effort based on the traditional community organizing model — [Cesar] Chavez, [Saul] Alinsky and Fred Ross — working in communities with local leadership to develop strategies for political change."
The statewide umbrella group California Cannabis Voice is funded in part by contributions from medical cannabis operations, but local chapters such as Humboldt's are financed entirely through local donations, Kumin said.
For obvious reasons (burble burble, cough cough), the group's leaders decided to focus their efforts here in the Emerald Triangle — Humboldt, Trinity and Mendocino counties. With help from Jodrey the California Cannabis Initiative PAC formed a local 501(c)(4) nonprofit chapter. That group has organized a series of community meetings in recent weeks, gathering in people's homes, at volunteer fire departments and in parks while also communicating with local leaders.
In July CCVH announced that it had hired Richard Marks, a former mill worker, union organizer and political strategist. Marks is a lifetime local and political moderate (by Humboldt County standards), and he's not generally associated with the weed industry. "His hiring has changed the entire conversation out there," Kumin said.
The grand plan, Kumin explained, starts with getting buy-in from the local cannabis community, a group that, in recent history anyway, has been largely disengaged from the political process. And when it does engage, the grower community has proved to be skeptical of legalization.
Last time the opportunity came around, with 2010's Prop. 19, Humboldt County — probably the most famous weed region in the world — voted against it at roughly the same rate as the rest of California. In the lead-up to the vote, a SoHum entrepreneur peddled bumper stickers reading, "Save Humboldt County; Keep Pot Illegal" (a sentiment still frequently expressed on postcards, stickers and posters sold in local head shops). And the "no" votes locally were most concentrated in the grower-saturated regions of Eastern and Southern Humboldt.
Conventional wisdom on this trend holds that growers, by and large, aren't willing to sacrifice cash crop profits for NORML-variety ethics. But Luke Bruner, a grower, employee of Wonderland Nursery and the recently hired treasurer for California Cannabis Voice Humboldt, believes that notion is misguided. Legal weed, he said, could bring a windfall to local growers — and the community at large. Once commercial marijuana sales are legal, he argued, wealth will pour into local pockets and replenish our depleted county coffers.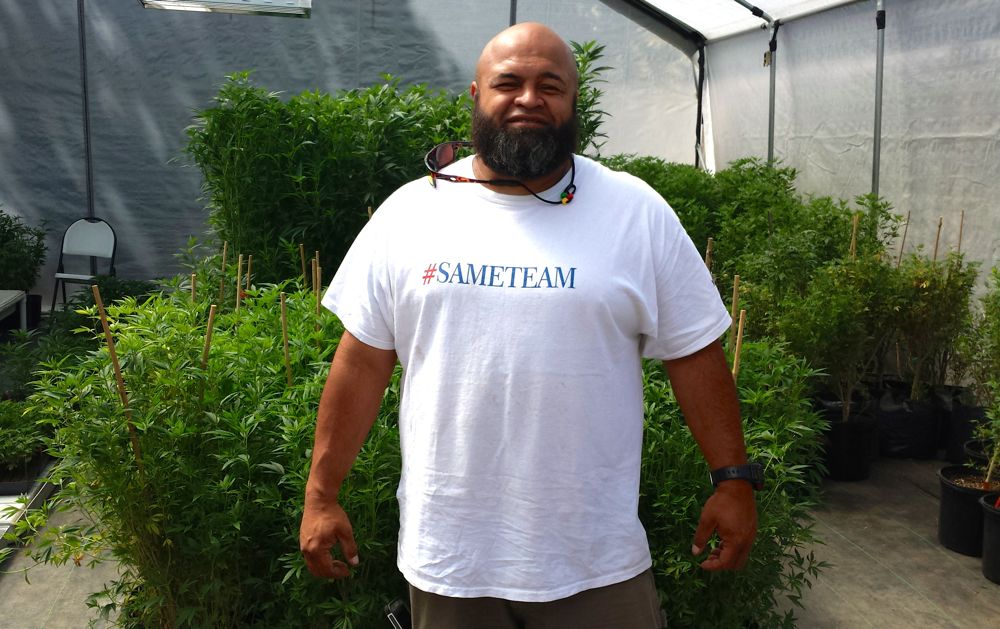 William "Oos" Pedro, an employee at Wonderland Nursery, sports a T-shirt with a hashtag highlighting the core message of California Cannabis Voice — that everyone in the community should be on the same team regarding marijuana regulations.
"I believe there's going to be more money made in legalization and legitimacy than has ever been made in the black market," Bruner said. "You know what builds 21st Century infrastructure? Cannabis builds you a new airport, and a new harbor, and a new railway and a fucking spaceport if you want." Young and intensely passionate, Bruner said that many fellow growers have been receptive to his message about the benefits of legitimacy. And one of the biggest draws is not money, he said, but respect.
"If you show up to a city council meeting in Napa and say, 'I'm a vineyard owner, and this is what I think,' well, you're taken pretty damn seriously," Bruner said. Marijuana is every bit as essential to the local economy as wine is to Napa Valley's, he said, but it's not recognized as such. "If I go to a meeting and say I'm a cannabis farmer, I hope I don't get arrested."
Bruner envisions a community dotted with "bud and breakfasts" drawing toking tourists, farmers growing their cannabis crop as the legitimate (if boutique-scale) agriculture it should be and local banks flush with investment cash from weed-fueled deposits.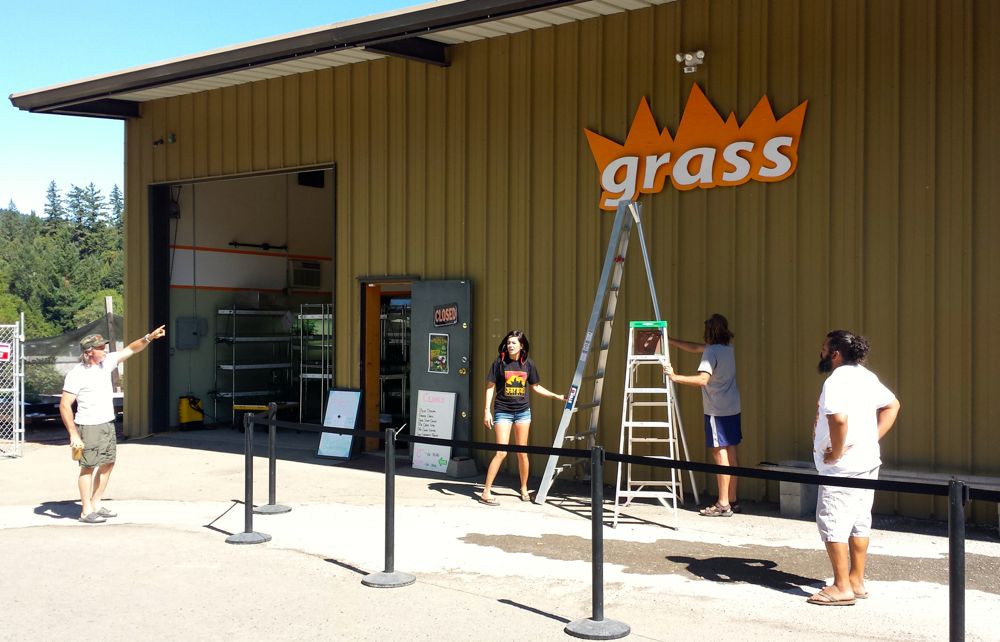 Jodrey directs his employees as they get ready to remove the sign of the former dispensary, Garberville Grass. Wonderland Nursery opened at the location in March 2013.
Is Bruner's vision realistic? It's a little too early to say. Many economists and journalists have long argued that, once it's legal, weed prices would plummet. "In fact," wrote Slate's Matthew Yglasias two years ago, paraphrasing an argument from a book on legalization, "midgrade stuff would be so cheap that it might make sense for businesses to give it away like ketchup packets or bar nuts."
In 2009, California NORML Director Dale Gieringer predicted that, given the United States' vast swaths of farmland and sophisticated modern agricultural techniques, legal weed could cost as little as "a few cents per joint." That's a commonly voiced opinion here in Humboldt — that once it's legal, Philip Morris and R. J. Reynolds will take over the market.
But not everyone sees it that way, and now that recreational weed has legitimate marketplaces in both Colorado and Washington some of those assumptions can be examined. So far, retail prices for government-sanctioned pot, which is being taxed at a rate of more than 30 percent, are clocking in at more than double the street price. (The gap is less pronounced with medical-grade stuff.) And so, predictably, the black market in those states continues to flourish. So far. Officials in Colorado predict that supply will eventually catch up with demand and prices for legit ganja will drop.
But Harvard economist Jeffrey Miron recently told Bloomberg Businessweek, "I don't think we should expect the legal price to be that different from current [black market] prices. People will want to pay more for a quality product." And that's the argument being advanced by Bruner and the rest of the local crew working for California Cannabis Voice Humboldt. Just as there's room in the beer market for both Keystone Light and Triple Exultation, Bruner and his cohorts say Humboldt can capitalize on our reputation for producing the most potent, highest quality marijuana in the world.
"What we're producing is a higher quality, a premium product," Bruner said. "And furthermore, California is just the beginning. … Make it legal nationwide and the whole nation's gonna want to come here."
Among the PAC's guiding principles for drafting legislation is a call for designated "appellation zones" like those in the wine industry. Another principle: "Businesses will be explicitly allowed to make a profit."
Meanwhile, the marijuana market in California is already exploding, with industry insiders saying the state is on the verge of a golden era for commercialized cannabis.
Harnessing that energy among our local entrepreneurs is one thing; getting the rest of the community onboard is a different challenge altogether, and Richard Marks (pictured below) wasn't initially sure that he wanted to take it on. In a recent interview over coffee in Old Town, Marks recalled being asked by the leadership at California Cannabis Voice if he'd be interested in a job community organizing for the group.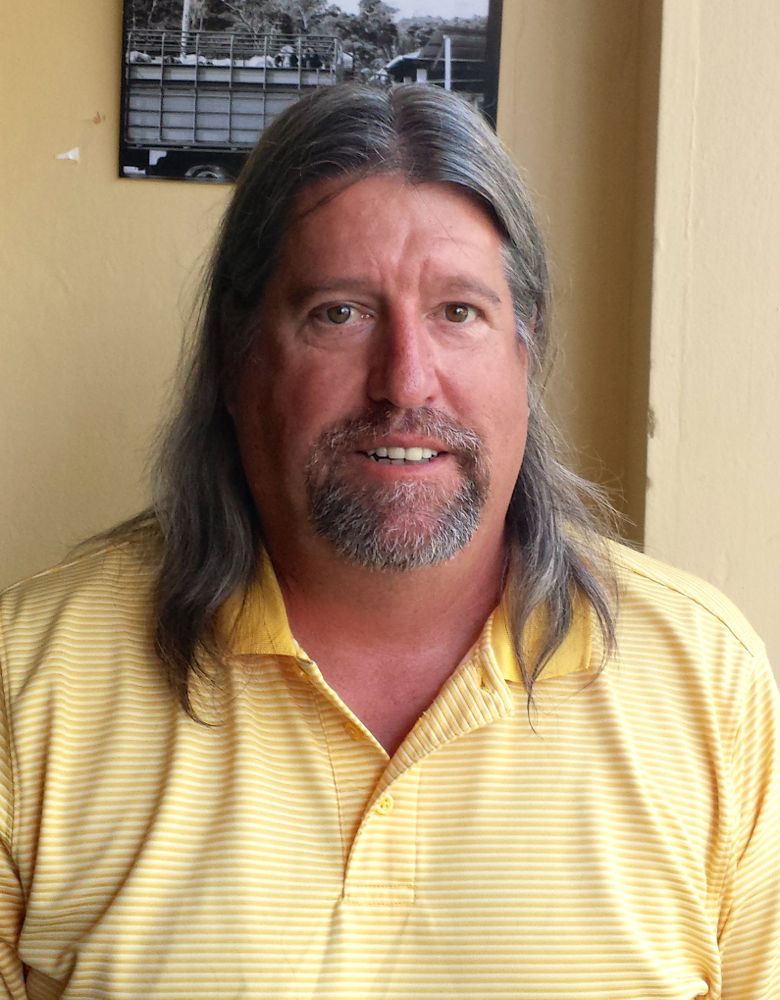 "I said I'd be willing to talk about it," Marks said. He was fresh off the reelection of Humboldt County Supervisor Virginia Bass, a victory that Bass herself credited largely to Marks' organizing efforts. And while he hasn't smoked weed since before starting his family many years ago, Marks isn't detached from that world. He was born and raised locally and runs laid-back softball games all over the county, so he knows his share of people in "the industry."
But many other locals deeply resent that industry for the criminal violence it has attracted and the environmental devastation caused by the worst of the outlaws. Was this an issue Marks really wanted to jump into?
"The idea intrigued me," he said. "As an organizer it would be the ultimate in organizing for me. And there's a lot of environmental issues that I'm concerned about as far as cannabis farming in Humboldt County." After talking it over with his family, Marks decided to take the job.
His task, he said, is to reach out to stakeholders in the grower community as well as those in local government (the Board of Supervisors, the county planning department), law enforcement (the sheriff and district attorney-elect), the business community, environmentalists, health care workers … . "We need everybody to be there," Marks said. The challenge then will be getting those stakeholders to hammer out a mutually agreeable ordinance to regulate outdoor cultivation and dispensaries in the county's unincorporated areas.
Marks said he hopes to draft something that bans large-scale, Monsanto-style production as a way to protect "small-scale community farms," though he admitted he's not sure how such a condition might be worded. He's also hoping to build in strong environmental protections to stop the illegal stream diversions, toxic rodenticide usage, un-permitted grading and other destructive practices.
"There are a lot of responsible type people who are environmentalists growing cannabis and have done it for years," Marks said. "Now we need everybody to do that."
The devil, as always, will be in the details, and drafting regulations by committee can be a challenge. "We're hoping in October to have a meeting with everybody, to actually do it on the run," Marks said. "But we'd like to have something that really is a template for other communities to use." A firm date for that meeting has not yet been set, but the Rotary Club gathering on Sept. 15 will be open to the public and should provide a glimpse of the diverse perspectives in the broader community.
Matt Kumin, the San Francisco attorney who co-founded California Cannabis Voice, said this is groundbreaking stuff. "Humboldt County is leading the state right now in setting up a stakeholder process," he said. He believes these diverse stakeholders can build on common ground — such as their mutual concern for the environment — while also clearing away some misconceptions about the industry and its goals.
"We're just trying to change the conversation and the law," Kumin said. "I think it's history in the making."