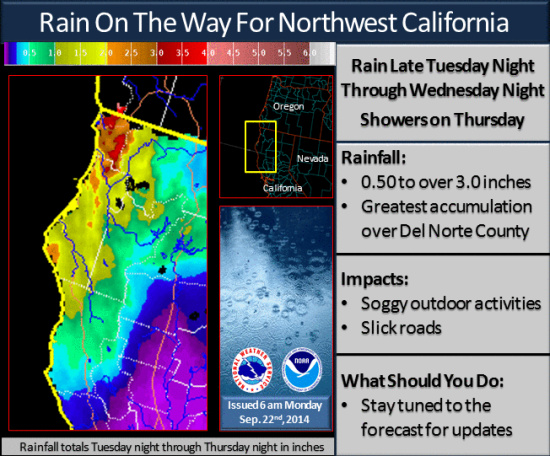 The US National Weather Service in Eureka (Facebook users, haven't you liked them yet? Go on, follow this link and do it now) says rain is coming late tomorrow. Most of Humboldt will get between an inch and two inches of rain between Tuesday night and Thursday night. There are possible showers predicted through Sunday.
Check around outside today. Are your gutters clean? Do you have your firewood covered? Bicycles and tools inside?
How about your car? Windshield wipers in good shape? Tires have good tread?
You? You got rubber boots for the kids? Umbrellas? Rain coats?
All good? Sit back and enjoy fat drops of life giving water splashing down on a thirsty earth.
*Thanks, to the US National Weather Service in Eureka for letting us share their shiny graphics.