Hey, did y'all watch the California Gubernatorial Debate last night? LoCO's instareaction was that poor old Jerry Brown got creamed by crazy-eyed Republican slickster Neel Kashkari.
Brown kept awkwardly retreating back to his comparatively limp talking points — "Um, hey, what about your buddies at Goldman Sachs?" — whenever he felt at a loss, which was often. Kashkari, a Lex Luthor lookalike, kept possession of the ball pretty much throughout, peppering Brown on prison realignment, public pension reform, education, the water bond, the loss of Tesla — etc. Kind of brutal.
Not that it makes a difference. Kashkari will be creamed.
But it's a reminder that the season 'tis upon us again, and it's time to roll out LoCOElections — the site where you put your questions to candidates for local office!
It's a pretty good go-round this Nov. 4. We've got two hot races for Eureka City Council — which, depending on the outcome, could lead to Humboldt County's first-ever all-woman legislative body. There's the council races up in Arcata. (And presumably other cities. We're checking on that.) On top of that, there are a couple of tasty ballot measures — the GMO ban, Eureka's Fair Wage Act, a bunch of taxes…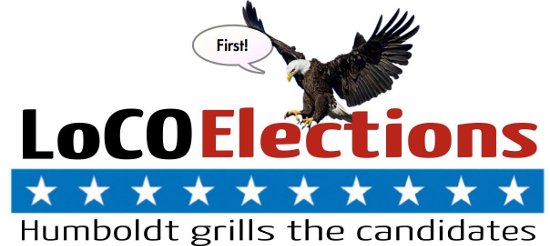 LoCOElections is your Internet home for all the electioneering madness. If you're new to this, here's how it goes:
1. The Outpost puts up the locally relevant races and the candidates contesting them, with links to their webpages and Facebook pages and the like. Their financial disclosure forms too, when those start rolling in.
2. You — the Outpost faithful — ask difficult questions of those candidates. The Outpost staff screens your questions to weed out the outright trollery, then those questions go up on the site. You can upvote your own questions or those asked by others, with the idea that the most important questions rise to the top of the queue.
3. The candidates answer the questions. They can also put up their press releases and inform readers about upcoming campaign events.
That's pretty much it! The idea, here, is to explore and interrogate the candidates' qualifications and policy positions, resulting — hopefully — in a better, more informed electorate.
→ Start asking questions right now ←
For candidates/campaign committees: Drop me a line at hank@lostcoastoutpost.com or call the office — (707) 768-5104 — to get set up with login credentials. Are you opposing or supporting ballot measures? If you have some standing to represent the "Yes On" or "No On" campaign, we'd love to have you take questions on those topics. Thanks!
Programming note: We're still filling in all the candidates and races, but we've seeded the pot with some of the highest-profile ones. Keep checking back.
And if you missed the gubernatorial debate, check it out below. Three and a half stars.