UPDATE: Eureka Citizen proves to be a mildly delusional, self-aggrandizing troll, surprising absolutely no one. Did this dipshit actually wear pajamas? A mystery for the ages.
# # #
Original post: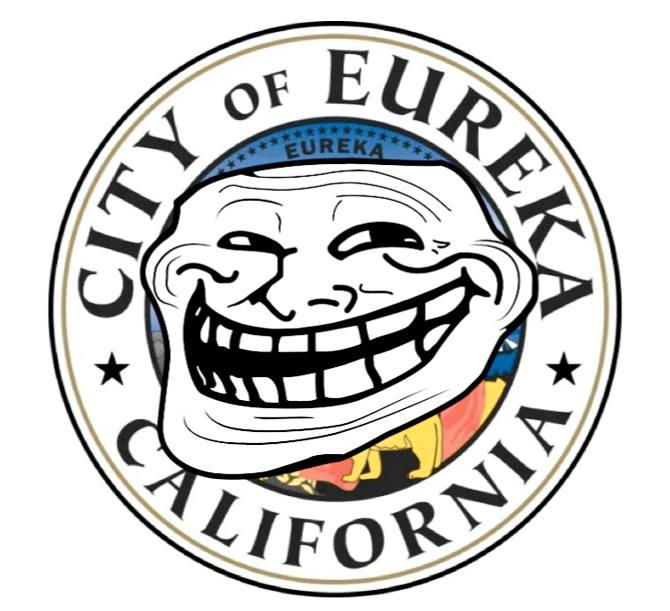 Last month the Outpost reported that an anonymous email had been sent to everyone on the Eureka City Council, along with the mayor and city clerk, urging the city to adopt a heavy-handed, 23-year-old panhandling ordinance written by an arch conservative attorney known as "Mr. Death Penalty."
The email was sent from a Gmail account under the name Eureka Citizen.
This anonymous civil crusader later told the Outpost (via email) that the proposal was "the result of a group discussion, involving over 45 Eureka citizens."
Eureka, not surprisingly, has yet to adopt the ordinance. Undaunted, Eureka Citizen soon embarked on a new project, which it announced in a Jan. 28 follow-up email to city officials and various local media outlets/blogs.
"The political action group 'EUREKA CITIZEN' will be announcing plans to open a new shelter in the City of Eureka," the email began. The Outpost's personal version continued, "Since our group's first letter to LoCO, our membership numbers have grown to nearly 200 total."
If that sounds impressive, the group's plans are even more striking:
"Through our member contacts in both the business, and private sectors, we are pleased to announce we have raised over $400K in funding toward purchasing a facility within the City of Eureka and open a shelter facility. We hope to have the facility purchased within 60 days, and begin renovations upon close of escrow."
Intrigued, Eureka City Manager Greg Sparks reached out to the "group" via email late last month, explaining that city staff was interested in sitting down to discuss the plans in more detail.
"About a week later," Sparks said, "we got an email that said they'd raised $3.56 million toward a total construction cost of five and a half million, and people had committed $1.85 million toward annual operation expenses of $2.2 million."
The Outpost received a copy of Eureka Citizen's prospectus. We reached out following our story about plans to repurpose Eureka's Multiple Assistance Center to serve individuals rather than families. Would such a dramatic change even be necessary if Eureka Citizen managed to get a new facility built?
Among the planned amenities described by Eureka Citizen:
Intake dorms for up to 25 men and 25 women
10 studio apartments for couples
25 two-bedroom apartments for families
60 two-story townhouses
20 senior/handicap apartments
45 full-time employees
To date, however, Eureka Citizen has yet to contact any of the agencies that manage those programs. Nor has anyone from the "group" met with anyone at the City or County. Instead, a person claiming to represent the "group" took the time to lay out further plan details in local blog comments, explaining that the funds have been raised mostly from private donors located outside the area who are willing to invest countless millions to clean up Eureka, thus making it more hospitable to their "future business ventures, including manufacturing and services."
Sparks is dubious.
"I'm still trying to figure out, does this thing really have legs?" he said. "I find it hard to believe you can do a stealth campaign and raise that much money without anybody knowing who they are."
In response to a Feb. 5 interview request from the Outpost, Eureka Citizen said via email, "[W]e will appoint a spokesperson for that task and set a time, in the near future, for that to occur."
The Outpost sent a follow-up email yesterday. It bounced back immediately. Eureka Citizen's Gmail address no longer exists.