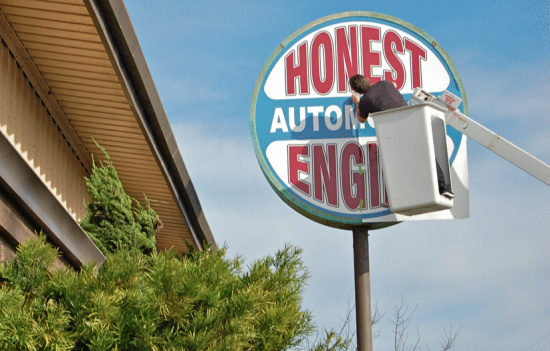 Around the time last year when America was having a frank chat with itself about the appropriateness of the Washington Redskins' name and logo, LoCO wrote about the punnily named Honest Engine and its use of Native American imagery in its logo. Was the auto repair shop's sign offensive? Should everyone get over it? 600 comments later, there seemed to be no consensus.
In a later post, Honest Engine owner Robert Neely told LoCO that, while he still enjoyed his business' logo, he planned to change it.
Today Neely made a big step toward fulfilling that promise. A LoCO reader sent word that a new sign was being pasted up in front of Honest Engine. See above the imageless, red, white and blue sign as it was being installed by Advanced Display and Signs this afternoon.
PREVIOUSLY: