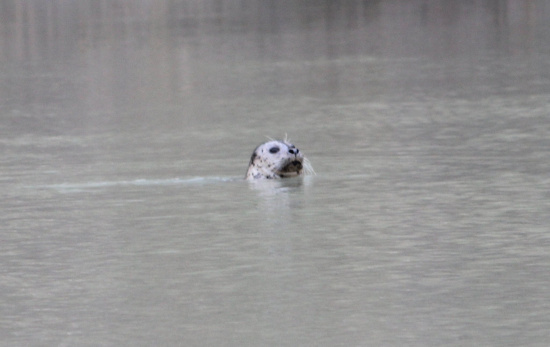 Not far from the Scotia Bridge, a seal gives watchers a skeptical look. [Photo by Alyza Elway]
In the interest of science, LoCO has to know … How far up the Eel do seals swim?
Today, around 10:30 a.m., near the foot of Davis Street in Rio Dell, Alyza Elway, a resident there, said she photographed a seal exploring unusually far up the Eel River.
"My husband took my son out fishing today," she explained. "He called us [about the seal] so we walked down to see." While they were at the river, she said, the seal continued to splash about leisurely for some time. "It would swim back up and float down," she said. Even after she left, her husband and son who stayed there saw the seal for quite awhile. "It did it the whole time they were down there [and] they were down there for a few hours."
She says as far as they know this is the first time this has happened. "My husband grew up here in Rio Dell and he said he'd never seen one here before," she explained.
Seals near Fortuna aren't that rare but, to our knowledge, a pinniped near Rio Dell is something unprecedented. Anyone with longer memories than ours have a different recollection?