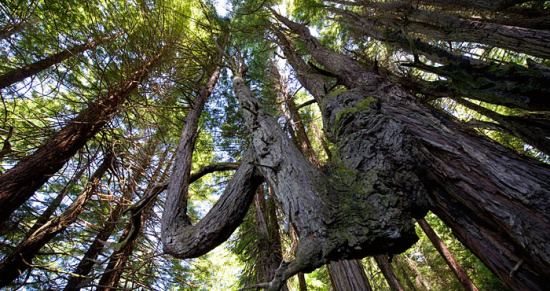 The legendary Lost Coast Trail is about to get slightly longer at its southern trailhead, according to Save The Redwoods League. With funding from the Coastal Conservancy, the league says they've acquired a nearly 1,000-acre parcel known as Shady Dell near Usal Creek. They say this will add a 2.3 mile segment to the southern section of the trail. [The popular northern section ends at Shelter Cove.]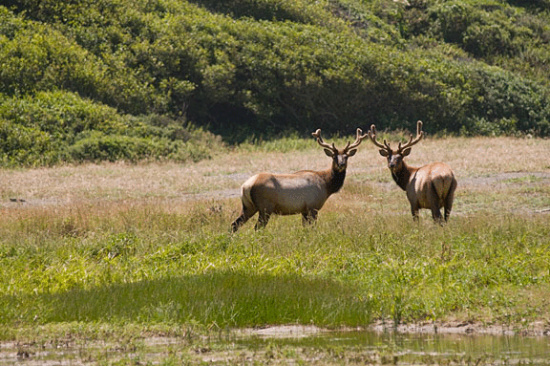 Most of the Shady Dell parcel has already been logged, but lumberjacks left some freaks behind: candelabra trees, wolf trees, topped trees, and other trees that wouldn't easily fit into a mill.
Shady Dell also shelters a redwood grove that will take your breath away: on a steep hillside stand scores of old-growth redwoods shaped into "candelabras" by salty air and strong coastal winds.

The gnarly limbs of this ancient "Enchanted Forest," as it's known by locals, also provide important habitat for wildlife and interesting insight on how climate can (literally) shape forests.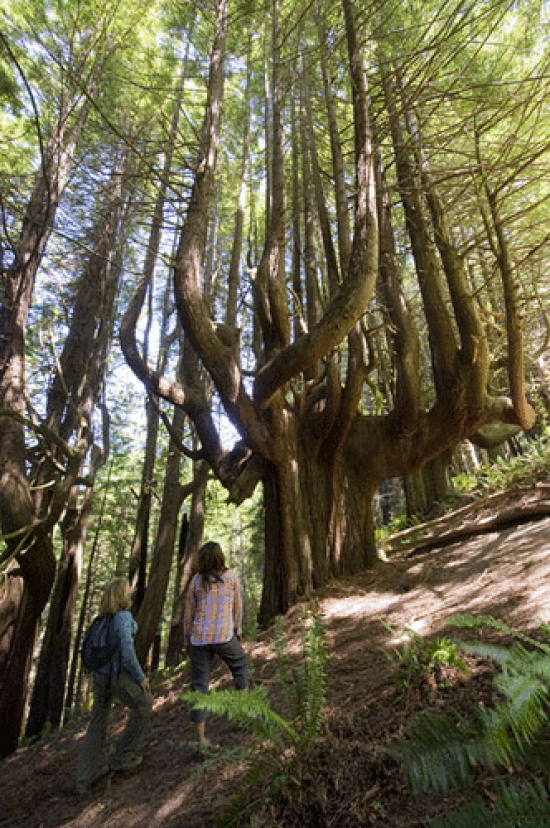 Though currently closed to the public, Mendocino Land Trust's Louisa Morris told Lost Coast Outpost her organization is assisting with the groundwork and hopes to have the trail open by early 2016.
We assisted with planning and permitting for the trail. Starting on June 13th, the AmeriCorps crew trail gets here and we'll start building the trail. The CCC crew starts on June 24th.
The southern section of the Lost Coast Trail traverses the western edge of the Sinkyone Wilderness, from near Shelter Cove to Usal Campground, for now. Most hikers travel north to south.
Mendocino Land Trust will put up signage indicating the new trail, but between printing maps and updating online literature, getting the word out will surely take time. Since the trail includes two wilderness areas, public roads, and different properties, Morris said she wasn't clear on how other agencies would adopt the new distance, but "California Parks is fired up and it's all part of the California Coastal Trail."
The trail will feature about 50 feet of boardwalk, 231 steps, 30 feet of bridge, five interpretive signs, benches and a parking area. Construction is tentatively scheduled for completion in early 2016.
For more coverage, check out SFGate's coverage and photo spread here.
And if hiking across miles of deep sand seems too easy, running one or both sections seems to be a thing now. A few ultrarunners have apparently run the entire 57-mile course in a single day.